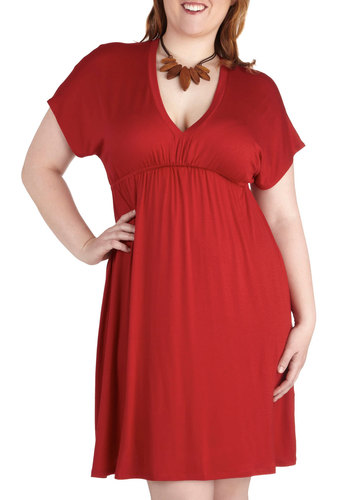 As with any dress size, a
plus-size dress
should flatter its wearer. Choosing the right plus-size dress can help its wearer make a great impression on others at work as well as at social venues and gatherings. Shoppers have many options available for these dresses, which means that they should be able to find the right dress for any occasion. The broad selection, however, also makes finding the right dress challenging.
Shoppers can find the right plus-size dress by considering important features and correctly matching a dress to one's body shape. Understanding these aspects of buying a plus-size dress prepares consumers to shop for these garments. Once can buy plus-size dresses from local and online clothing shops. These dresses are also available on
eBay
. The site has a great selection of plus-size dresses, and knowing how to navigate eBay can yield some big discounts.
Features on Plus-Size Dresses
Shoppers must consider a handful of features in order to choose the right plus-size dresses. Different dress lengths, sleeve styles, colours, and materials make dresses appropriate for different occasions, weather, and body types. Being familiar with these features therefore enables shoppers to correctly select plus-size dresses that flatter their figures.
Dress Length
The dress length is a good gauge of how formal a dress is. The longer a plus-size dress is, the more formal it generally is. Shoppers looking for a plus-size dress for going out to clubs, cocktail bars, and parties may want to consider an
above-knee or mini dress
. A
knee-length dress
applies to a broad range of settings. Shoppers can wear this length of dress in the office or in casual and semi-formal settings, depending on their other features.
Mid-calf
and
full-length dresses
can be great for situations calling for more formal attire, though they can also cross over into casual wear, depending on their fabrics and designs.
Sleeve Style
The length of a plus-size dress can also influence its degree of formality, but the sleeves have more to do with how the dress accentuates one's features. Each level of sleeve length has its own set of styles, and being familiar with these helps shoppers choose the right plus-size dresses.
Sleeveless
Sleeveless dresses
take on a few forms. Some are
strapless
and feature elastic or an interior corset to hold up the dress. This can be an elegant look with a full-length dress.
Spaghetti straps
can also hold up a sleeveless dress and maintain its minimalist look. Both strapless and spaghetti-strap dresses make narrower shoulders seem broader. A
halter
has two wider ribbons of fabric that connect behind the neck. This sleeveless style is well suited to those with broader shoulders because it has a narrowing effect.
Short Sleeve
Short sleeves
come down to anywhere between just below to the shoulder to just above the elbow. Styles vary less for this sleeve length than for others. Sleeves may be fitted tightly or may be open and very loose. Short sleeves may be in the juliet style where they are puffed around the shoulders and fitted on the upper arm. This adds volume to narrow shoulders and balances fuller hips. A dolman sleeve has loose fabric that connects to the lower part of the seam on the dress body. This look minimises the waist.
Longer Sleeve
Three-quarter
and
long sleeves
both have a variety of styles. Juliet and dolman styles are common for longer sleeves. Shoppers are also likely to encounter bell and bishop sleeves at this length. These are both sleeves that start narrow at the shoulder and flare out towards the wrist. The bell sleeve is open at the wrist, and the bishop sleeve cinches there. Both of these styles work well for those who want a narrower look for broader shoulders.
Colour
Shoppers should also pay attention to the colour of plus-size dresses.
Reds and pinks
work well on those who have green eyes and copper-coloured skin. For
blues
and
greens
, matching the colour depends on its shade. Darker shades work well with darker features and lighter shades with lighter features. Shoppers can rarely go wrong with
whites
and
blacks
, since these tones suit both light and dark skin tones. Whites do tend to work better with blond hair, though, and blacks with dark hair.
Material
The dress material may determine the climate a dress is appropriate for. Some dresses are made from natural materials, and others from synthetic ones. Others still are made of a natural-synthetic blend, such as
viscose
.
Natural
Cotton
is a popular choice for natural material because of its softness and breathability.
Linen
, from the flax plant, is often a bit rougher than cotton, but lighter in weight. This latter characteristic makes it a great material for plus-size summer dresses.
Silk
comes from a protein fibre that is lustrous and smooth when woven together.
Synthetic
Many synthetic plus-size dresses are made from
polyester
. This material is lightweight and dries quickly. It also tends to be relatively inexpensive. It transfers a degree of these qualities to dresses that comprise a blend of polyester and natural material such as cotton.
Buying a Plus-Size Dress According to Body Shape
A plus-size dress can have all of the features as described above, but these do not mean a thing if the dress does not match the wearer's body shape. Familiarity with different body shapes and the dresses that match them should help shoppers successfully buy plus-size dresses that complement their appearance.
Triangle Body Shape
Narrow shoulders and waist and fuller hips characterise the triangle shape. A strapless plus-sized dress widens the shoulders to create a more balanced look with the fuller hips. An A-line shape to the dress also narrows the hips.
Inverted Triangle Body Shape
A body with an inverted triangle shape has broader shoulders and relatively narrow mid-section and hips. An empire waist has a cincher just below the bust that helps a plus-size dress create a fuller look through the abdomen and hips to balance out the broader shoulders.
Hourglass Body Shape
Curves define the hourglass shape, with the body tapering from broad shoulders to a narrower waist before rounding back out to fuller hips. Those who wish to accentuate their curves should consider a fitted plus-size dress, while
wrap dresses
lend a relaxed fit without concealing curves completely.
Straight Body Shape
A straight figure has relatively little difference between the breadth of the shoulders, waist, and hips. A full-size dress with an empire waist and A-line shape lends curves, and this body shape looks particularly elegant in a
one-shoulder full-size dress
.
Full-Bust Body Shape
The bust of a full-bust body shape is fuller than the hips. A plus-size dress for this type of body should balance out the body's lower half. A-line dresses therefore work particularly well with the full-bust body shape.
How to Buy a Plus-Size Dress on eBay
eBay
offers a large selection of plus-size dresses. You can begin your search from any eBay page by using "
dress
" as your search term and selecting the series of categories related to women's clothing and dresses when eBay returns the results. You can then specify the plus-size option from the menu for sizes. A series of other filtering options, including those for colour, material, dress length, and sleeve size enables you to further adjust the listings to your preferences.
Many discounts lurk amongst the selection of plus-size dresses on eBay, and you can find these bargains by checking the
women's clothing
category on the eBay Deals page. This feature can help you save money on a plus-size dress that you are sure to look fabulous in.
Conclusion
Many of the same guidelines apply to finding the right plus-size dress as for other dress sizes. Understanding how features such as length, sleeve length, colour, and material vary enables shoppers to choose the right combination of features on dresses for a variety of occasions. An overview of these features also helps a woman match a plus-size dress to her body shape. One dress rarely suits all body shapes, so a flattering look depends on choosing the right design on a plus-size dress.
eBay offers a wide range of plus-size dresses, and shoppers can easily find the right ones if they know how to search the site. When consumers know how to locate deals on eBay, they can look great and have money left to spend on other enjoyable things.