REAL? FAKES? HOW TO TELL THEM APART!
Please vote YES (at the bottom of the page) if you appreciate the time and research effort it took a group of us to compose this guide. This guide has had three thousand+ views, yet only 49 people have voted :(
This is an easy to understand guide. IT is short, to the point and contains images to assist explanations! HAVE A LOOK!
--------------------------------------


The Real stuff
Authentic Pokemon Cards just look better. They're WORTH your money and are much more valued by collectors' and battlers alike. Fake cards are illegal for tournaments, they render your collection WORTHLESS and are poor in quality.


Main differences between FAKES and REAL

Energy Symbol - A very important difference that can be spotted even in low resolution images!

The energy symbols in REAL cards: clear, SMALL and lie WITHIN the center of the coloured circle encompassing them.
Fake cards: have fuzzy, BIG energy symbols that TOUCH or go OUTSIDE the coloured circle which surrounds the energy symbol.

IMAGES
I do apologize for the LOW resolution images. Quality was reduced when I uploaded.
Anyway, it'll make do. As you can see from the images above, other than the energy symbols, it is EXTREMELY difficult to tell them apart.
Even when sellers take pictures of BULK listings with HUNDREDS of cards, you'll be able to tell the difference if you focus on the energy symbols.
REMEMBER! Do not buy, sell or distribute fake cards. It is illegal by law and buyers shouldn't have to be ripped off!
For a more comprehensive guide, visit my store front and select GUIDES from the navigation.
Another free guide from iCollected GUIDES. Copyright 2008-2010. ALL RIGHTS RESERVED.
------ADDITIONAL INFORMATION IF YOU HAVE TIME :) -------
If you have a real card (i.e. purchased from us, safeway, kmart, toys-r-us etc), compare it with the suspected card.
Note for differences in "thickness", "texture"- it will feel different and pay attention to the corners/card dimensions; often the fakes are easily noticeable.
---UPDATE--- We have noticed MANY fake Pokemon Cards floating around eBay. It really disheartens us that people would sell fakes. We encourage legitimate competition, not fakes. -----
The most common of late is of "LV. X" Pokemon Cards. Real ones have shiny borders, fake ones have either a "flat silver or yellow" border. Here is an example of a FAKE card.
FAKE: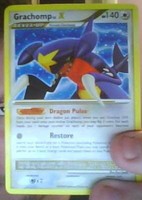 ||||||||||| REAL: