Grow-Fresh Is Australia's No.1 Choice For High Quality Aluminium Polycarbonate Greenhouses & Greenhouse Accessories
If you find this guide helpful, PLEASE vote YES at the bottom of this page, thank-you :-)
How To Make Money From Your Grow-Fresh Greenhouse Growing!
The revival of the home garden, which in most cases resulted from the desire for fresh herbs and vegetables, has produced a generation of budding botanists. A personal greenhouse is usually the next step for serious plant growers, and with such a structure comes the possibility of turning a backyard hobby into an actual business.
Specialty Cut Flowers
According to many researchers, there is a large market for what are called "specialty cut flowers," including those grown inside a greenhouse. Such flowers can be found in florist shops everywhere and include everything from roses to carnations and other common decorative blossoms. Considering that cut flowers are a several billion dollar industry, there is room for amateurs looking to make a little spare cash as well as full-time gardeners seeking a legitimate income. The advantage of being a local grower is the freshness of the flowers, which are sold to nearby markets.
Heirloom Vegetables
Greenhouses are easily adequate for growing fresh fruits and vegetables for consumption at home, but considering the modest size of most backyard greenhouses, creating a produce business is not as simple. It requires focusing on a specialized type of produce, such as heirloom vegetables, as a way to find a niche in the market. Heirloom vegetables are grown from seeds that have been open-pollinated over several generations and generally result in high-quality produce. Such varieties can be found most notably among tomatoes as well as lettuce, radishes and cucumbers. While they can be sold at higher prices, heirloom vegetables are not suited for long storage and are best sold locally, which is why they are a common sight at farmers' markets.
Medicinal Plants
Although most herbal medicines are still considered an alternative to the synthesized variety, they are still in enough demand to create a thriving industry. Some of the more popular and accepted plants include echinacea, St. John's wort and ginkgo biloba. These flowers and root plants are thought by many to help in such ways as relieving stress and boosting immune systems, and while most take up no more room than the average flower, they tend to have a higher turnaround. Medicinal plants, however, may not be sold as easily as vegetables at a local farmer's market, so growers will need to find a local shop or possibly bulk buyers over the Internet, where many forms of medicinal plants are bought and sold.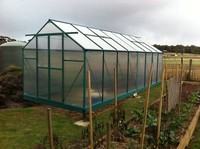 To See Our Full Range Of Greenhouses & Accessories, Please Visit Our Grow-Fresh Store!