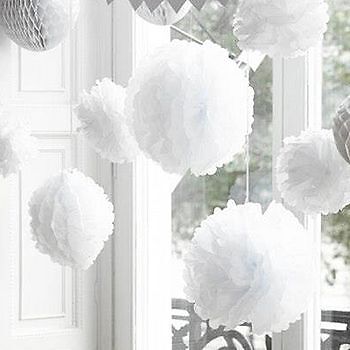 Pom-poms are most commonly associated with cheerleader uniforms, and although they are used for that purpose, there are also other uses for them, from fashion coats and hats, to drapery and party decorations. They are also made from a number of different materials, and in a number of different sizes. So considerations need to be made when buying the most suitable pom-poms.
Fortunately, eBay offers a huge range of pom-poms. This guide will shed light on important considerations in detail, and advise users how they can use eBay's simply and clear filters to find their huge range of pom-poms at affordable prices, and how they can purchase them safely.
Uses for Pom-Poms
These loose, fluffy, balls are used for an array of different things, but all with the same objective; for decoration. This section will specify a variety of uses for pom-poms.
Cheerleading
Cheerleaders use pom-poms as part of their uniforms. They use pom-poms in pairs, hold them in their hands and wave them around during sports games. They are designed to attract the attention of spectators, to accentuate their movements, and in some cases, to even distract the opposing teams. During sports games, pom-poms are sometimes held by fans in their team's colour as a way of showing support.
Clothing
Small pom-poms used to be worn by Roman Catholic clergymen on their birettas. The colour of the pom-pom represented the rank of the wearer. For example, priests wore black, and Domestic Prelates work scarlet pom-poms on their hats. Bishops are Archbishops wore purple birettas with matching pom-poms.
Scottish military uniforms featured small pom-poms on the crown of their hats. The pom-poms featured on these hats were referred to as a toorie. They have evolved into the same pom-poms found on older-style golf caps.
More modern fashion features pom-poms on a number of garments. These include:
· Hats – At the top of what are referred to as bobble hats.
· Coats – Many coats feature pom-poms that hang on the end of two strings that hang down each side.
· Cardigans – Cardigans often feature the same two pom-poms handing down on strings.
· Jumpers – Jumpers can sometimes have pom-poms that attach to them, some cover the entirety of the jumper and others are placed at random.
· Accessories – A number of accessories, such as bags, shoes, scarves and hair bands feature pom-poms that can both be hung or simply attached to an item for decoration.
Home Wear
Being predominately for decorate purposes; it is common for them to be used for a number of things in the home. They are often used to decorate cushions, curtains, suite throws, and bedding.
Celebrations
Pom-poms are commonly used to decorate a venue holding celebrations. They are common for wedding reception halls, birthday parties, anniversaries and various other celebratory reasons.
Toys
They are often featured as part of children's toys such as stuffed animals, learning mats, and other soft toys. Pom-poms are also commonly featured at the ends of tricycle and bicycle handle bars, more commonly in girl's bikes to add extra attraction.
Materials Used to Make Pom-Poms
Pom-poms are made from a number of different materials, each with their own advantages. This section will specify a number of materials used and give details on those materials.
| | |
| --- | --- |
| Material | Information |
| Wool | Wool is elastic and crimped, having greater bulk that retains air and heat. They are comfortable to hold and maintain a round shape when made correctly. |
| Cotton | Cotton is soft, fluffy and staple, and naturally grows in the shape of a ball. Cotton is also comfortable to hold, but may not give a lot of room for movement. |
| Paper | Paper is low cost and easy to mould. Paper pom-poms often look more attractive, but are easily broken and destroyed so are more common for decorating for celebrations or ornaments. |
| Plastic | Plastic pom-poms are durable and can be made in different shapes to fit uses. They are commonly used for cheerleading pom-poms as they offer movement when waved around. |
| Feathers | Feather pom-poms are common in clothing and fashion. It is a more expensive material but offers good quality and a very soft touch. |
Home Made Pom-Poms
In addition to simply choosing a desired pom-pom material, eBay offers users the choice to buy the material of their choosing separately, and to buy pom-pom making kits for them to make their own at their leisure, and in their own size. It also gives people the opportunity to mix and match colours and even materials.
For those who would like to try something more creative and make pom-poms from scratch, all that is needed is cardboard, a compass or something circular that can be traced around, scissors and a chosen material. Below are steps to take when making pom-poms;
- Step 1. Create two doughnut shapes at a desired size from the cardboard, using the scissors and circular object/compass.
- Step 2. Place the rings together and after cutting the material into manageable lengths, wrap in around the doughnuts, feeding it through the middle.
- Step 3. Once the ring is completely full of material, with a number of layers, cut around the material, eventually reaching between the two pieces of cardboard.
- Step 4. Pass a length of material through the two pieces of cardboard all around the strands of material and tie it tightly together.
- Step 5. Remove the cardboard and cut any pieces of material that are uneven.
Be sure to have enough material to fit around the size of the cardboard before making the purchases of each. Take the correct safety precautions when using scissors.
Buying pom-poms on eBay
This section will advise users on how they can find all pom-pom related items using eBay's simple categories and search filters. It will also inform users of important buying considerations, and help to complete an overall successful transaction.
· For pom-poms, start by selecting the category Home & Garden, then Parties, Occasions, then finally, Balloons, Decorations.
· Utilize eBay's other search filters offered by eBay. For example, condition, item location, and format. This allows for the most convenient buy for individuals.
· Once a pom-pom, or a pom-pom-related item has been found, be confident with its seller before committing to the buy. Read feedback and see if there are any comments relating to pom-poms or items of similar interest.
· Once a decision is made about an item and its seller, use PayPal to make a safe, secure, and swift financial transaction.
· Be sure to check out eBay Deals for other offers and reductions. Select the Home & Lifestyle category, and then the Home Décor category.
· Once a suitable pom-pom has been received, leave honest feedback about the transaction. Rate the given specifications appropriately and add a personal comment.
· Be familiar with terms and conditions of eBay and in some cases, the seller.
Conclusion
Pom-poms are fun and decorative items that can brighten up a room, a wardrobe, and even a clergyman's biretta. They are simply made, but come in a number of variations, from a number of different materials, such as wool or plastic, to a number of different sizes and colours.
Fortunately, eBay offers a huge range of pom-poms that cater to all considerations. eBay even offers a range of products that allow buyers to make-their own pom-poms, such as individual materials, scissors and cardboard. eBay's easy-to-use search filters make the process of finding the most suitable pom-pom items simple. Be confident with a seller before committing to a buy. Use PayPal to make a payment and level feedback upon receipt.