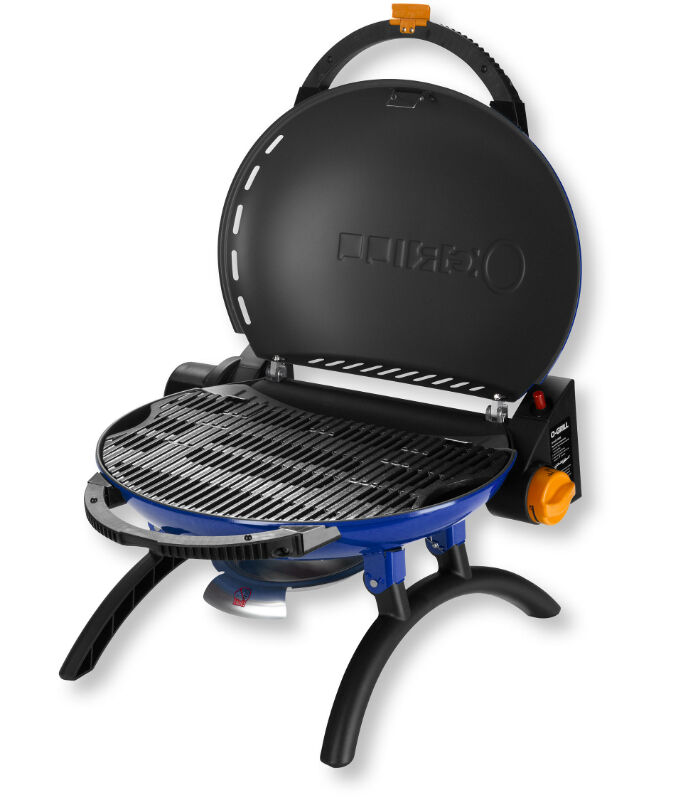 Whether barbecuing in the garden with the family, or in the park with a small group of friends, or even setting up a barbecue after an eventful day in the woods after a long hike, a portable BBQ can be an important appliance. A portable BBQ's easy set-up, quick heat up time, and portability allows for a flexible and quick preparation of food. This guide will briefly look at the options available for buyers of portable BBQs, whilst eBay's large range of portable BBQs can help the interested buyer find the best portable BBQ for their needs.
What Are Portable BBQs?
Portable BBQs are also called portable barbecue grills. They are similar to normal barbecue grills in that they apply heat from directly below the food in order to cook it, with the distinctiveness of a portable BBQ lying in its portability, simplicity of setup and use, and ease of transport. Whilst cooking on a regular BBQ or simply over an open fire has been implemented for centuries, the portable BBQ began to be popular as a recreational activity after World War II, appearing in public parks, and campsites.
With its rising popularity, manufacturers soon began to design smaller, lighter, and more efficient portable BBQs. Their improvements included attached wheels and detachable gas sources for easier transport and manoeuvrability. As such, there is now a large range of choices, designs, manufacturers, and models of portable BBQs to choose from.
Types of Portable BBQs
There are two main categories of portable BBQs, which derive their distinctions from the method of fuel used: gas or charcoal. When buying a portable BBQ, it is useful to understand the differences between gas and charcoal BBQs, and also how they vary. This table lists the features, advantages, and disadvantages of each type of portable BBQ:
Portable Gas BBQs

1. Gas Powered Infrared BBQ features:

o Valve attached to cylinder is opened, gas flows into the grill and pressing the starter ignition button ignites it.

o Durable ceramic tiled burners with microscopic holes that penetrate through the top of the tiles.

o Stainless steel body absorbs shock well.

2. Traditional Gas BBQ features:

o Number of different sizes and styles.

o Attaches to a throwaway canister but can be converted to attach full-sized propane tank.

o Burners shaped like the letter H turned sideways. Flame arises from the many holes drilled into the legs.

o Ranges from 2-6 gas burners.

Advantages

Disadvantages

· Reduces grilling time by more than half.

· Can go up to 750o Celsius, allowing the searing of meats, whilst retaining a rare centre.

· Heat is maintained at a constant rate.

· Fewer pollutants than charcoal BBQs.

· Propane fuel is more cost effective than charcoal.

· Easy-to-use heat and cooking speed controls.

· Built-in temperature gauge in some models.

· Heat maintained at constant rate.

· Easier to clean up than charcoal BBQs due to lack of fuel debris. One-touch cleaning systems of some models make cleaning even easier.

· Drip tray at the bottom catches extra juice or fat produced during cooking.

· Some models feature side shelves for additional cooking space, and side burners to keep food warm after cooking.

· Don't slow-cook meats and vegetables well.

· Propane is not easily available, and must be bought in a certified store.

Portable Charcoal BBQs:

Charcoal:Charcoal is placed at the bottom of the BBQ, drizzled with charcoal fluid, and then lit.

Advantages

Disadvantages

· Cheaper unit cost to gas BBQs.

· Instant-light charcoal only takes 20 minutes to heat up; otherwise, it may take about 45 minutes.

· Traditional smoky barbecue taste.

· Flavoured fuels can be added to flavour food (apple, mesquite, and hickory).

· Charcoal is easy to buy.

· Some models feature folding side tables with tool hooks for additional space.

· Used up fuel needs to be emptied after use. However, some models have a one-touch cleaning system and an ash catcher option, for easy disposal.

· Carbon emissions 100x greater than propane.
Benefits of Using a Portable BBQ
The following are some of the benefits of opting for a portable BBQ instead of a traditional BBQ:
· Portable BBQs can be transported easily, whether to the back garden or to a park or campsite. Whilst traditional BBQs are heavy, large and installed onto a patio or garden, portable BBQs weigh less than 10 kilograms, and tend to be as small as 75x42 centimetres in size. Some even fold into itself for easier transport. The addition of wheels makes for even easier transport, and may support some of the barbecue's weight. Smaller portable BBQs can even be carried in a backpack – ideal for long-distance hikers.
· Their small size means they efficiently produce enough food for a small gathering or camping trip. They take less time to clean and can be set up quickly and easily.
· Portable BBQs are less expensive than standard BBQs, ideal for the occasional 'barbecuer' or for a novice to practice their barbecuing skills.
Buying Considerations for a Portable BBQ
Before buying a portable BBQ, it is useful to consider the following buyer's tips:
· Consider how much storage room there is for when the BBQ is not in use – buy a smaller portable BBQ if needed.
· Consider transport options, and how far the portable BBQ is likely to be taken: portable charcoal BBQs are generally specified to be transported in a vehicle, whilst portable gas BBQs can be transported in a backpack.
· Most portable BBQs are sold already assembled; however, some manufacturers reduce prices on portable BBQs that need some assembling. If assembling a portable BBQ, read and follow the manual carefully, adjusting the components according to specifications to ensure safe and efficient BBQ use.
· Good quality charcoal BBQs are better, and may even be cheaper, than low-quality gas BBQs – if a high-quality gas BBQ cannot be afforded, opt for the charcoal alternative instead for better cooking results.
· When buying portable gas barbecues, understand that they will require either liquid propane or natural gas – natural gas is easier to refuel using a nearby gas supply and propane tanks can only be refilled in specialised stores.
· When buying portable charcoal barbecues, ensure the charcoal is protected from moisture and natural decay by storing it well in an airtight container.
· Ensure the portable BBQ is made of a strong, durable material to ensure it remains functional after rough transport. Stainless steel prevents scratches and dents and is corrosion-resistant, but it fades into a yellow colour over time. Painted steel rusts when the paint chips or peels away. Cast-aluminium is tough and does not rust. Aim for a portable BBQ with stainless steel burners and handles with a cast-aluminium body to handle high temperatures.
· There are a variety of grates available for portable BBQs and they are an important indicator of cooking times and food quality. Cast iron grates are excellent at heat retention and therefore searing meats. Uncoated cast-iron grates need to be coated in oil to prevent rust. Cast-iron grates coated with porcelain ensure the food does not stick. Heavy-duty stainless steel grates are extremely durable, easy to clean, and provides high heat retention.
How to Buy Portable BBQs on eBay
When buying from eBay's large range of portable BBQs, follow these simple steps for easy purchasing:
· Simply type in 'portable BBQ', 'portable gas BBQ', or 'portable charcoal BBQ' into the search engines. Varying the search terms by using the word 'barbecue' may yield more results, so experiment with different terms for a wider range of choices.
· Use the 'Shop By Category' drop-down menu to search from the main listings page for barbecues. Go to Home & Garden, then to Outdoor Living from the list of options along the left hand side and finally BBQs from the list of options. From there, either browse the listings for portable BBQs or narrow down the results by picking 'Portable' from the Features sub-category on the left hand side.
· Use the further options on the left hand side to refine the search by 'Format', 'Brand', 'Condition', 'Price', and 'Item Location'.
· Use eBay's recommended deals section for further portable BBQ listings. Find the eBay deals option at the top of the screen and go to Outdoor & Travel from the list of options, and then Backyard for BBQ deals. Keep in mind that deals will vary according to available listings.
· When ready to buy the portable BBQ, ensure the seller is reputable and reliable by checking their feedback ratings and pay via PayPal for a secure transaction. It may also be wise to buy a portable BBQ from a manufacturer or seller that offers a limited lifetime warranty to cover any eventualities.
Conclusion
When opting for something different from traditional cooking methods, a portable BBQ can help quickly make a range of dishes easily, as they are effortless to set-up, clean up, and transport. eBay's range of portable BBQ can help any buyer find the portable BBQ best suited for their needs, helping the informed buyer make the best choice for their barbecuing needs. With the large range of portable BBQs available, they allow for a high quality, user-friendly, cost-effective, and a simple way of outdoor cooking.