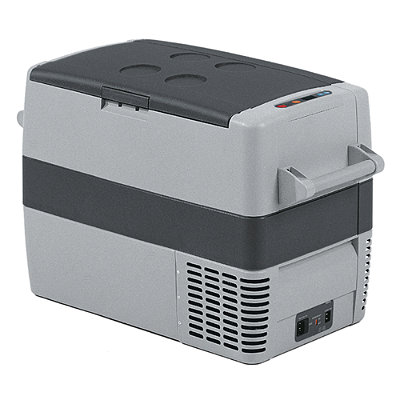 A camping fridge or cooler is an essential accessory for camping enthusiasts. The best time of year to go camping in the great outdoors is the summer months, and with temperatures rising, it is important to keep food and drinks cool, not only for safety and hygiene reasons but also because nobody likes a warm beer after a hard day's hiking.
Buying a portable camping fridge online is easy when shopping on a website such as eBay, where specific items can be searched for, or the camping category browsed to see all available items. With so many different types of portable camping fridges to choose from, it is easy to find the perfect fridge for any camping trip. It is also possible to find great deals on camping equipment for that summer trip away under canvas.
Why you Need a Portable Camping Fridge
Whilst it is possible to use ice blocks and a cooler when camping, a fridge is a much more practical option for the following reasons:
Ideal for longer breaks
Great for keeping beer, wine and other drinks ice cold
Frozen foods will defrost slowly and safely in the fridge, such as frozen meats or fish
No messy, melting ice blocks to worry about
These are just a few reasons why a portable camping fridge is a great idea. eBay has a wide range of fridges to choose from in varying sizes to suit all needs, so make sure the fridge purchased is large enough for the trip and for everyone's needs for the duration of the holiday.
Types of Portable Camping Fridge
There are a number of different types of portable camping fridge available. Some of the most commonly found types and their benefits include:
| | |
| --- | --- |
| Type of Fridge | Benefits |
| | These can be operated using three different types of power – mains, gas or 12V power (from the car cigarette lighter socket). These are generally larger than the other styles of fridge with a capacity of 40 liters plus. |
| | These use thermoelectric technology. Various different types available, from basic models which cool to around 18 degrees below outside temperature to colder models. Some use mains or gas power, while others run off 12V. |
| Car Cooler | This also uses thermoelectric technology and can be run off mains or 12V power. |
| | Compressor fridges can cope with extreme temperatures, and can chill food and drinks to -18 degrees centigrade. There are some available that use 12V battery power and others that use mains power. These are particularly power-efficient and are also very quiet. |
When deciding what type of fridge to buy, it is a case of personal preference and will depend upon budget, the number of people on the camping trip, size of fridge required and the means of operations – gas, electric or 12V. All of the above options can be easily found online, and eBay has a wide selection to choose from.
Choosing the Right Size of Portable Camping Fridge
When considering what size of portable camping fridge to take on a trip, it is important to think about how many people are travelling. Larger families will benefit from using a 3-way fridge that has a greater capacity, whereas couples or smaller groups could use an electric cooler.
It will also depend how long the trip is for, as for longer camping trips more food and drink will be needed. Local amenities need to be taken into consideration too – a smaller fridge will mean more frequent trips to a store for food and refreshments. If travelling during the summer months in a very hot area, a compressor fridge may be the best option, as it uses less power to chill food and drinks.
The Best Brands of Portable Camping Fridge
When it comes to choosing a portable camping fridge, the brand should be a consideration – there are many leading brands available to choose from online, on websites such as eBay. By paying a bit more for a reputable brand, the quality of the fridge is likely to be higher. Here are some of the most popular brands of portable camping fridge available:
It is easy to find non-branded fridges and freezers for camping online, but be aware that the components used in these products may not be as high quality as one of the above popular brands. eBay has a huge range to choose from and it is often possible to find big brands at affordable prices.
Should you Buy a Used or New Portable Camping Fridge?
Deciding whether to buy a used or new portable camping fridge is a personal decision. A new fridge will usually come with a manufacturer's guarantee, which ensures that it will be repaired or replaced free of charge if it fails whilst under guarantee. For families or couples who go camping regularly, buying a new portable camping fridge may be the best option.
If money is tight and the individual is on a strict budget, shopping online for used camping fridges might be the way forward. It is possible to find used and nearly new fridges on websites such as eBay for a much more affordable price than new portable camping fridges. Always read the product listing carefully, as any damage or faults with the fridge will be listed in detail here.
Buying Accessories for your Portable Camping Fridge
There are a number of accessories to buy for portable camping fridges, from power and electrical accessories to covers and transit bags. Here are some of the most popular accessories:
Generators – these vary in output and the type of starter
Thermometers
Carry bags – some fridge manufacturers such as Waeco have their own range of bags
Power cables and accessories
Spare parts
Baskets or inserts for the fridge interior
It is easy to find all of these accessories and more online and eBay is a great place to start looking for fridge accessories at competitive prices.
How Buy a Portable Camping Fridge on eBay
For the best place to buy a portable camping fridge, just head for eBay to find a wide range at competitive prices. Navigate to the home page and click on the drop-down menu 'Shop by Category' at the top left next to the main logo. A category list will open up, then click on Sports & Recreation. This will bring up a list of all the available categories. Scroll down to Sporting Goods and click on 'more'. From here it is possible to select Camping & Hiking, and then Food Storage.
A search can be narrowed using a certain term if looking for something specific, such as a portable camping fridge. Just type the words related to the search, such as 'Waeco Portable Fridge' into the search bar, and a list of available items will appear.
Conclusion
A portable camping fridge is a great option for families looking to keep their food and drinks cool whilst on a camping trip. Portable fridges are great for longer trips where ice blocks and cool boxes may not be practical. Portable fridges can operate off gas, mains electricity or 12V power, making them incredibly versatile.
With such a wide range of portable camping fridges to choose from on eBay, it has never been easier to find the perfect brand, size, and type of portable fridge for a camping trip, whether that is a 3-way fridge with large capacity or a smaller electric cooler to store drinks during a shorter trip.