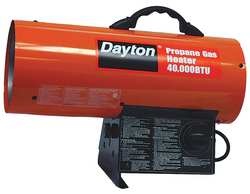 Portable gas heaters have a number of different uses from keeping a camping tent warm to heating a cold corner room of a house. Portable heaters are small, lightweight, and easy to carry. Users appreciate the heat that radiates from these personal gas heating units for warming cold feet and heating a small space. There are several different brands available on the market at local retailers and online. Selecting the right heater depends on the features the gas heater offers and the expectations of the buyer. Sellers on eBay offer a selection of portable gas heaters from a variety of manufacturers, such as Bromic Supaheat, Gasmate, Kovea, Paloma, and Rinnai.
Bromic Supaheat
The Bromic Supaheat portable gas heater offers the option of two different heating methods. The front grill emits warm, radiant heat or while the natural convection heating quickly warms the room as hot air rises from the vent. The Supaheat fires up with electronic battery ignition, cleans easily, and has a safety switch to shut the unit off if it tips over by accident. The Australian Gas Association (AGA) approves the Bromic Supaheat for home use with LPG gas. The heater requires an AGA-approved female floor socket to use it in each room.
Gasmate
Gasmate offers a selection of portable heating products primarily for outdoor use. Patio heaters, radiant ceramic heaters, camping heaters, and fan heaters in the Gasmate product line operate with propane, butane, or electronically depending on the model. All of Gasmate's products are AGA-approved.
Kovea Portable Heaters
Buyers looking for small, portable, tabletop or floor-mounted heaters should consider the models offered by Kovea. The Kovea gas heaters run on butane, which makes them acceptable for use indoors as well as outdoors. Kovea's Table Heater, Little Sun, and Power Sense models all have internal attachment points to house a butane canister.
Paloma
Paloma gas heaters come in two styles: portable radiant heaters and portable convector heaters. All Paloma heaters, regardless of the model, operate on natural gas or LPG and comply with Australian Standards AS4553-2008. Both the convector and radiant models have a number of built-in safety features, including automatic shut off if the flame goes out, tip over safety switch shut off, and oxygen depletion sensors to extinguish the heater if oxygen levels in the room reach unsafe levels.
Paloma Model Comparison
Buyers can select from six different Paloma models: three convector heaters and three radiant heaters. A comparison of the Paloma models available, the type of heat distribution each model offers, and key specifications of each model helps a buyer to make an informed decision.
The convector models include the PJC-15FR, PJC-18FR, and the PJC-25FR. These convector models have a gas input of between 15.5 and 25.0 MJ/h and a heat output of 3.9 and 6.1 kW. MJ/h equals mega joules per hour on high heat setting. Kilowatts measure heater output.
The radiant Paloma heater models include the PG-451S, PG-651S, and the PG-851S. These radiant heater models contain gas inputs of between 8.0 and 14.0 MJ/h, and a heat output of between 2.0 and 3.5 kW.
Radiant heaters come in white only, convector heaters offer some colour choices depending on the model.
Rinnai
One of the more popular brands of portable gas heaters in Australia, Rinnai offers a good selection of both convector and radiant heat models. Premium Rinnai models feature set and forget automatic thermostat controls and some models come with remote controls for easy operation. Premium radiant models offer variable heater control settings, tip over and flame failure safety systems, as well as oxygen depletion sensors.
Rinnai Model Comparison
Rinnai offers nine models of portable gas heaters: five convector heaters and four radiant heaters. A comparison of the nine Rinnai models, heat distribution type, and key specifications for comparison help buyers make informed decisions about purchasing a gas Rinnai heater.
The convector models include the Avenger 25Plus, Avenger 25, Capella 18Plus, Dynamo 15, and the Enduro 13. Their gas input ranges from 13 to 25 MJ/h, while the output ranges from 3.3 kW to 8.2 kW, depending on the model.
The radiant models include the Granada 252, Titan 151, Cosyglow 650, and the Econoheat 850. The gas input for these models ranges from 11 to 25 MJ/h and the heat output ranges from 2.9 to 6.0 kW, depending on the model.
Colour choices for convector heaters are white or platinum. Radiant heater colour choices vary by model. The Granada 252 and Titan 151 come in either off-white or platinum, while the Cosyglow 650 and Econoheat 850 are only available in platinum.
Buying Portable Gas Heaters on eBay
Buying portable gas heaters on eBay is easy and convenient; shop from home and have your heater purchase delivered directly to your doorstep. Search through listings of sellers offering heaters for sale by entering the keywords "portable gas heater" into the eBay search bar. You can narrow listings by typing specific brands of heaters, like Rinnai heaters, into the search bar. Review seller feedback ratings to see how previous buyers rate a particular seller. eBay allows buyers to feel confident in the transaction. Also, be sure to check out eBay Deals for great discounts on gas heaters of all types of brands and styles.