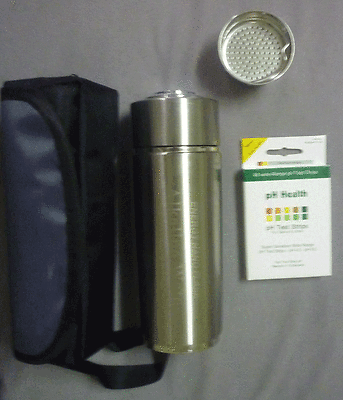 What is Water Alkalizer Energy Flask?
It is the manifestation of the most high end nanometer technology and natural energy minerals, bringing out the nanometer energy stone of "super strength" cancer-killing power, and turning ordinary water into the water with Micro-Electrolysis.
So What does this water with Micro Electrolysis can do?
1. It can alkalize your drinking water.
2. Dissolve acid content in the water.
3. Eliminate Toxicant in your body and enhance your body immune system.
4. It can quickly neutralize the toxin, maintain acid base balance, improve the acid poisoning and acidosis diseases, such as constipation, diarrhea, gastrointestinal problems, diabetes, cardiovascular and Cerebrovascular disease, gout, calculus, arthritis and etc.
5. It can generate antioxident that remove the excessive free radicals, that help to prevent and fight against senile plaques, Parkison's, Cataracts, Arterial Sclerosis, Cerebral Apoplexy, Malignant change of cells; that caused by the free radicals.
6. It can dissolve your drinking water into small molecules, to reduce blood lipid, blood pressure and candy content.
7. With its super strong dissolution power, emulsifying power and penetrating power, it is able to dissolve and emulsified the fat and cholesterol in blood vessels and gastrointestinal parts, expel the waste, lower the blood viscocity and helpful to reduce high blood fat, high candy and high pressures.
8. The aerospace ceramic cores adopted by this Alkalized Flask able to release iron, zinc, iodine, calcium and various minerals that essential to human body, which are in ionic condition, they are extremely easily absorbed into the body, and it can also add a variety of micro elements, catalyzing and activating the driving force of life!
9.High In Oxygen: Improve sleep quality - The aerospace ceramic cores adopted by this Ionizer Water Flask has countless crystalloids, and will be permanently releasing negative ions, activating cells, purifying the blood, regulating gastrointestinal system, improving sleep, implementing the oxygen needed by human brains and muscles.
10. A couple of cups a day will make your mind stay fresh and energetic.
What is this Alkalizer / Ionizer Flask Made of?

1) Water soluble Calcium Carbonate Ore (calcium content: 95.75%): produced in Futamata Hot Spring, Hokkaido, Japan. - Absorption and decomposition of toxic substances.
2) Specifically Manufactured Tourmaline Ceramics from Brazil: generates electrolysis, producing negative ions and far infrared rays. It offer antibacterial ability, increasing dissolved oxygen and ionizes water molecules by decreasing their size (micro-clustering).
3) Coral Fossil (weathered coral): mined in Hokkaido, Japan from a 20 million year old seabed layer which has been uplifted to ground level. It emits 25% of the mineral contents in water, making it milder.
4) Binchotan Charcoal: with the same absorption abilities as activated charcoal, it absorbs chlorine, heavy metals and impurities, emits far infrared rays while making the water cleaner, safer and better taste.
5) Maifanshi Stone: it releases mineral contents and activates water to decompose impurities. It was approved in Japan as a food additive in 1976. Superior sterilization effects.
6) De-chlorinating Ceramics: it quickly decomposes and removes chlorine and other unpleasant odors of chlorinated water.
Direction To Use This Alkalizer Flask:
1. Fill in your water Ionizer Flask with drinking water, shake it a bit and let it sit for 10 minutes. Then you can enjoy alkalized water with rich electrolysis content. Simple and Health!
2. Only infill this Ionizer flask with drinking water, do not use it to fill juices, tea, milk, coffee or any other form of liquid.
3. Remember to always Cap your air tight Ionizer flask tightly when you are not consuming the hydrogen rich water directly. Please note that Hydrogen is a very light type of gas, that dissipates within few minutes of time.

So, you might asked: " All right, I know that alkaline water is good for body, but how can I really know that this flask is really perform as what it promised to alkalized the water? :)
Sure :) You can see that I had included a pack of PH Strip into my Nano Energy Cup Product package? This pack of ph strip not only can used to be monitor your body PH from time to time, you can also use it to test your drinking water before and after you filter your drinking water with the nano energy flask. From the Drinking water PH reading before and after the Filtration process, the result will speak for itself :)
Invest in your Health and Vitality today by using an Alkalizer Water Flask!

Click Here to buy Nano Water Alkalizer / Ionizer


Thanks for taking the time to read my guide.
If you found this guide helpful, please vote YES below.
Voting YES helps others in the eBay community.
Cheers :)