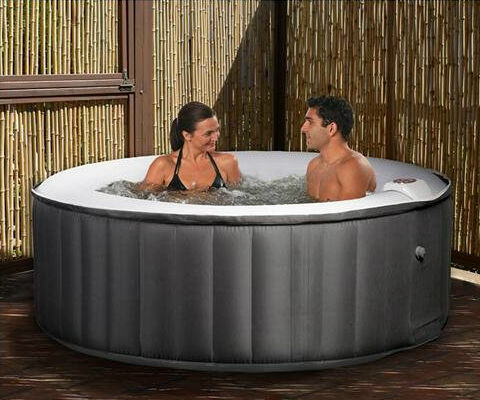 What could be better than sinking into hot, swirling water at the end of a long day? Home spas are the ultimate in luxury, plus exercising or even just soaking in warm water is recommended by doctors for a variety of conditions. People wishing to invest in a spa have a number of different options. Stationary spas come in a variety of sizes and styles and are popular, but they are expensive and require a certain amount of dedicated space. Portable spas offer most of the advantages of stationary spas, but they can be put away or moved around when not in use. For prospective buyers looking to invest in a home spa, a side by side comparison of these two types can help make clear what kind of spa can best suit the buyer's individual needs.
About Spas
The first question many people ask is what exactly is a spa? Is it different from a hot tub, for example? Next, does it make sense to look into both stationary and portable spas as separate, distinct groups? For most buyers it is useful to compare the features of the two main types of spas directly, side by side.
The words spa, hot tub, and Jacuzzi are sometimes used interchangeably. Originally, a hot tub was simply a wooden soaking sub, like a giant barrel. When fibreglass soaking tubs went on the market, they were called spas to differentiate them from the older hot tubs. Over time, the two types of tubs grew closer together, and both terms are sometimes used simply for marketing reasons regardless of the tub's design. Generally, modern spa tubs have jets and hot tubs do not. Jacuzzi is simply a popular brand of spa tub, and its use as a general term is incorrect.
Stationary Spas
Stationary spas may be in-ground or above-ground, and are very much like small swimming pools, plus the option of turning on the jets. Some are self-contained; others require additional separate equipment, such as pumps and heaters. Some self-contained spas are referred to as portable, meaning that they can be delivered as whole units ready to use, rather than having to be assembled on site. This does not mean that these tubs are actually portable enough that the owners can take them on holiday packed in their luggage. They are too heavy even to be moved to the other side of the property in case the space is needed for something else.
Stationary Spa Optional Features
Stationary spas can sometimes accommodate as many as six or seven people at once. Some in-ground spas are built to incorporate waterfall features and placed so as to form the centrepiece of a garden. Some speciality stationary spas are designed for use in specific hydrotherapy programmes or exercise regimes, such as swimming in place. Obviously, these spas must be large enough to allow at least one person to lie flat in the water to swim. Some spas feature doors so that users with mobility difficulties can get in and out safely and easily. The tub is then filled while the user is inside. Depending on the buyer, some of these features might be essential, while others only optional. Since, in general, more feature does equal higher price, it is important for buyers on a set budget to decide what essential means for them before shopping for a spa.
Stationary Spas Drawbacks
Because stationary spas are difficult or impossible to relocate, siting them requires some careful thought. They must be placed so as to not cause an obstruction, and they must have at least a minimum of privacy. A good view from the spa is also important.
Portable Spas
Truly portable spas cannot be as large as stationary spas and they are often much less expensive to buy. There are several different types, including both inflatable models, like giant children's wading pools, and folding models that have rigid sides but fold flat when not in use. While portable spas cannot quite fit in a suitcase, they can be packed inside a caravan and taken on holiday. The owners can then unpack the spa, set it up in the campground, and enjoy a nice warm soak at the end of a day of driving. Portable spas are also good options for people who do not have enough space for a permanent spa. With a portable spa, the thing can be folded up and put away when not in use.
Comparing and Contrasting Portable and Stationary Spas
While both portable and stationary spas come in a variety of styles, as a group, portables are more affordable and smaller. A buyer who can afford a stationary spa, has the space for one, and does not plan to travel with it would probably do better with a stationary spa. It is larger, more durable, and can be specialised for the user's particular needs. However, portable spas are not second-rate products.
Because they can be put away when not in use, portable spas often last longer than stationary spas that are always exposed to the elements. The following table provides a clear side-by-side comparison of the two types of spas. Each type is listed by price, size, and durability, which are the primary ways the two differ as groups.
Features

Portable Spas

Stationary Spas

Price

Low

High

Size

Small

Small or large

Durability

Less durable

Less exposed to the elements

More durable

Always exposed to the elements
Buyers should remember that choosing whether to get a portable or a stationary spa is only the first step. Next, the buyers have to choose the features they want. Each type of spa has a wide variety of distinct subtypes and is available from various brands.
How to Buy Portable or Stationary Spas on eBay
Both portable spas and self-contained stationary spas are available on eBay. Spa-related equipment and accessories are available as well. The buying process is straightforward and the site is easy to search.
Finding Spas on eBay
To start by just seeing what is available, use a general search term, like 'spas' and then use the menu options to narrow the results. To quickly search for something specific, use the Advanced Search feature. Another option is to use eBay Deals, where the best prices of the day are listed. With luck, the day's list might include the spa you would like to own.
Buying Spas on eBay with Confidence
The main thing is to have a good working relationship with the seller. Look up the seller's profile page to find his or her feedback score and a contact link for any questions. The sellers with the highest feedback ratings are easy to identify because they have a special prize ribbon icon on their listings and profiles. The profile page also lists the seller's special deals offers if applicable. Pay attention to delivery options; some spas may cost quite a bit to deliver, while in other cases, the seller might allow local pick-up.
Conclusion
Not being able to move one's home spa around is what is known as a nice problem to have; at least the owner has a spa. The problem also has a solution in the shape of portable home spas. These are genuinely moveable tubs, as opposed to self-contained factory built tubs that are sometimes called portable but are too heavy to move. Some portable spas are inflatable, just like giant children's wading pools, while others have rigid sides that fold flat when not in use. Most are self-enclosed. Portable spas are lower-cost than stationary spas, and because they are not always out in the elements, they receive less wear than stationary spas. They can be moved out of the way or taken on holiday. Stationary spas have their own advantages, such as being larger, but the main drawback is that they can be expensive.
Spa|Portable Spa|Stationary Spa|Jacuzzi|Soaking Tub