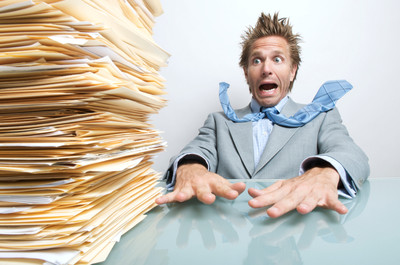 Finding customer records a pain?
When I started selling on eBay as a hobby, I just saved my postal receipts in one big pile and soon forgot about them. But when it came to the inevitable problem, I quickly realised I had a tough time trying to match the claim with the postage receipt from weeks ago!

I tried a few things to get organised, but I hate paperwork, and I hate doing things more than once. So I devised a little system that works for me. It keeps me organised, limits my workload and costs, and lets me get my hands on customer records in a snap.

So here is what I do. It probably won't suit the truly organised person with lots of time and resources, but it saves me the cost of printing, and I love it for my 8-12 sales a week.

1. Save all envelopes you get from incoming mail. Make sure the back is free from text and can be easily written on.
2. When you have a sale(s) for the day, write the customer details on the back of a used envelope and date it.
3. After you get the receipt from the post office, place it in the envelope.
4. Stash the envelope safely, and throw it away after 45 days (I guess if eBay is your business, you could keep them for tax time).

This is easy and saves a lot of time when a problem occurs. Its quick and dirty but saves on printing, saves on time (no scrawling details on receipts) and recycles envelopes. It works for me and I hope it helps you, too.