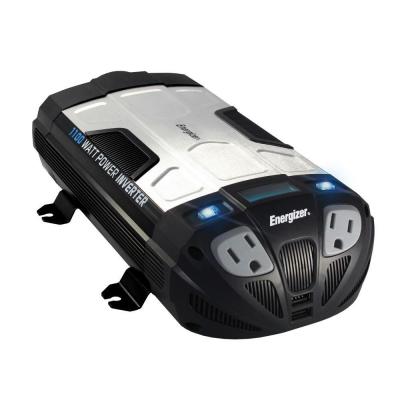 People who own cars, trucks, caravans, and boats often feel the need to have access to power, and in most cases, the power that comes from an onboard cigarette lighter port just isn't enough. This is why a number of automobile owners and boat owners look for power inverters.
While buyers have the option to turn to shops that deal in vehicle, boat, and electrical supplies, they also have the option to turn to websites like eBay, and the latter seems to be a better option because it gives buyers access to various alternatives through a single medium. Before actually buying a power inverter, buyers should learn about the basics of power inverters and their need in terms of power, establish if they require modified or true-sine wave inverters, and know which additional features are needed.
Basics of Power Inverters
Power inverters are handy little gadgets that can be set in place to power an assortment of electronic devices and electrical appliances in the absence of direct sources of power. Power inverters convert low voltage DC power to AC power, and thereby, allow people to operate conventional electronic devices and electrical appliances using the power generated by their vehicles or boats. Power inverters can provide a source of AC power in cars, trucks, caravans, and boats alike, and their use in homes is not uncommon either. Depending on how much AC power inverters can produce, they can be used to supply power to a range of items, from mobile phones to televisions to medical devices.
Power inverters that produce fewer than 300 watts of AC power can normally be connected through outlets available for cigarette lighters, although they can also come with jumper-cable-like attachments meant to hook onto the vehicle's battery. More powerful inverters tend to be hardwired into a vehicle or boat's existing wiring system.
Different Power Alternatives
Power inverters used in automobiles and boats come with one or more AC power outlets, and these inverters can be used to power a range of items depending on their prowess. The table below helps to illustrate how inverters, based on their power, can be used for different applications.
Type of Inverters

Typically Used In

Typically Used to Power

Compact inverters

Cars

Minivans

SUVs

Mobile phones

Laptops

Camcorders

Trucks

Caravans

Boats

Coffee and bread making machines

Stereos

Televisions

Inverter-chargers

Remote work locations

Camping sites

Homes

Power tools

Refrigerators

Large TVs
Power inverters vary in terms of their output, which establishes what an inverter can power and what it cannot. While inverters with low wattage are often enough to power and charge mobile phones and laptops, when it comes to providing power to larger devices or appliances, increased wattage should be sought.
Choosing Suitable Power When Buying a Power Inverter
The power output that any inverter is capable of generating is typically displayed in watts, and most electrical appliances and electronic devices require a certain amount of wattage to function as they should. When buying an inverter, choosing one that exceeds existing wattage requirements is suggested, and in addition to paying attention to the continuous draw of power that an inverter can bear, buyers should also pay attention to its peak power handling capability, which is the load that it can bear when the requirement comes in the form of surges typically associated with appliances starting.
Volts, Amps, and Watts
Most electronic devices and electrical appliances come with specific requirements in terms of volts and amps, and these figures are used to arrive at wattage requirements, in which simply multiplying volts and amps results in the required wattage. For example, 19-volt laptop batteries that need 3.42 amps of current, require 64.98 watts to continue charging, and the 64.98 is arrived at by multiplying 19 and 3.42. Taking into account the type of appliance that requires power is also important because different appliances are known to draw power differently. Motors, for example, require inverters that exceed their wattage requirements by around 50 per cent, so running a 400-watt motor requires a 600-watt inverter.
How Many Watts Is Enough?
When it comes to deciding how much power to look for in a power inverter, buyers should know that a 400-watt inverter is suitable to provide adequate power for mobile phones, gaming consoles, portable work lights, small or midsized TVs, and DVD players. 800 watts should be enough to run larger TVs, some power tools, bread and coffee makers, and more. 1,800 watts is ideal when it comes to running microwave ovens, bigger power tools, hair dryers, and the like. Yet, when it comes to dealing with heavy loads for long durations, buyers also have the option to choose inverters up to 3,000-watts.
Modified Sine Wave or True Sine Wave?
Modified sine wave and true sine wave refer to two different kinds of wave outputs that inverters produce. Modified sine wave, or square wave, inverters are among the most commonly used type of inverters in automobiles and boats. They are looked upon as efficient and consistent enough when it comes to running most household devices and appliances. True sine wave inverters are typically more expensive, and are required to run certain devices, like HDTVs, laptops, professional recording equipment, medical equipment, and more. The reason true sine wave inverters are required to run certain devices is because they do away with the slight interference that modified sine wave inverters can cause when running specific devices.
Features to Look for in a Power Inverter
Modern day power inverters designed for automobiles and boats come with a range of features, and in most instances, added features mean increased prices. While some features are simplified or offer added safety, some others are not really required, so buyers should know just what they need. Features that can be found on power inverters include power switches, overload and overheating protection, multiple outlets, low-battery indicators, USB ports, automatic shut-off, LED displays, cooling fans, extendable DC cords, and more.
Buying Power Inverters on eBay
eBay is home to various automotive and boat deals, and buyers can also use the platform to look for power inverters designed for cars, caravans, trucks, boats, and even homes. The power inverters made available to eBay buyers vary in wattage considerably, so buyers can expect to find what they're looking for quite easily. For example, car owners who do not require too much can explore alternatives starting at 200 watts, and boat owners looking for more power can look for 2,000 or 3,000-watt inverters.
When it comes to postage and packaging costs, buyers should bear in mind that these costs vary from seller to seller, and while some sellers give buyers the option to pick up their purchases in person free of charge, some others offer free shipping.
Conclusion
Buying a power inverter is not as difficult as some people may think, and as long as certain factors are taken into account, the process is rather straightforward. To go through the process, buyers should establish just how much power is required, choose between modified sine wave and true sine wave alternatives, and take into account how many outlets are needed. In addition, choosing between portable and hardwired alternatives may also be required, especially when buying not-so-powerful alternatives.
Given the wide array of alternatives on offer, buyers should ideally search through as many suitable options as possible, which not only helps to establish just what is available on the market at any point in time, it can also help to identify alternatives that do not compromise on power and do not cost too much either.
power inverter|car inverter|boat inverter|caravan inverter|compact inverter