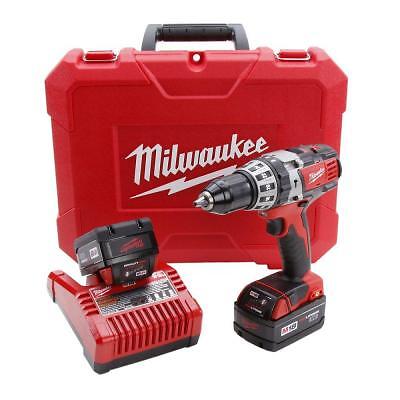 Power tools make all jobs, problems and tasks quicker and easier. Power tools are used in many industries, as well as in construction and around the home to carry out tasks such as cutting, drilling, polishing, sanding, shaping and many more.
Power tools can be used to tackle many jobs in the workplace or home, and due to this variety there is a suitable range of these items on the current market. Power tools can be dangerous if mishandled or misused, so remember to read the manufacturer's guidelines prior to using these specialised tools.
This guide will look at power tool combo kits and will do so in relation to buying on auction website eBay.
Power Tools
Power tools range from drills and impact drivers to grinders, sanders and saws. Unlike hand tools, which employ purely manual labour to work, power tools are actuated by an additional power source and mechanism. The power source is typically an electric motor, however, other power tools may use compressed air or internal combustion engines for their power.
Power tools are often wired, although many new models are cordless and utilise rechargeable batteries to power them. Wired power tools tend to be the most powerful, and cordless power tools are generally considered the most convenient to use, as they can be used anywhere and there isn't any trailing wire in the way.
Power Tool Combo Kits
As well as being sold separately, power tools are also often sold in combination (or combo) kits. Combo kits are often sold in 'tool sets' of 5, 6, 7, 10 and 15 items.
Combo kits can contain a whole range of power tools, including any of the following:
| | |
| --- | --- |
| · Hammer drill | |
| · Rotary hammer | · Impact driver |
| | |
| · Circular saw | · Reciprocating saw |
| · Metal cutting saw | · Screwdriver |
| · Sander | · Blower |
| | |

Power tool combo kits often also include accessories such as:
· Rechargeable battery pack
· Rechargeable batteries
· Flashlight / Lantern
· Contractor bag
· Rolling tool bag
· Radio
The Power Tools in Combo Kits
Some power tools have many uses, whilst others may only have one specific purpose and may be used very little. Combo kits are great because they include an array of tools so the owner can undertake a variety of jobs, and they have a selection of tools to choose from.
Below is an outline of the most popular power tools found in combo kits:
Hammer Drill
Hammer drills are very popular with tradesmen because they are powerful and they offer quicker drilling with less effort.
A hammer drill (also known as a 'rotary hammer') is a rotary drill with a hammering action. The hammering action in these drills provides a short but rapid hammer thrust to crush brittle material. Most hammer drills are electric powered and have a power lead, however, some new models are cordless.
The drills with lower power are called 'hammer drills' whilst the higher power units are usually referred to as 'rotary hammers'. Rotary hammers are typically a lot larger and offer a bigger impact force by using an electro-pneumatic hammering mechanism.
These drills are great for drilling into stone, concrete or masonry.
Reciprocating Saw
Another popular power tool found in combo kits is the reciprocating saw. This is a saw that uses a push and pull reciprocating motion of the blade to achieve the cutting action. The tool (also known as a 'recipro' or 'sabre' saw) is particularly popular in construction and demolition work, as well as in the emergency services.
Reciprocating saws have a large blade (similar to a jigsaw's blade) and a handle that allows comfortable sawing on vertical surfaces. Many of these saw types have variable speeds that are often controlled by a dial or a sensitivity trigger.
Reciprocating saws vary greatly in power and features from high-powered corded models to less powerful hand-held models similar to that of a cordless drill.
Impact Driver
Impact drivers are also very popular in power tool combo kits. This tool delivers a strong and sudden rotational force.
Impact drivers are used along with durable screwdriver bits, and socket sets to loosen larger screws and nuts that are stiff, stuck or cross-threaded. The tool can also be used in the reverse situation where loose screws need to be tightened and a standard screwdriver is not sufficient.
The power tools are available in both manual and motorised versions. Automatic motorised impact drivers are much quicker and easier to use than their manual counterparts because they have a much greater speed and efficiency.
Impact drivers are ideal for construction workers where speed and operator fatigue is often a concern.
Circular Saw
Another saw type that is often found in power tool combo kits is the circular saw. This hand-held saw uses a spinning metal disc or blade that has sharp teeth to cut through various materials.
Circular saws are available for both left and right-handed people, offering the user complete comfort when using the power tool.
Circular saws (may also be called 'skillsaws') are ideal for cutting wood, although different discs can be fitted to allow cutting through a variety of other harder materials.
Buying Power Tool Combo Kits on eBay
There is an abundance of power tool combo kits on the current market. However, the greatest range and choice can be found online often gathered with highly detailed product descriptions. In this regard, eBay is the best place for offering a quick and easy route in searching for power tool comb kits on the Internet.
Here is some advice to help buyers browse through the renowned auction website in the best possible way:
Search: To start a search on the website, enter 'power tool combo kits' into the search toolbar. From the menu (located on the left-hand side of the screen), select 'home & garden' and then click onto 'tools'.
Brand: Many tradesmen and professionals have a favourite brand when it comes to their power tools. There is a wealth of brands that have power tool combo kits for sale on the website, including: Milwaukee, Makita, Hitachi, DeWalt and Panasonic.
Tool Suitability: Power tools come in many different powers and sizes and with many different features. For a completely successful purchase, it is important to consider the essential requirements (and that of the work the tools will be used for) to that of the power tool's - in this case it is best to check the detailed specification, found on the product listing page for the power tool combo kit.
eBay Deals: Don't forget to check out the latest deals on power tool combo kits by looking in the 'handyman' section. Many great discounts can be found here, along with free postage costs.
Conclusion
Power tool combo kits are industry worker's best friends; they offer a selection of tools that suits almost all jobs, they include accessories, such as rechargeable batteries and battery packs, and they store all the tools safely and neatly in a durable carrying case.
Buying on eBay should be considered not only due to the potential of finding a good deal, but due to the extensive choice of power tool combo kits that the website offers. Remember to keep personal and banking details safe and secure by using payment authority PayPal to complete transactions.