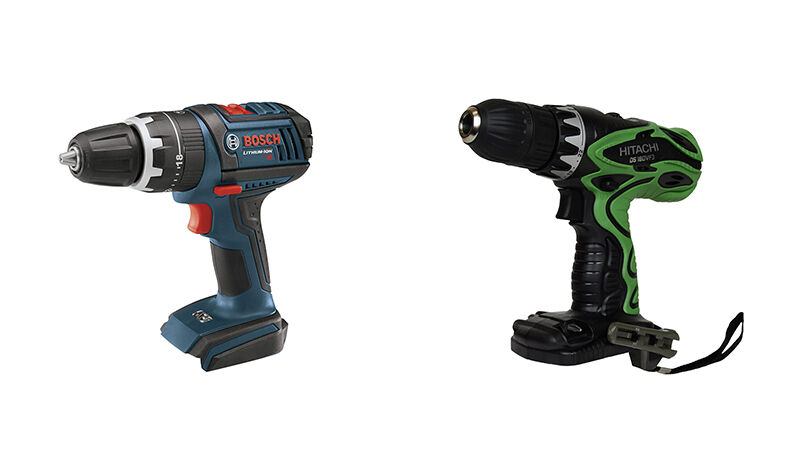 Power tools can slice building time in half or more. Choosing the right power tool is an investment and the market is flooded with options. Two brands of budget-friendly power tools include Bosch and Hitachi. While both brands are great values, there are differences. Consumers need to know some of the types of tools that both brands offer and additional specifications.
Types of Bosch Tools
Drills
Bosch drills come in both corded and cordless styles. There is no need to charge or add batteries with both 9.5 mm and 12.7 mm drill heads and screw guns come with corded options. Cordless drills go anywhere, and Bosch offers cordless drills, drivers, and hammer drills. Cordless drills come in 12, 18, and 36 volts.
Metalworking
Bosch creates tools that even professionals use. Grinders range from 11.43 cm to 22.86 cm to grip angles. Cut through metal at up to 11,500 RPM. Easy paddle switching with grips also creates safer use. Bosch offers industrial-style grinders for concrete and die. Smaller handheld power tools make it easy to secure pinpoint accuracy with nibblers, shears, and tuck pointers. Each model comes with safety grips and a compact design.
Finishers
Power sanders and polishers provide the final changes to a project, and Bosch carries orbital power sanders of various sizes. Orbital detail sanders smooth corners and cracks for the smallest crevices, and the power polisher provides seven adjustable speeds. Sanders make up to 19,000 orbits per minute for a fast finish.
Routers
Routers from Bosch make it easy to make adjustments while constructing wood pieces. Options include fixed-base routers, plunge routers, and palm routers. Different styles of routers work best with wood variations and materials, such as laminate. Routers reach an RPM of 25,000 for fast cutting. Top plunge and fixed-base router have up to one horsepower for maximum efficiency.
Saws
Large reciprocating saws, circular saws, and jigsaws offer power options on a professional level. Convenient power handsaws easily cut through small pieces of wood and able carpenters to give the wood a better fit after an improper measurement. Many of the saws work between 2,000 and 3,000 RPM with lightweight features. Saws come in corded and cordless options.
Types of Hitachi Tools
Outdoor Power Tools
Hitachi has the tools to create a stunning outdoor space with a blower, chain saws, edgers, and trimmers. Specifications vary by model, but the cordless options maintain 18 volts for long-lasting shaping technology. Extra attachments, such as a pole saw, create designs and remove debris.
Drills
Hitachi has drills that reach up to 2500 RPM. The stainless steel designs mean that these drills will last. Angle drills and drills for metals and plastic insure a customisable approach. One hammer drill even stands up to concrete and resin. Magnetic technology on the drill keep screw in place for a more accurate mark.
Metalworking
Compact grinders are the staple of Hitachi's metalworking power tools. These are smaller units than the Bosch models, but the grinders still pack a punch with speeds up to 29,000 RPM. Nibblers and shears allow for mobility in a compact device. Portable benders for installation have an 8 Amp motor and a pre-set cutting dial for accuracy.
Finishers
Small sanders and polishers provide a finished surface with Hitachi. Each model has a pad just under 18 centimetres for smaller jobs and procession revitalisation. The polisher is a sander/polisher combination to reduce the need for additional tools. There is also an additional stand-alone sander. The polisher moves up to 3,400 RPM, and the sander creates a smooth surface at up to 4,500 RPM.
Routers
Compact fixed-base and plunge routers make cordless woodcutting simple. The fixed-base routers reach up to 24,000 RPM with up to 2 HP, while plunge routers go up to 22,000 RPM. All of the Hitachi router units are lightweight for portable tools that do the job with convenience.
Saws
Circular saws, table saws, reciprocating saws, jigsaws, band saws, and mitre saws are all available through Hitachi. This wide assortment makes cutting almost any material possible. Many of the saws are handheld while some offer a base. LED lights on some of the models curtail mistakes and increase accuracy.
How to Buy Bosch and Hitachi Power Tools on eBay
Craftsmen can find Bosch and Hitachi power tools on eBay. To find the tools, shoppers navigate from the homepage to Home and Garden then Tools and Power Tools. From this page, it is easy to navigate to specific brands or types of power tools before choosing a brand. Using the search box on the homepage, shoppers can also type the brand and tool to configure a list of the top related choices on eBay. Customers find both new and used items available through secure purchase via PayMate, PayPal, and credit card.
Conclusion
Bosch and Hitachi power tools offer quality products but with slightly different angles. Though there are cross products, Bosch offer more industrial options while Hitachi focuses on personal use. Bosch and Hitachi products are available for purchase on eBay.