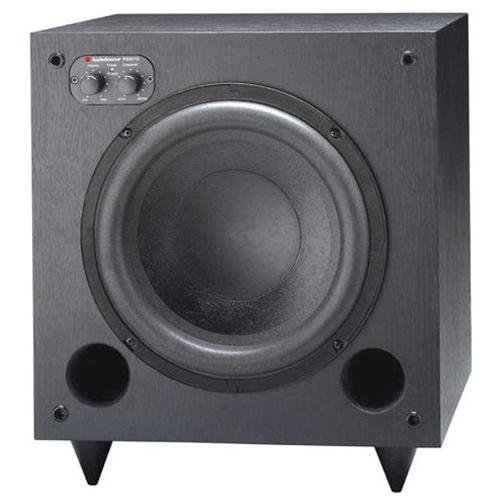 Powered subwoofers are also known as active subwoofers. These devices differ from the ordinary subwoofers in that they have amplifiers installed in them, which makes them easy to use since they do not have any complex wiring. With these types of subwoofers, a user only needs one output line from the amplifier included. This setup eliminates the power overload problem.
Powered Subwoofer Performance Aspects
To make the right choice when shopping for a powered subwoofer, a buyer must be able to understand the various performance aspects of these devices. The exact quality of these aspects will vary from one brand of powered subwoofers to another.
Frequency Response
Most powered subwoofers are capable of producing frequencies up to the range of 200Hz, well within the hearing range of human being. Generally, an adult human being is able to hear sounds of frequency between 20Hz and 20,000Hz. If one is a bass player, a powered subwoofer with a frequency response between 40Hz and 50Hz is ideal. For playing games and watching movies, one needs a frequency response that is below 30Hz. However, bass players usually opt for a subwoofer in the range of 40 to 50Hz while 150Hz is perfect for audiophiles. Lower frequencies are ideal for music.
Continuous/Peak Power Output
Peak power output is the maximum power that can be produced by the device. This is usually over a very short time as subwoofers cannot handle longer periods of peak power output. The figure that correctly depicts the power output of a subwoofer is the continuous power output or the RMS. The higher the RMS, the higher the power output of the device.
Maximum Volume
Maximum volume of subwoofers varies with their size and brand. Some users want subwoofers with high maximum volume while others are interested in moderate maximum volume devices. As a user, knowing the maximum volume of the device is very important as it will help you choose the right powered subwoofer for your room. For larger rooms, audio enthusiasts will need subwoofers with higher maximum volume.
Sensitivity
The sensitivity of a powered subwoofer is a very important aspect. It indicates the amount of power the device will consume in order to produce a certain amount of sound. The closer the number is to 100, the better.
Other Aspects
A subwoofer has either single or dual voice coils. Dual voice coils are good for users who want more options for wiring car stereos. The ideal impedance of a powered subwoofer is between 2 ohms and 8 ohms.
Powered Subwoofer Enclosure Designs
The enclosure design is also something to consider while shopping for a powered subwoofer. There are two main types of enclosure: the acoustic suspension enclosure and the bass reflex enclosure. The acoustic type uses more power and provides good bass response while the bass reflex type uses less power.
Powered Subwoofer for the Car
Powered subwoofers for cars are becoming more and more popular. In cars, subwoofers are installed either in the boot of the car or under a seat. There are a variety of powered subwoofers that you can buy and get installed into your car. These devices come is various sizes, frequency response and continuous power output. Shoppers can select subwoofers that are efficient and compact in design. The table below shows examples of powered subwoofers for cars.
| Size (in cm) | Continuous Power Output/RMS (in watts) | Range of Frequency (in hertz) |
| --- | --- | --- |
| 20.3 | 120 | 35 - 250 |
| 16.5 | 100 | 39 - 85 |
| 25.4 | 200 | 20 - 120 |
| 25.4 | 135 | 27 - 100 |
| 20.3 | 100 | 39 - 85 |
How to Buy Powered Subwoofers on eBay
From the home eBay home page, a buyer should type a keyword like "100 Watt powered subwoofer", in the search bar and click on search. From those results, the buyer can filter further according to brand, price and the condition of the device. Before purchasing a product, the shopper should check if the seller has a"Top-rated Seller" badge. Such sellers are highly reliable, both in terms of the quality of products and also timely shipping of the purchased products. For audio equipment deals, shoppers can check out the eBay Deals section.
Conclusion
Passive subwoofers are used to boost the sound from a stereo kit. They are generally associated with lots of wiring which is quite cumbersome for most people. Active subwoofers, popularly known as powered subwoofers, were introduced to solve this problem. These devices come with pre-installed amplifiers in them, hence reducing the number of output lines to only one. A powered subwoofer has a calibrated microphone for measuring a room's response, adjustable and automatic equalizers as well as wireless remote controls.