Must-see guide before listing into category: Collectables > Homeware, Kitchenware > Kettles, Tea Pots. This category includes ceramic electric jugs. Great care is needed to prepare your rare ceramic jug for a ride through the post, carelessness will result in costly negative feedback or refunds. The great care you take to package your jug will ensure the buyer gets it in one piece and leaves you raving feedback while they are still excited about it.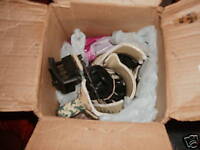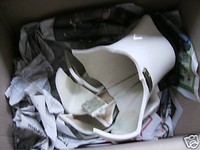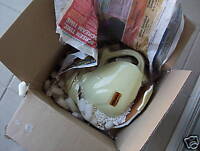 Don't let this be your disappointed buyer who cuts a finger on a smashed jug packed in garbage.
RECOMMENDATION FOR VALUABLE CERAMICS:
Bubble wrapped jugs in strong, neat fitting boxes lined with cut Styrofoam sheets will be best prepared to absorb shock and prevent crushing. Also the parcel's cubic weight is reduced saving on postage.

To get the best experience out of selling into this category follow these guidelines:
Select a rigid, sturdy box to carry your ceramic jug. Beer cartons and cartons you get from the supermarket are unsuited for fragile items because they are easily crushed. Once out of your hands your parcel will be tossed onto vans, pallets, trucks and possibly planes. Fragile stickers are ignored so the box needs to prevent crushing.

Once you've photographed your jug, secure the element inside with packing so it doesn't swing about like a wrecking ball, bashing and cracking the jug from the inside. Don't pack new elements and cords inside the jug unless they are wrapped so they don't rattle about and cause cracks. Then tape it's lid closed, ceramic must be wrapped to absorb shock,

several layers

of clean bubble wrap are necessary. NEVER pack your ceramic jug just with plastic bags or stuffed newspaper, these don't absorb shock.

Pad the mailing box with puffed wheat, shredded paper, Styrofoam, more bubble wrap or something substantial to fully cushion the bubble wrapped jug all over. SHAKE THE BOX. The jug must be suspended at the centre of the box even when you give it a shake. If you can hear and feel your jug moving about inside then its not packed well enough and will break.

Weigh the parcel and measure its dimensions to use the postage calculator to provide postage quotes in your listing.

List your item with correct postage cost plus offer postage insurance. People will pay a few dollars extra if you let them know you will not skimp on the packaging and can provide a registered parcel number.
It doesn't matter if the parcel is just going around the corner or across the country, unless you get the item packed correctly from the start you will not be able to guarantee it will arrive as pictured or ensure you don't make a loss on the postage charges.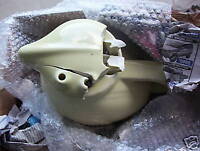 Read your buyer's mind
:
"please take care of my new little birdy going through the post. I am thrilled to have won the auction. I'll be elated when it arrives."
A single layer of bubble wrap plus stuffed newspaper is insufficient to absorb shock, several layers are needed and avoid screwed up newspaper. Get substantial packing to absorb shock. Shake the box! If you can feel your ceramic moving about then its not packed properly.
Since you've read this far I am sure you found this guide useful so please vote!