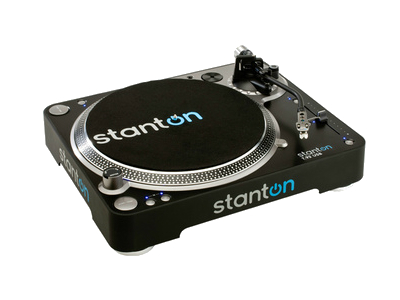 Whilst others enjoy having a simple record player as a means of playing and enjoying their vinyl, others like to own either one or two turntables to allow for mixing and disc jockeying. Turntables can however be used in a recreational sense too and only have the name 'turntable' as opposed to 'record player' because of the advancements in technology from the original record player design.
Despite this, turntables are generally considered to be of a better quality than standard record players and produce a higher level of sound. Professional grade turntables are available on the likes of eBay at comparatively affordable prices and this guide aims to take potential turntable buyers through the process.
Professional Grade Turntable Components
Professional grade turntables work very much in the same way that normal record players do. However, they will often have certain components or certain features that allow for them to be used in a professional setting. These components may not feature on every single profession grade turntable, but they will be available on most.
By understanding these various components, one can then know what to look for during the search for a professional grade turntable. Below is a table provided with the intention of aiding with the comprehension of these components:
Professional Grade Turntable Components

About

Motor

The difference between record players and turntables lay in the motor that powers the spinning of the record. A lot of older, vintage record players will use a belt drive motor, which means that the record is spun using a belt.

However, professional grade turntables will often use a direct drive that is connected directly to the platter of the turntable. One of the advantages of this is that the turntable will have a higher torque, meaning that the record gets up to the correct speed quicker than the likes of belt drive turntables. This is especially useful in a professional disc jockey setting where scratching and mixing may occur.

Platter

The platter on any record player or turntable is designed for the record to be placed upon. The platter is the part of the turntable that spins and is connected to the direct drive motor. Whereas standard turntables will have a platter that may vibrate due to its direct connection to the motor, a professional grade turntable will incorporate a form of technology that allows for less vibration, making for a smoother playing of the record.

Slip Mat

Not all turntables will have a slip mat but most professional grade turntables should. The slip mat sits on top of the platter and provides a surface for the record to sit on whilst it is in play.

The purpose of the slip mat is to decrease the vibrations between the motor, platter and record. These vibrations ultimately affect the turntables needle, so the slip mat not only allows for a better sound quality but also protects other important components included in the turntables design.

The slip mat is often made from a felt-like material and allows for the user to scratch records whilst the platters maintain a steady spinning rate.

Stylus

The stylus, otherwise known as the needle, sends the audio signal from the record being played to the cartridge and into the pre-amp.

Professional grade turntable needles will often be made out of sapphire or diamond, as they harden the stylus, which gives a better sound quality. This is why lesser level turntables will use steel or alloy (also known as osmium) needles.

Professional grade turntable needles can be purchased individually as eventually most needles will wear after excessive use.

Miscellaneous Features

There are a number of miscellaneous features that certain profession grade turntables will have as part of their controls.

The first of these is a "nudge" button. This will speed up the record slightly to allow for easier mixing. Another tool used for this reason is the pitch control tool. This allows for tuning to the correct BPM (Beats Per Minute) speed for one record in comparison to the one being mixed with.
Other Types of Professional Grade Turntables
Despite the fact that, at a professional level, direct drive turntables are the most commonly used type of turntable, there are two other types of turntable that are also used.
These two types are detailed in this table:
Types of Professional Grade Turntable

About

CD Decks

CD decks behave in the same way as vinyl playing turntables, except for the fact that they use compact discs instead of vinyl and a laser instead of a stylus.

This type of turntable can be found at a high level of performance, especially from specialist brands. They are appreciated for the fact that CD's are much more portable than records and that the turntables do not require as much, if any, maintenance.

However, a lot of turntable purists argue that using CD decks and the automatic cueing of tracks that can be utilised is lessening the art of DJing.

MP3 Decks

MP3 Decks use mp3 audio tracks alongside two digital turntables.

Turntables of this nature work by importing mp3 formatted tracks via an MP3 player. This is appreciated for the same reason as CD decks. All that is needed is a USB stick or an MP3 player that is plugged into the system.

There are a lot of CD decks that will incorporate MP3 mixing technology as an additional feature.

Turntables of this nature tend to be a lot higher on the price scale than traditional, professional grade turntables.
Professional Grade Turntable Buying Considerations
When buying professional grade turntables there are a number of other factors to take into consideration before making a purchase:
· Brand: The choice of brand plays an important role in determining the quality of the turntable being purchased. Whereas some brands will produce lower quality turntables, other brands such as Numark, Technics, and Audio Technica produce turntables that can be used at a professional level.
· Use: The decision whether or not to buy professional grade turntables is one that should be based on their use and the experience of the user. It is best to start with lower level turntables when beginning to DJ to get used to the techniques and practices that are necessary. Professional grade turntables can be expensive and are only cost-effective if they are used at that level.
Finding Professional Grade Turntables on eBay
Auction sites such as eBay offer a large number of listings for professional grade turntables. To find these, simply visit the Electronics section of the site. From there, select the Audio option and on the next page, find the Record Players/Home Turntables link. Whilst on this page, one can use the assorted refinement tabs and the keyword search bar to tailor the search to specific requirements.
Buying Professional Grade Turntables on eBay
There are three ways of purchasing turntables of this nature on eBay:
- Making a Bid in an auction
- Making a Best Offer
The Best Offer and Bidding option allows for buyers to name their own price for their chosen item, whereas the Buy It Now option means that an immediate purchase can be made.
There is also a Deals section of the site that has handpicked deals from the sites electronic audio listings.
Conclusion
When buying professional grade turntables it is important to know exactly what to look for before beginning the search, or making a purchase.
Professional grade turntables may have similar features to lower level record players, such as materials used in the needles for improved performance and a slip mat to decrease vibrations. Due to this, it is best to gain a full understanding of the differences between professional grade turntables and the other grades that are available on the market.
Finally, be sure to read through eBay and PayPal's terms and conditions to make sure that the purchase is as secure and simple as can be.