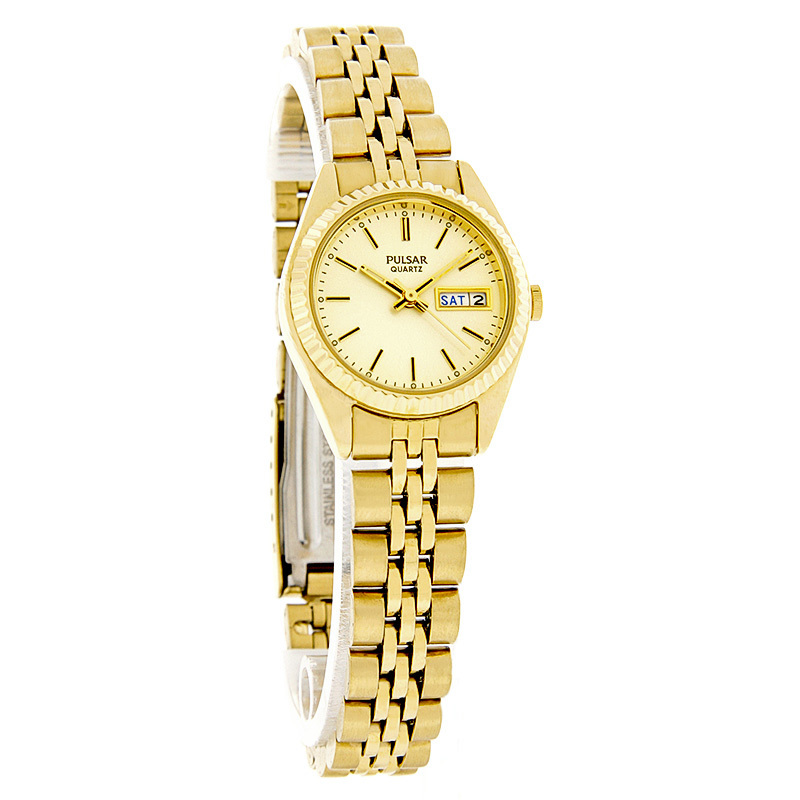 Anyone who wants to buy a Pulsar watch can do so by setting a budget, deciding if they want a new or used watch, and then choosing a style. Buyers can choose to purchase a new Pulsar watch in brick and mortar shops or on eBay. Pulsar by Seiko is a very popular watch brand and is readily available in a variety of conditions, from brand new to second-hand. Fashion, price, and practicality are important considerations for anyone buying a Pulsar watch. An overview of Pulsar watch styles and types available should make shopping for a Pulsar watch easier for consumers.
Pulsar Watch Styles
For most people, style is the most important consideration when buying a watch. Unless the buyer is a collector or already owns a number of watches, style should be the first consideration. Even the most expensive of watches is worthless if it does not look good with the wearer's fashion choices.
Colour
Both men and women have to consider the colour of their watch. Pulsar mostly only manufactures basic colours such as silver, gold, and black. Some models also feature lining or tint, such as red lining, diamonds, or other details. Women's watches tend to be more colourful than men's, but all shoppers should consider choosing a style that suits their skin tone, the colour of clothes they wear, and their style.
Band
Most people forget to consider the band when choosing a watch, but Pulsar does offer a few different options. Most Pulsar bands feature the same metal as the casing, which is usually stainless steel , but Pulsar also offers a smaller number of leather and rubber bands. Buyers can choose the type of band they want based on their personal taste and fashion.
Case
The case is the cabinet that holds the watch movement. Usually, the case's material is metal or plastic with a plastic, glass, or crystal face. Pulsar almost always uses a metal frame with a crystal face. The bezel is the part of the watch that holds the face in place. Pulsar uses a variety of different bezels including plain, set with diamonds, in contrasting colours, and even painted. Cases also come in a couple of different shapes including round, square, and rectangular.
Pulsar Watch Types
Pulsar manufactures a few different types of watches including analogue, digital, and analogue digital. Buyers can choose between watch types based on personal preference. In general, the analogue watch is the classic and versatile option, but some people prefer different types of watches.
| | | |
| --- | --- | --- |
| Type | Description | Occasion |
| | Standard watch with hands | Any |
| Digital | Digital interface with liquid crystal display | Casual |
| Analogue Digital | Watch with both analogue and digital | Casual and work |
While Pulsar was the first company to issue digital watches, the majority of Pulsar watches are analogue. These watches are the classic style and are suitable in both casual and formal settings. Most digital watches have rubber bands and the manufacturer labels them as sports watches.
Movement
Some people consider the watch movement as a reason to purchase the watch. Most Pulsar watches have the same movement, generally the same as lower-end Seiko watches. Quartz movements are affordable, durable, and attractive. Mechanical movements are more expensive and require manual winding. Automated mechanical movements are usually a little cheaper than mechanical and more convenient for buyers.
Pulsar Watch Budget
Setting a budget is also important for most people. The price of Pulsar watches is in the lower range, and often a tenth of the price of sister brand Seiko watches. However, buyers with a low budget still have to decide how much they can afford to pay for their watch and then stick to that budget. Anyone who is on a very low budget can choose to look for deals on watches, slightly damaged watches, and second-hand Pulsar watches.
Deals on Pulsar Watches
Finding deals on Pulsar watches is a great way to save money. Deals or sales are sometimes available but the selection might not always include the specific watch that the buyer wants. Waiting for deals on a specific watch can also require patience and many buyers do not want to wait to buy their watch. However, a sale can be a great way to save a larger percentage on the original purchase cost of the watch.
Second-Hand Pulsar Watches
Anyone who would like a good deal but who does not want to wait for a sale can consider buying second hand. A second-hand Pulsar watch is usually a great deal more affordable than a new one, but it may have cosmetic damage. This is why inspecting the watch or looking at any photos is important. Buyers should also read any description when buying online to ensure that they know what they are buying.
How to Buy a Pulsar Watch on eBay
Buying a Pulsar watch is a great investment for anyone looking for a quality watch at a mid to low price. Buyers can choose any of Pulsar's many styles including men's and women's watches, different metals, different movements, and different types of watches. You can search for a style or model of Pulsar watch using eBay's search bar. You can then refine the results until you find a watch that you want to buy. Consider watch bands, watch faces, movement, and materials. Many buyers also have budget considerations, but looking on eBay Deals for special offers on watches can help keep costs low.