Pure Cosmetics Guide For Selecting Foundation Shades
The best way to get the correct foundation shade is to try the shades on your skin. The right colour for you will seem to merge with your skin, like you aren't wearing any makeup at all!
A general guide for selecting foundation shades is that neutral shades tend to flatter everyone.Warm shades tend to flatter people who look great wearing gold jewelry and dressed in reds, oranges, yellows and 'fire' colours. Cool shades tend to flatter people who look great wearing silver jewelry and dressed in blues, greys, turquoises and 'ocean' colours. If your veins appear more green than blue then you will probably find the extra or olive shades are the most flattering. The olive shades have a neutral-beige undertone so flatter a wide variety of complexions.
Not everyone sticks to that, people with a lot of red in their skin often select a cool shade to counteract the redness etc... Others prefer to work with the redness and apply an Olive shades to create more of a bronzed appearance. Some people with blue veins wear the extra shades because they find those are the most flattering. If you find that foundation shades tend to look 'orange' on your skin then you are probably cool. Often more than one shade will suit and it comes down to which you prefer. Samples are great way to try a variety of shades economically and a great way to experiment. The shade chart is a great guide but it is much easier to see which shades flatter when you have the samples in front of you and can try them on your skin.
If you have a skin condition such as acne, rosacea etc... we recommend that you try the whole row to see which works best with your complexion but also which works best with the skin condition. Some shades will neutralise as they conceal for a more natural effect.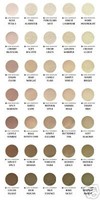 Row 1 For Fair Complexions
Row 2 For Light Complexions
Row 3 For Medium Complexions
Row 4 For Medium-Tan Complexions
Row 5 For Tanned Complexions
Row 6 For Mid-Deep Complexions
Row 7 For Deep Complexions
What can you do with any spare samples?
Foundation samples that are too light or dark can make a great natural looking eyeshadow

Foundation samples that are too dark can be mixed with body lotion for summer legs, arms and body.

Foundation samples that are too dark can be used as a contouring powder. Wear under blush on the underside of the cheek bone for a slimmer looking face.

Minerals don't support the growth of bacteria, so they can be passed onto friends, family or donated to organisations like the Salvation Army via their collection bins.
For more Pure Cosmetics, please visit our store Pure Cosmetics Store