Pure Sine Wave 1500W(3000W Max) 12V-240V Power Inverter

Recently I was lucky to have won an auction on a 12 volt 1500Watt Pure Sign Wave inverter.
The 1st inverter shipped to me had a fault on arrival (Constant Flashing Red LED) and the 2nd inverter was only a little better although there was a screw missing from the 240v socket end which flexes the side panel and reveals part of the HV electronics when removing a plug from the socket .. I have since replaced it with a screw from the bottom of the inverter.

The 2nd inverter worked to some degree…

Just from the description you can see the inverter is rated at 1500 Watts with a maximum rating of 3000 Watts.
What exactly does this mean?

Before continuing with this guide, Please answer me two questions:
1. Will the advertised inverter run a 1500Watt hair dryer?
2. Can this inverter run a 2000 Watt load for a short period of time?

If you have answered YES to the questions, then you are at the same understanding on how I believe inverters are classified :)
If you have answered No to any of the above questions then you may as well stop, before you vote this guide down for no reason :(
I'm contactable and have been by many people regarding this guide. ALL have been positive feedback and gratitude.

Inverter Rating
The 1500 Watt rating is what the inverter should be able to run without to many problems.
And this inverter Almost does. I had it run a 1500 Watt hair dryer for about 10 minutes.
Although the hair dryer is rated at 1500 Watts, The Power Meter actually indicates 1270 Watts.
What's nice, is my wife is now happier to come camping. She brings her hair dryer :/

After some discussion with the seller I was advised -
"The inverter has 1500W output , as described, but this doesn't mean you can run an appliance that has a rating of 1500W"
This to me clearly proves the seller knows something I don't? (Inverter Over rated anybody?)

The 3000 Watt Max rating is the rating this inverter is able to run for a short period of time.
Since my wife does not have a 3000 Watt hair dryer! I used a 2000 Watt hot air gun from the workshop.

I would have expected this inverter to run a 2000 Watt load for a short period of time, since this load is under the 3000 watt rating of the inverter. Anything greater than 1min would have been acceptable for me.

The 2000 Watt hot air gun on the low setting was just able to produce warm air but it also trips the Overload protection (see pictures below).
When I switch the hot air gun to Medium setting the inverter Shuts Down and shows a constant Overload indicator (Red LED Flashes)

The Power Meter I have connected to the 2000 Watt hot air gun at Low Setting indicates a Power Draw of aprox 1295 Watts. (see picture below)
Running the Hot air gun on mains shows the High setting drawing 2078 Watts.(see picture below)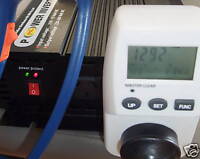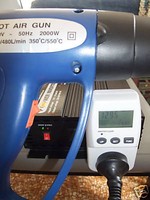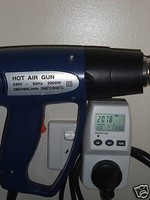 So after these quick checks what are my conclusions?

This Inverter Max Continuous rating I believe is 1300 Watts and the True Peak Maximum rating of 1500 Watts.
Nowhere near the 3000 Watts it is advertised at !

I have preformed these checks not only to find the Real Rating of this inverter but also to help any potential eBayer from expecting this inverter to be a True 1500W/3000w unit. It clearly is not what the Head line indicates.

We can only go by what is advertised and some of us have the ability to check and report our findings. Trying to keep sellers honest isn't something I enjoy doing on eBay, Ive written some other guides that may help.
I have been a Electronics Technician for over 20 years.

To top this one off, and to be even more pathetic is the Owner's Manual.
Nothing in the manual gives clear explanation on what inverter I have. 1300 Watt, 1500 Watt or 3000 Watt??
There is even a paragraph in the manual that refers to a page that does not exist!

Anyways,
Happy Camping,

Cheers,
Critter748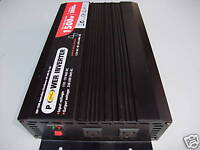 To any eBay Sellers. If you would like to ship me an inverter to write a review on, you know how to contact me.


UPDATED 17/5/2013 - Ive been getting lots of request of which Inverter I recomend.