Are you looking for a durable and reliable
Pure Sine Wave Power Inverter
? If you are, then look no further. Elinz Electronics has exactly what you need. This revolutionary tool lets you convert DC electricity in car batteries into standard household AC power. With the
pure Sine wave inverter
, you don't have to rely on heavy and noisy power generators if you want to use different electrical appliances and devices in your car, camper trailer, or boat.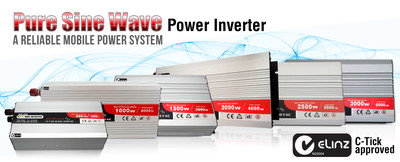 As the saying goes, "big things come in small packages." This best describe our
pure Sine wave power inverter.
The inverter measures only 31cm x 13cm x 7cm yet it connects standard Australian 3-pin electronic devices of up to 6000 watts to a vehicle battery. It coverts DC electricity to AC power quickly and efficiently. What's more, it does its job free from any signal interference and without producing loud and awful sounds.
Elinz Electronics'
pure Sine wave inverter
comes in different wattages: 600w/1200w, 1000w/2000w, 1500w/3000w, 2500w/5000w, and 3000w/6000w to help you find the inverter that matches your specific power requirements. All of our inverters are reliable and they are designed to perform to the best of their capabilities. Our 3000w/6000w unit, for instance, utilises pure Sine wave technology to deliver a maximum power output of 6000w. And at the same time, it can maintain continuous power of 3000w effortlessly. With our power inverters, there are no power interruptions to ruin your day.
One of the qualities our customers like best about the inverters is their robust yet compact design. The
pure Sine wave power inverter
is tough and durable but it's handy and lightweight, too. You can take it anywhere with you—in your car, 4WD, or boat. Storage is not a huge problem, either. You can place it under your car's seat or in the boot of your vehicle when not in use.
But what separates
Elinz Electronics' power inverter
from similar devices sold in the market today is that ours bears the C-Tick Mark. The C-Tick Mark is an indication that our devices comply with the electromagnetic compatibility or EMC requirements set by the Australian Communications Media Authority (ACMA). It also gives Elinz Electronics the rights to legally sell the inverters in the country.
If you're looking for quality, reliability, and affordability in a power converter, then Elinz Electronics'
Pure Sine Wave Power Inverter
is definitely for you. So check out our products today and transform your ordinary vehicle into a mobile home or office. Meanwhile, if you want to know more about our power inverters, feel free to contact us anytime. We'll be happy to hear from you.