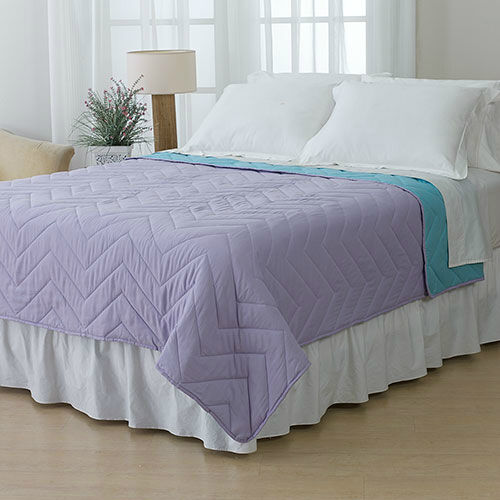 Quilt covers , also known as duvets, protect an encompassed blanket, quilt, or comforter from stains, while adding bulk warmth to existing bedding. A quilt cover also increases the lifespan of the blanket inside by reducing wear and tear to its surface. One can use a quilt cover as a protective barrier for vintage or handmade quilting. Finally, quilt covers offer an easy way to change the look of a room without buying a new quilt. Purple queen quilt covers are especially popular and available in a variety of shades, styles, and weights to fit every need, climate, and personal preference.
Fabric Materials in Purple Queen Quilt Covers
Purple queen quilt covers are available in virtually every type of fabric associated with linens. Common options include flannel, cotton, silk, and poly-cotton blends. Quilt cover fabric choice is extremely important, as the quilt cover is the actual linen touching those sleeping in the bed, and the quilt remains safely tucked inside the covering. Uncomfortable fabric interferes with a good night of sleep. Fabric that is too thick, too clingy, or too thin can also make rest difficult. It is therefore important to choose comfortable, climate-appropriate fabric to avoid these issues.
Flannel
Flannel duvets add warmth and comfort, making them perfect for winter. Flannel duvets, along with flannel sheets, add quite a bit of warmth, reducing the amount of external heat required for comfort. This also means lower utility bills. Modern flannel often includes blending with another material to make it lighter than the woollen flannel of yesteryear. Flannel comes in a variety of colours, not just the striped, multicolour pattern one often sees with the material.
Cotton
Cotton works well in the winter and the summer. A universal fabric choice, it is also inexpensive and feels good against the skin. Cotton is quite breathable, making it a preferred option for winter or those who tend to get overheated in the night. Cotton has few downsides, making it a versatile option. Many prefer organic over conventional, as farmers use pesticides more heavily in conventional crops. Cotton does have a tendency to wrinkle, which is a deterrent for some.
Silk
Silk duvets offer smooth, satiny comfort against the skin, following a hard day at the office. The luxurious feel is only part of the appeal; these sheets also deter dust mites and wick away moisture, keeping users warm and cosy all night long. Silk is also naturally hypoallergenic and flame retardant. One of the disadvantages, however, is the hefty price tag that accompanies true silk. It also traps heat, making users uncomfortably warm, especially in the summer. Lastly, silk is difficult to care for, a factor that one needs to consider when using it as linen material.
Poly-Cotton Blend
Poly-cotton blends are a popular, inexpensive duvet cover option. A combination of polyester and cotton, these blends are soft, inexpensive, and easy to clean. Though not as luxurious or cool to the touch as genuine cotton bedding, the poly-cotton blend still offers a good feel and look. Best of all, it does not have the same tendency to wrinkle, making it easier to care for than 100 percent cotton bedding.
Filling Materials
Some quilt covers contain additional fillings, which may include down feathers, cotton, or a synthetic blend. The filling adds a lot of warmth to the bed, making quilt covers with filling great for cold winters.
The chart below lists the two popular filling material options as well as the pros and cons associated with each.
| | | |
| --- | --- | --- |
| Filling Material | Pros | Cons |
| | Warm; Long-lasting; Soft | Feather allergies; Expensive; Must be dry cleaned; May have odour |
| Synthetic | Warm; Hypoallergenic; Can be machine washed | May shrink; Not as long-lasting as authentic down |
Not every quilt cover comes with filling, in fact, most do not. However, adding a bit of bulk to an existing quilt is a great way to reduce utility consumption and stay warm in the winter.
Shades of Purple
There are several different shades ofpurple quilt covers available for bedding. Modern dye options have made it possible to get bedding with printed images, in deep shades of purple, or as light as a spring lilac push. There are literally hundreds of shade of purple, but royal, mauve, and lilac are some of the popular options.
Royal Purple
A richly-coloured reddish-purple. Royal purple looks good in bedrooms due to its muted dark colour. Also called tyrian purple, a dye of this colour is produced by sea snails. The Phoenicians first harvested the deeply-coloured dye.
Mauve
Mauve offers a lilac-lavender shade of purple with grey and blue undertones. This is a good middle-of-the-road option between deep royal and flowery lilac. The name mauve comes from the purplish-pink mallow flower.
Lilac
A light, airy shade of purple, lilac purple gets its name from the pale violet flower. This shade is perfect for summer or spring linen materials.
How to Buy a Purple Queen Quilt Cover on eBay
eBay offers plenty of opportunity to find the perfect purple queen quilt cover you are looking for. Finding the right match is as simple as using the website's search engine. Type a search term, such as " quilt cover" on any eBay web page, and then use eBay's refinements to narrow the selection to include only purple, queen-size options.
Several shades of purple provide popular colouring for modern bedroom decor, including linens. Due to the colour's immense popularity, finding the right queen quilt cover should prove easy for most consumers. eBay brings together vendors from all over the globe, offering a rich selection of purple linens in even the rarest of shades and textiles.