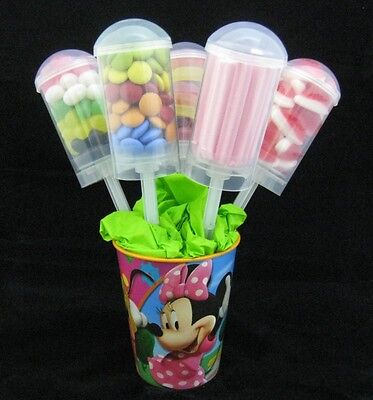 ---
If you're looking for a new and unique way to celebrate, your child's birthday, a holiday or any special occasion, push pops may be just what you're looking for. These festive cake confections come in a see through cylindrical tube, with a pusher at the bottom. As you eat the pop, you use the pusher to force the confection up the tube. This allows the child or person eating it to enjoy the contents without spilling or making any mess. In addition to no mess, the push pop containers can be washed and reused time after time.
Push pops can be made to accommodate any type of party, just by changing the colours of the cake or other ingredients you choose. There are numerous kinds of fillings you can use, such as: cake, marshmallows, jelly, icing, pudding, fruit, ice-cream, whipped cream, lollies, mini biscuits, cream cheese, mousse and even custard. Food colouring can be put into many of these fillings to get just the right colour you're looking for. The fillings are only limited by your own creativity and imagination.
While making the push pops takes a little bit of time, it's a fun activity and is something that even the youngest member of the family can help with. If you're making push pops for a birthday, you can top the frosting on each layer with sprinkles or grated chocolate and even the smallest child can help with a job like this.
Another fun thing about push pops is the many colourful ways in which they can be displayed. There are
display stands
that can be purchased online for an elegant push pop display. There are also ideas such as filling a short vase or flower pot with shredded paper that is used in gift baskets and arranging the push pops to stick out of the vase or pot. You could also get a sturdy shoe box and paint and decorate it in the colours to suit the party then pierce holes in the lid and insert your completed push pops for a great display. Push pops look awesome on a lolly buffet table and are even being used at weddings instead of a traditional cake.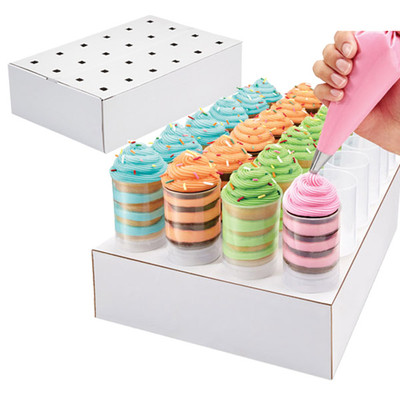 Another idea could be to fill the push pops with white cake and alternate red and white icing, representing a candy cane for Christmas. After twisting a thin red ribbon down the handle, you can tie it off into a little bow. If you're having a beach or tropical inspired party you can always top off the push pop with a drink umbrella. The wonderful thing about push pops is they can be as creative as you want. There is much less work decorating them and making them festive compared to a traditional cake, one that may take hours of practice learning to decorate.
Even people with little experience in the kitchen can make push pops come alive for any occasion. If you can bake a cake from a packet mix, you are already on your way. With a little thought and imagination, you can make your party a great success and leave your guests with a dessert to remember!
Discount Party Supplies
sells push pop containers either in
singles
or in
bulk packs of 100.
---