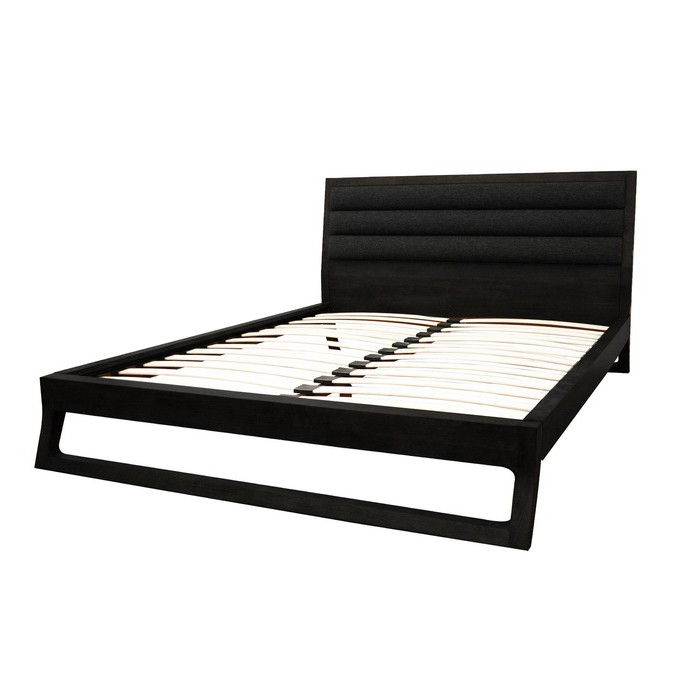 One of the most popular bed sizes in Australia, queen beds are an ideal compromise for those who want to conserve space in the bedroom while offering enough room for two people to sleep comfortably. A bed frame supports the box spring and the mattress, and it may come with a headboard and/or a footboard. A high-quality frame extends the life of the mattress and box spring and provides comfort and a stable foundation for a mattress set.
Before choosing a bed frame, a consumer should consider whether he or she wants a platform or an open metal or wood bed frame. Queen bed frames are available at furniture retail shops, and eBay offers a wide variety of high-quality, budget-friendly bed frames, as well.
Types of Queen Bed Frames
When selecting queen bed frames, consumers should take their desired designs and functionality into account. A queen bed measures 153 cm wide by 203 cm long and features storage options that are located under the bed or integrated into the headboard.
Open Bed Frames
Open bed frames can be made of metal, wood, or a combination of the two materials. Metal bed frames are often treated with an anti-corrosion formula for durability and safety. The simplest open bed frame consists of a basic frame that supports the box spring and mattress to keep them off the floor. The frame includes legs that can rest on casters, wheels, or stationary feet. Some bed frames include decorative headboards, and many include matching footboards. These components are generally attached to the frames with sturdy hardware that requires the appropriate hand tools to assemble. Bed frames may also feature two or four posters that are separate or attached to headboards and/or footboards.
Open bed frames normally include slats that extend across the width of the frames, providing support and ventilation beneath the mattresses. To provide optimal support and the least amount of wear and tear on the mattress, the distance between the slats should not exceed 10 cm. Rigid wood slats provide firmer support than flexible wood slats. Flexible or rigid wire mesh is another support option for bed frames. Curved wood slats provide additional flexibility and comfort. Usually made from beech, they conform to the sleeping profile of the occupants. Queen bed frames include double spring configurations and rails in the centre to keep the two occupants from rolling towards the middle of the bed.
Platform Bed Frames
Platform bed frames consist of a flat base set on legs or a solid platform that extends to the floor. These bed frames do not include slats or mesh, and they are designed to accommodate mattresses without box springs, such as memory foam beds, adjustable air cell beds, and waterbeds. Platform bed frames can include built-in shelving on the headboard as well as storage drawers at the side or the foot of the bed. Platform bed frames can be constructed of wood, or they may feature a wood or metal base with genuine or faux leather.
Considerations When Choosing a Bed Frame
Because bed frames have practical and stylistic differences, consumers should decide which features are important to their individual situations before searching for frames. Among the considerations are ease of access, storage, design, material, and colour.
Height
When deciding on the height of a bed frame, a buyer should keep the type of mattress in mind. A mattress and box spring increases the height of the bed, so the height of the frame should work in tandem with the thickness of these items. A bed frame that is too high makes it difficult to climb into bed comfortably. Other speciality mattresses, such as memory foam or adjustable firmness mattresses, do not typically need box springs, so the consumer should adjust accordingly based on different mattress thicknesses. When deciding on the ideal height of the bed frame, the buyer should also determine how much under bed storage is available.
Design
The bed is the largest piece of furniture in the bedroom, and the bed frame's design is an integral part of the room's decor. The consumer should keep the overall design theme of the bedroom in mind when selecting a bed frame. While many bed frames are not visible when the box spring and mattress are installed, other bed frames are part of the bed's design. Some open frames include the headboard and footboard, with materials such as contemporary wood, wrought iron, or classic brass. Other designs include elegant sleigh beds, breezy whitewashed beadboard, those with an antiqued appearance, and true antique beds.
Platform beds often integrate shelving and/or decorative mirrors into the headboards and storage drawers into the bases. Some contemporary platform beds feature sleek wood or leather bases with no drawers, leaving the design details to the bedding. Traditional and colonial-style platform beds are often a bit higher than modern beds, and they may incorporate several stair steps for easy access.
Both types of bed frames can include posters and canopies for a romantic, dramatic, tropical, or beachside feel. When choosing the material and colours, consumers should keep in mind that darker bed frames make a room seem smaller, and lighter bed frames open up a small room.
Queen Bed Frame Materials
Queen bed frames are available in several basic materials, including metal, wood, and leather. Each material choice offers advantages in functionality and design.
Wood
Wood bed frames offer an almost unlimited variety of decor choices for bedrooms. Each variety of wood has its own grain style to give a space warmth and character. For example, maple, walnut, and cherry feature tight grains that present a smooth appearance, while oak, pine, and ash are more porous and give each piece a unique look. Consumers can also opt for wood veneer bed frames, which are more durable and budget-friendly than solid wood. Wood veneer consists of a thin sheet of wood that is glued to pressboard or other substrate. Wood veneer is more moisture-resistant than solid wood.
Metal
A metal bed frame is a durable and often lighter alternative to a wood bed frame. Metal frames can be crafted to offer a contemporary, industrial, or old-fashioned look. Additionally, wood components can be integrated into a metal frame for a modern look. Most metal frames are treated with a formula to make them resistant to corrosion. Metal beds should have complete welds at the main joints with no gaps in the welds that could cause safety concerns.
Leather
Whether they are made with genuine, faux, or bi-cast leather, leather bed frames provide a sophisticated, beautiful look that adds warmth and texture to a bedroom. Leather bed frames are available in virtually any colour to enhance a room's decor. Faux leather is durable and less costly than natural leather, but it provides the same luxurious appearance of the genuine material.
How to Buy Queen Bed Frames on eBay
As the most popular bed size, queen bed frames are available in a variety of styles and materials. To find a selection of frames to suit your needs, simply enter 'queen bed frame' into the search window on any eBay page. When the results appear, you may browse those listings or refine your search by selecting your preferred material, colour, brand, or condition.
Because bed frames are bulky and costly to ship, you may want to identify sellers within a certain range of your postcode who would agree to an in-person collection. Search through deals on bedding and bed frames for an even better deal. For additional buying confidence, you can narrow your search to display listings from eBay Top-rated sellers. Be sure to research the seller's profile, including feedback rating, selling policies, and customer comments.
Conclusion
Open queen bed frames are used with mattress and box spring sets, and platform beds accommodate adjustable air cell, memory foam, and waterbed mattresses. A wood frame allows the consumer to utilise the bed as a central design point in the bedroom. Wood frames can be found in many styles, including cottage, mission, sleigh, and contemporary. Metal bed frames are durable, cost-effective, and resistant to corrosion. They are available in a variety of designs, as well, including graceful wrought iron scrollwork, classic brass, and a blend of metal and wood. While bed frames are available in brick-and-mortar furniture shops, eBay offers a continually changing selection of queen bed frames that allows the buyer to find the right frame with confidence and ease.