Welcome to the wonderful world of Die-Cutting!
If you are like me & you love scrapbooking, if you love cardmaking & if you love papercraft in general, then I guarantee you will LOVE Quickutz die-cut embellishments!
Quickutz have a very extensive and ever-increasing range of shapes for almost every ocassion or theme imaginable.
Here are my personal thoughts on the Quickutz brand..
Having used Sizzix, Accucut, Bosskut and Quickutz dies, I can honestly say that I personally find the quality and intricate detail of Quickutz outstanding and much prefer them to any of the other brands.
Quickutz currently have 2 types of shape dies available on the market:
'Singlekutz' dies which are just one wafer-thin metal die wih a shape that cuts a single shape or shapes with interchangeable components (see example below). Meaning that you can cut the shape in co-ordinating coloured cardstocks and just pop out and insert one into the other to create a two-tone embellishment.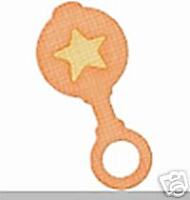 'Doublekutz' dies contain two wafer thin metal dies, each die consisting of separate components to cut different parts that can then be pieced together and/or layered to create a 'multi-dimensional' embellishment (see example below).This enables you to cut only the pieces you require in a certain colour and in turn, saves on cardstock.
Unlike Sizzix, which requires you to cut two of the one shape in different coloured card and then to hand cut and piece to create the same layered effect. For example, to create the example below with a Sizzix die, you would need to cut one whole stocking in Red & one whole stocking in White and use scissors to cut the white toe, heel & trim and then layer. You are then left with the remnants of a white stocking that you cannot use.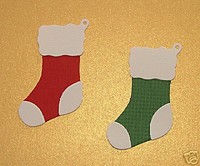 Quickutz dies also take up considerably less room to store if you are limited on storage space. Being wafer-thin enables you to store them in pocket binders, unlike Sizzix originals dies which are approx 2cm thick and range in size from 7.5cm to 14.5cm in length.
I have found the Quickutz designs to be very beautifully detailed & personally compare the quality of the finished product to that of Jolee's & other similar costly embellishments.
Quickutz also have a large range of Fonts in both 1" size for your scrapbooking and 1/2" size which is excellent for your scrapbooks as well as handmade cards.
Quickutz dies are designed to be used in the Quickutz handtool, but are also compatible with Sizzix (with system converter & adapter plate) Big Shot (adapter plate required), Sidekick (adapter plate required) and Zip'emate (nothing additional required).
Quickutz dies are a worthwhile & valuable investment. Infact, designs are periodically discontinued by the manufacturer & these 'retired' designs actually increase in value (even used) as they become unavailable in retail stores!
The only disadvantages I have personally found with Quickutz are that some of the pieces can be somewhat small and fiddly (tweezers & specs are a great help there) and that the ejection foam (an adhesive foam that covers the cutting edge to assist in the release of cut shape) does need periodic replacement. Each new die comes with its own foam, and replacement foam is available for seperate purchase. A Tip I have also found helpful, is to only use enough ejection foam to cover the cutting edge of the shape. You do not need to use the whole square of ejection foam on smaller shapes, so you can just cut a piece large enough to cover the cutting edge & save the remaining foam for your next replacement!
Although these are my own personal views on the Quickutz range, I hope you have found this guide somewhat informative and that I have helped you make an informed decision on your valuable die-cutting investment.
One final word of warning though, BEWARE- YOU 'WILL' BECOME ADDICTED!
Thanks for reading and Happy Scrapping!