Quiksilver is one of the world's largest manufacturers surfwear, skate and ski wear and sports equipment. It is an
Australian company now based in the USA.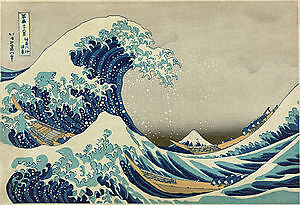 The Quiksilver logo, consists of a large wave with a mountain on a red background. It was designed by Alan Green and John Law when the company was started in 1969 in Torquay, Australia. The now famous logo was inspired by the Japanese painter Hokusai's The Great Wave off Kanagawa.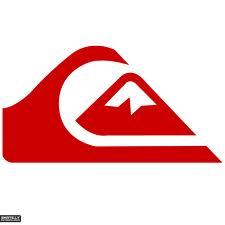 The Great Wave off Kanagawa, also known as The Great Wave or simply The Wave, is an ukiyo-e print or woodcut print. It was originally published in the 1830's, in a period called the late Edo period. It was the first print in a series by Hokusai, called Thirty-six Views of Mount Fuji.
It is Hokusai's most celebrated piece, and one of the most recognised works of Japanese art in the world. It portrays a huge wave threatening boats off the coast of Kanagawa. While occasionally presumed to be a tsunami, the wave is simply a large wave or okinami ("wave of the open sea"). Typical of all the prints in this series, it portrays the area around Mount Fuji or Fuji Yama, under specific conditions, whilst Fuji Yama appears in the background.
Quiksilver also produces a line of clothing for young women, under the banner
Roxy
. The Roxy logo comprises of two versions of the original Quiksilver logo inspired by Hokusai. One logo is reflected opposite the other forming a heart.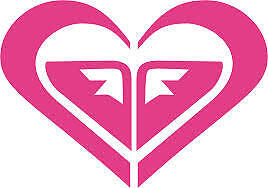 If this information has been helpful to you, will you please take a moment to click the
"GREEN Thumbs Up"
icon at the top of the page?
Find great deals in my
eBay Sore TShirts Australia