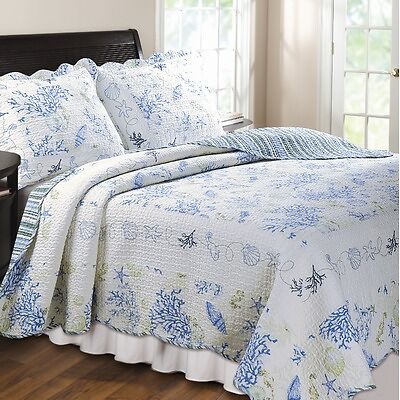 Quilt covers, also known as duvets, protect an underlying quilt or comforter. A quilt cover is far more than a simple form of bedding. Quilt covers have a huge impact on the look of a bedroom and how well a person sleeps After all, no one can avoid tossing and turning the night away when trapped beneath a covering that is too thin, too thick, or made of an uncomfortable type of fabric.
Quilt covers often involve a large investment, especially for the bigger sizes of bed, such as a king. It is important to select carefully, as most people want to get by with a new covering for a bed every few years. The more comfortable a quilt, the better sleep a person is likely to get. Just as a consumer carefully selects sheets with a high thread count or an ultra-firm mattress, it is important to take the time to choose the quilt cover that is ideals for one's preferences and needs.
Get Measurements for a Quilt Cover
The first step to buying the right quilt is ensuring it is the appropriate size for the intended bed. Remember, the quilt cover should be slightly larger than the mattress for adequate coverage. The chart below illustrates the dimensions for Australia's common mattress sizes.
| | | |
| --- | --- | --- |
| Bed Type | Width (cm) | Length (cm) |
| | 92 | 87 |
| Extra Long Single | 92 | 203 |
| King Single | 106 | 203 |
| Double | 137 | 187 |
| Queen | 153 | 203 |
| King | 183 | 203 |
Knowing the appropriate measurements for one's bed can make it easier to find the right size of quilt cover in instances where the piece is not marked, such as when purchased second hand. It also ensures that the quilt cover is capable of properly encompassing one's quilt without resulting in unsightly bunches.
Choose a Comfortable Fabric for a Quilt Cover
Not everyone's version of comfortable fabric is the same, so feel free to use discretion when choosing a cover to sleep beneath every night. While some folks love the silky feel of a satin covering, others are annoyed to the brink of insanity by how easily this type of fabric slips off the bed. Though a thick covering stuffed with down feathers works great to create warmth during winter, sleeping beneath one in the summer leaves people drenched in sweat and tossing all night.
Cotton
Cotton is one of the common options for bedding. It is comfortable, easy to clean, and highly breathable. Most types of the cotton are made of strong fibres that do not fall apart easily. Though it can get a bit wrinkly, the smooth, matte finish often makes up for it in spades.
Cotton is available in a variety of forms. For example, there is both conventional cotton as well as organic. Cotton also comes in different quality grades, most easily identified by the thread count. Look for high thread count, such as is available with most types of Egyptian cotton. This helps ensure a good feel, as some low thread count styles may feel itchy against the skin.
Cotton is almost always a good choice. Consumers who are not positive about the type of linens they wish to purchase typically are pleased with cotton.
Silk
Silk bedding is somewhat rare. There are many benefits to this choice of hypoallergenic bedding material. Long-lasting naturally-sourced silk looks incredible and holds warmth. At the same time, the cool texture of this fabric feels great against the skin, especially in contrast to a hot day.
The downside to using silk during warm weather is that it tends to stick to sweaty skin. Silk also means heavy maintenance for adequate care. Without proper cleaning methods, silk can be easily destroyed.
Poly Cotton
Poly cotton covers are made from a blend of natural cotton and synthetic polyester. The combination provides the best of both worlds for consumers. These covers are some of the more inexpensive and are super easy to clean. The blend makes for less piling and a softer finish. The introduction of polyester also helps reduce some of the wrinkling and shrinkage related to pure cotton. Polyester-cotton blends are becoming far more common as they are easy and inexpensive, compared to 100 per cent natural cotton options.
Flannel
Flannel fabric is a great choice for cold environments. Flannel is not as breathable as traditional cotton, but this can be quite the advantage during a bitter cold winter. The fabric was designed for adding warmth during cold weather and is extremely cozy. Flannel is also very durable, making laundering the fabric an easy task.
The biggest downside to flannel is also its biggest strength, its warmth. The fabric can be stifling for those who get overheated in the middle of the night.
Seek a Climate-Appropriate Option
As referenced in the fabrics section, the type of material used to create bedding can have a huge effect on comfort level in relation to temperature. For this reason, it is usually a good idea to keep at least two quilt covers at home. One for the hot nights of summer and late spring, another for the cool nights of fall and winter.
Knowing what sort of fibre filling is utilised within the quilt cover is important. While some fills, such as goose feathers, are great at regulating temperature, they may not be appropriate for individuals with allergies. Additionally, the amount of stuffing may leave a quilt feeling too bulky or too light.
Quilt Filling Material
There are several popular quilt filling options. Filling serves as one of definitive differences between options. Though consumers never see what makes up the loft of their quilts, this stuffing material affects how a blanket feels and looks and even how it affects those with allergies. Quilt covers typically have very little filling, as they are traditionally used in conjunction with a larger quilt piece. Nevertheless, it is important to know what filling is used with the duvet to determine if it is an appropriate choice for the consumer as well as the typical room temperature.
Down Feather Filling
Down quilt covers are filled with feathers, typically derived from geese. Some are grey, while others are white. There is no difference, apart from the fact that some consumers do not want to see grey sticking out from these covers, which are traditionally white. Another type of quilt, known as the down alternative, is designed with a synthetic filling meant to look and feel similar to feathers.
Wool
Wool is another expensive, but quite comfortable and natural, filling for quilts. It is great for cold weather, as wool is very thick and insulated. However, wool does not work for everyone. Like down feather filling, it can elicit an allergic reaction in sensitive individuals. Additionally, cleaning a comforter or quilt with a wool filling can be a bit more challenging.
Cotton
Cotton is a great choice for filling, for all the same reasons it is a good choice for the exterior of bedding. It is ultra-breathable and works well with most climates. Cotton is also highly durable and makes for easy cleaning, especially when combined with a cotton covering and shell. It is one of the more popular options for bedding.
Synthetic
Synthetic filling materials are less expensive to produce, making this option more affordable. Often, these fillings are also hypoallergenic, reducing the odds of a reaction in the sensitive. Since it is also an easy-to-clean option, synthetic is often an all-around good option. The only disadvantage is that some synthetic materials may be derived from questionable practices.
Finding a Quilt Cover on eBay
eBay offers a wide selection of quilt covers for every taste. Finding the right quilt cover is typically as simple as typing related keywords in the site's search engine. For something like a quilt cover, try a basic search term first, for example, "quilt covers". Then use the provided refinements to narrow listings to a more manageable level. Alternatively, you could provide more detail in the search term, such as "king quilt cover" or "blue single quilt cover", but this may not provide the same number of initial results that you are seeking.
eBay sellers offer new and used quilt covers, and deals on bedding in general. Most listings contain details about the condition of a listed quilt, whether it is used, like new, or still in the original packaging. If you have questions about a quilt cover's condition, you can contact the seller directly via email.
Conclusion
It is amazing how much adding a new quilt or covering to one's bed can totally transform the appearance of a bedroom. Since having a few new quilts on hand is quite a bit less expensive than replacing furniture, many people choose quilt covers when seeking a change of scenery. Adding a new quilt cover also offers a great way to totally change up the look of a room without much effort. After all, changing bed linens requires far less strain that buying and moving a new dresser into the room. When buying quilt covers, it is important to purchase for quality, as it can be rather costly to replace one's quilt cover on a frequent basis. It is also a good idea to keep separate covers to match the weather and fashion trends of each season.