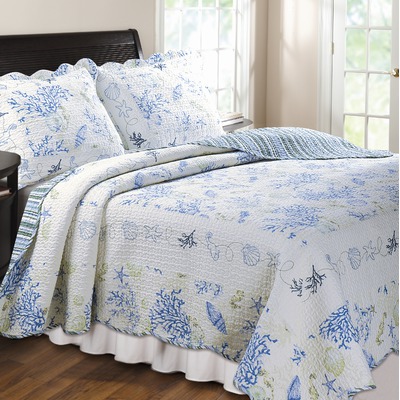 Quilt cover sets are designed for covering quilts and they come in a wide range of designs and fabrics. Also known as duvet covers, quilt covers may feature either press studs or buttons to keep the quilt secure inside. Quilt cover sets usually comprise of a quilt cover and one or two pillowcases, according to the size of the bed they are intended for.
The main advantage of using a duvet cover is that it can be changed on a regular basis, keeping the duvet clean and fresh. Moreover, the entire look of a bedroom can be changed by simply using quilt covers with different designs. Learning more about quilt cover sets, the fabrics they are made of, and how to buy them in the correct size can help buyers make a good choice.
Things to Look for in a Quilt Cover Set
Quilt covers are essential for protecting a quilt against mites and dust that love to nest in hollow seams. In addition to protecting the duvet, the quilt cover also gives character to a bedroom. Several things need to be taken into account when shopping for quilt cover sets, including the material of the quilt, the fastening system, the colours of the room, the size of the bed and that of the quilt, the fabric of the quilt cover, price, and more.
Block Colours and Patterns
There is a virtually endless choice of colours available when it comes to duvet cover sets, but the two main choices are block colours and patterned fabrics. Plain quilt covers in solid block colours are very convenient because they can change the mood of any room with their simplicity. They are the ideal choice for those who are looking to add a warm decorative touch to their bedroom without too much effort. On the other hand, patterned quilt covers provide a touch of originality to any bedroom. These are a very good choice for those who like to decorate their bedroom according to a specific theme. They are also a very popular choice for children's rooms.
Fastening
Quilt covers should be easy to fasten and unfasten in order to allow users to change them without too much effort. There are several kinds of closures for quilt covers, including snaps, zippers, and fabric ties. Some quilt covers can be attached to the quilt with Velcro strips. This is a good choice for those who are looking for a solution that prevents slipping of the covers during the night.
Materials
Choosing the fabric of a quilt cover set is very important because the quality of one's sleep largely depends on this. From traditional cotton to innovative fabrics that help regulate temperature, the choice is varied. Buyers should base their options on their personal preferences and budget.
Cotton
Quilt cover sets can be found in various kinds of cotton, with Egyptian cotton being a very popular choice. Egyptian cotton is available in different thread counts and it offers comfort and a feeling of luxury at the same time. The main advantage of using cotton quilt covers is the fact that the material can absorb humidity well, making cotton quilt covers a great choice for warm seasons.
Percale
The term percale does not actually refer to the material type, but to the weave of the fabric instead. This is a loosely woven plain-weave fabric that features a minimum thread count of 180 threads per square inch. Percale is a common choice for quilt cover sets because of its hardwearing nature. Moreover, this fabric is available in a wide range of patterns and colours and it washes well.
Satin
Quilt covers made from satin have a lustrous surface with a soft feel. This is a wonderful material for a good night's sleep. Satin quilt cover sets are available in a large number of colours and patterns. The downside of buying satin quilt covers is the fact that they need more attention than many other materials, including cotton, when it comes to the cleaning process.
Damask
Damask is a fabric obtained from silk and its main characteristic is the fact that it creates a light reflected weave that changes colours depending on the way lights hit the linen. This is one of the oldest materials used for making bed linen sets. It has its origins in mid-14th century France and it has been used continuously ever since.
Jersey
Jersey quilt cover sets are made from a combination of textiles including synthetic fibres, cotton, and wool. This is a good choice for nurseries because the material is very soft, absorbent, and supple. Jersey bed linen has a loose knit fabric style and provides the user with a comfortable temperature for a good night's sleep.
Polyester
Polyester is a synthetic fabric that has the main advantage of being inexpensive. Quilt cover sets can be bought either in 100 per cent polyester or in mixtures of cotton and polyester. This kind of bed linen is easy to maintain and it is available in a wide variety of colours and patterns.
Buying Quilt Cover Sets in the Correct Size
One of the most common difficulties people have when it comes to buying new quilt cover sets is choosing the correct size. In order to be able to determine the exact size of the quilt cover set they need, buyers need to know the size of their bed. The chart below summarises the dimensions of the main types of beds available on the market.
| | | |
| --- | --- | --- |
| Bed Size | Dimensions (centimetres) | Dimensions (inches) |
| | 140 by 210 | 55 by 83 |
| | 180 by 210 | 71 by 83 |
| | 210 by 210 | 83 by 83 |
| | 240 by 210 | 95 by 83 |
When shopping for quilt cover sets, buyers should also make sure they check the size of their pillows as well. Buying a set that is larger than the duvet and the pillows may often be tempting just to be sure it fits. This is however not a good idea because it diminishes the level of comfort during sleeping.
How to Buy Quilt Cover Sets on eBay
Whether you are looking for a quilt cover set with Disney characters for your child's bed or for a satin quilt set for your master bedroom, you can find them all easily on eBay. The website has a large selection of quilt cover sets in all sizes, colours, and patterns, so there is something available for any budget. Searching for a quilt cover set on eBay is easy, as all you need to do is type these terms into the search bar of the website and then browse through the several pages of results you get, or just browse deals on bedding. When shopping for quilt cover sets on eBay, read the product description carefully, in order to make sure the set you decide to buy has the right size for your bed.
Conclusion
Quilt covers sets can produce a distinctive look for any bedroom and they are an easy way to beautify a room. They can make a bedroom look elegant and, depending on the fabrics they are made of, they may improve the quality of one's sleep. Quilt cover sets are available for all bed sizes and consumers can easily buy them online on websites such as eBay if they want to have easy access to a large selection of products. By choosing to shop for quilt cover sets on eBay, buyers can find the product they need with just a few clicks. It is possible to easily browse through numerous sets in all colours, patterns, and sizes and buy the desired quilt set from the comfort of one's home.