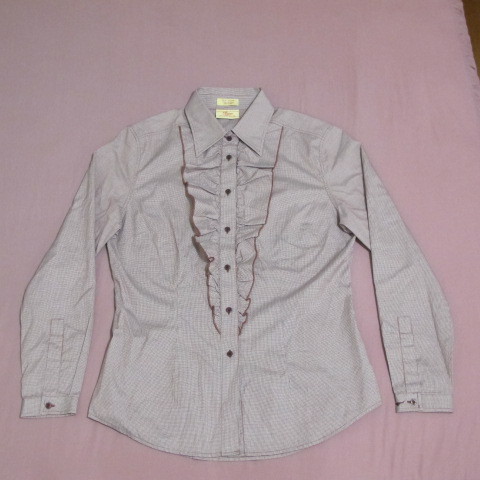 One of the essential items in a woman's wardrobe is the humble blouse. Women who value style, comfort, and durability in a clothing item cannot go wrong when they choose to buy and wear a RM Williams blouse. Being a true Australian brand with an impressive history, RM Williams produces exquisite outfits with a distinctive Australian style and flare. Women can find almost any kind of blouse they want for most semi-formal and casual occasions. Like when buying other clothing items, shoppers should know how to pick a blouse of the right size, style, and material. By shopping on eBay, consumers can choose from a large selection of RM Williams blouses, either brand new or pre-owned.
Designs of RM Williams Blouses
When shopping for clothes from a particular brand, buyers should know the distinctive style of the brand, and whether it is suitable for them. Although RM Williams has many fun and colourful women's clothing lines, most of RM Williams blouses have an elegant yet functional look which is suitable for work and also semi-formal occasions. That being said, buyers can also find blouses with bright floral patterns, single colour palettes, and frills. Women who like the country style can also find blouses with iconic checkered patterns and double breast pockets.
Buying the Right RM Williams Blouse
To buy the right RM Williams blouse, consumers should at least have an idea of the kind of blouse they want. RM Williams produces blouses for different settings and occasions. Therefore, buyers should consider what they need the blouse for, and where they plan to wear it. They should also consider the cut, colour, and material of a blouse before buying it.
Style and Design
Choosing the style and design of a blouse is important. An easy way for buyers to choose the blouse style is to consider what they need the blouse for, and how often they plan to wear it. Buyers looking for a blouse to wear to the office should pick one that is not too eye-catching. Of course, this also depends on where they work, and the dress code of the company. A solid-coloured blouse with little embellishments not only looks good in the office, but is also versatile as wearers can pair it with various accessories such as scarves or jumpers. Consumers who want a comfortable blouse they can wear at home or when running errands can get a short sleeve blouse and choose a lightweight fabric.
Size and Cut
Just like when buying any other outfit, getting a blouse of the right size is necessary if the buyer wants to look good wearing the blouse. RM Williams women's blouses or shirts generally come in sizes8 to 18. To get a comfortably fitting blouse, buyers can refer to the RM Williams blouse size chart below.
| | | |
| --- | --- | --- |
| Size | Neck Measurement (cm) | Bust Measurement (cm) |
| | 33.5 | 84 |
| 10 | 37 | 89 |
| 12 | 38 | 94 |
| 14 | 39.5 | 99 |
| 16 | 41 | 104 |
| 18 | 42 | 109 |
The neck and bust measurements refer to the circumference, and shoppers can easily measure them with a measuring tape. Besides choosing the size of the blouse, one should also decide on the cut of the blouse. By choosing a certain cut, buyers can have a figure flattering blouse. RM Williams generally has regular and slim fit blouses, which buyers can consider based on their preferences. When considering the cut, buyers can also take note of the cut of the neckline and sleeves. For instance, they can consider choosing a short sleeve blouse for warm weather. A good way to know if a blouse fits well is to try it on, so if possible, buyers should always do this.
Colour
Picking the colour of a blouse is actually more important than most people think it is. After all, the colour of clothing items can make someone look very good or just plain odd. Blouses in neutral colours, such as white, grey, blue, and off-whites, are suitable as office wear. Blouses in striking, bold colours, like orange, red, or even a mix of hues, are great for casual occasions.
Many people do not know this, but the colour of a blouse can influence their look depending on their body shape. For example, women with an inverted triangle body shape should wear blouses that are darker than the colour of their bottom half to improve the balance of their figure. Likewise, those with large hips can create balance by wearing a blouse in a light colour. Blouses in plain white , pink , or blue are usually very versatile. However, consumers should always decide carefully when choosing the colour of their blouses as not everyone looks great in these colours.
How to Buy an RM Williams Blouse on eBay
To find the blouse you want, use the search bar on any eBay page. Just look up ' RM Williams blouse' or other keywords, and browse through the search results or refine them using the filters eBay provides. Pay attention to a product's description, size, and price before you buy it. If you want to know more about a product, contact the seller. You can also check out the eBay Deals section to search for attractive offers on blouses and other products. By choosing a blouse from RM Williams, you get quality and comfort. Just remember to choose something that you love the looks of, and that fits you well.