Radio controlled car Buyer's Guide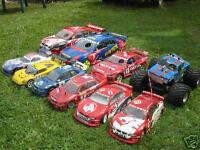 This guide has been made in an effort to help those of you who are new to R/C Cars.
It is intended as a basic guide for beginners.
eBay is a great place to find some true bargains when it comes to radio controlled cars and equipment. But it can all be a little overwhelming if you're new to the hobby.
First off there are two main types of r/c cars available - Electric and Nitro
Electric cars have an electric motor like this:
Which is driven by a battery pack, which you charge using an electric charger which plugs into your power outlet.
Electric cars are nice and easy to get into, and can provide lots of fun for new and even experienced r/c hobbyists.
Nitro cars are powered by a combustible engine which runs on nitro fuel.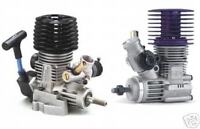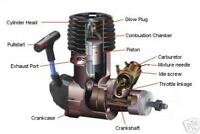 The most common type of nitro engine is started by using a glow plug Heater to ignite the Glow_plug which in turns ignites the fuel.
And turning the piston over by the use of a pull_start .
There's no doubt that Nitro cars are an amazing amount of fun, however to the uninitiated aswell as experienced R/C'ers, there's quite a lot to learn.
First there is what type of fuel to use. Fuel comes with different percentages of Nitro content. The most common are
5%, 10%, 15%, 20%, And 25%
What you should use depends largely on what size your engine is, aswell as what kind of driving you are wanting to do.
As a rough guide, .12 size engines should be ideally using 10%.
.15 size engines and upward should be using 10% - 15% Nitro content.
.18 and upward should be using 15%
.25 and upward 20%
And so on and so forth.
Then you have to know how to run your nitro engine in.
There are many different methods given for running engines in correctly, and in all honestly it's best to seek as much advice as possible before deciding how you want to go about it. A correctly run-in engine will give you many months of hassle free fun, but an incorrectly run-in motor will be nothing but trouble.
From my experience, the way I have run all my engines in is simply by filling the fuel tank, starting the car and then accellerating just a little bit and then backing off.
Repeat this procedure again and again, never attempting to take the throttle up to full speed. Just drive very slowly.
You'll have to do this for at least 3-4 tanks .
After that, you'll slowly be able to use your car properly. For the beginner, it's probably best to not attempt to tune your engine at all. Most times, the pre-set factory settings will suffice if you are just wanting to drive your car for a little bit of fun. If you are more serious and are looking at racing, then you'll be reading far more than just this guide anyway.
Nitro cars will be one of two things: Either a lot of fun, or a complete headache.
Which of the two outcomes arrives for you isn't soley dependent on how you use your car. There are many factors involved... brands being one of them.
BRANDS
One thing to consider is the brand of the car you are purchasing.
There's several big name brands available, like

and even Model Engines and Awesome R/C's

These are brands where parts will be readily available in all hobby shops and toy stores such as Mr. Toys Toyworld, which stock R/C cars and components.
There are of course many more brands available, but these are potentially of lesser quality than the main ones mentioned.
Two very important question to ask yourself are "Will the Brand of this car affect it's quality?" and "Will I be able to buy parts easily?"
Regardless of what car you get and how well you take care of it, replacing parts that are broken or worn out is just a simple fact.
You can purchase many no name cars from overseas for very good prices, but what's the point in saving some money up front, if you will be unable to obtain parts in the future?
It could mean the difference between you owning a fun car to drive, or an expensive ornament.
One other thing to consider regarding parts is that generally speaking, cheaper brands of cars use cheaper and lesser quality parts. Meaning that parts will break or wear out more frequently, even if you take care of the vehicle. So even if parts are available, in the long run, the car may end up costing you more in the long run. Cheaper initially, but more expensive due to the cost of replacements.
There are many more questions you should be asking if you are new to r/c cars, but this is intended only as the most basic of guides.
The best advice to give is to stick with brands that are known and supported by Hobby Shops as this will mean that parts can be obtained without too much hassle.
I wish you all the best with your new hobby!
Good luck, and Happy driving!!!!