BUYERS GUIDE - OS GLOW PLUGS
Hello, and welcome to my buyers guide about OS glow plugs.
Why OS? Because there are so many variancies between different plugs. A "cold plug" in OS brand is not going to be the same as a "cold plug" in a different manufacturer's brand.
OS plugs are very popular and reliable, so to make this guide simpler, I shall stick to the one brand.
I initially began with a beginners guide to radio controlled cars, which can be read HERE, and now I am going to gradually look at different aspects of r/c cars and explore each one a little more indepth.
This guide is intended to help those of you who are wanting to purchase glow plugs for your nitro radio controlled cars and aren't sure of which plug will best suit your engine.
WHAT IS A GLOW PLUG?
The simple answer is that a glow plug is the ignition system for your nitro-powered radio controlled car. Real car engines use a spark ignition system which incorporates the use of a spark plug. Radio controlled cars use a much simpler system to ignite the fuel in their engines - the glow plug.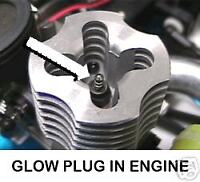 HOW DO GLOW PLUGS WORK?
One of the main functions of a glow plug is starting your engine. When you connect a glow plug heater to the glow plug, it causes the wire element to glow hot. This will in turn ignite the fuel within your engine.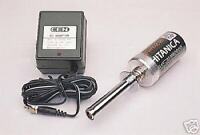 Once your engine is running, the heat it generates will be enough to maintain the "hotness" of the glow plug's element, which in turn will be enough to continually ignite the fuel, and make your car's engine run.
SO WHAT TYPE OF GLOW PLUG SHOULD I GET?
Ok, simple thing first. If you've blown a glow plug in your car, the easiest way to find out what plug you need to replace it with, is to simply look at the plug which you need to replace.
Many glow plugs will have a number embossed around it's outer edge: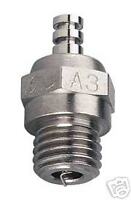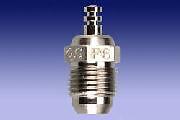 Notice how the P6 plug looks different? Why is that? It's because the P6 is a turbo plug.
WHAT'S THE DIFFERENCE BETWEEN A TURBO AND A STANDARD PLUG?
Most engines come with and use a standard plug. The main visual difference between a standard plug and a turbo plug is it's threaded housing. As you can see in the above images, standard plugs have a very straightforward housing, whereas the turbo plug has a thinner housing which is tapered at the bottom.
Simply by looking at the housing, you'll know if you have a turbo plug or a standard one.
MY GLOW PLUG DOESN'T HAVE ANY NUMBERS ON IT?
The following information will be a basic guide on what glow plug may best suit your needs if there is no indentification on the plug which needs to be replaced.
Firstly, simply by looking at the housing, you'll know if you want a standard or a turbo plug.
And the following is basic information in regards as to what each O.S. plug offers:
# 8 - A hot plug which is recommended for most current O.S. (and other) 2-stroke engines. O.S. 8 plugs can be expensive though if you have to replace them often.
Type F - A mildly hot special long-reach plug recommended exclusively for O.S (and other) 4-stroke engines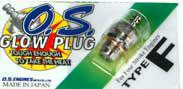 Type RE - A hot special long-reach plug designed exclusively for O.S. Wankel rotary engine
A5 - A cold plug recommended for most current O.S. (and many other) 2-stroke engines particularly for 1/10th & 1/8th scale off-road car engines

A3 A hot dependable. O.S. quality makes A3 the most durable and longest-lasting glow plug available at an economical price. Very similar to the O.S. 8 in most respects, just a more economical choice due to cost, and my preferred plug of choice.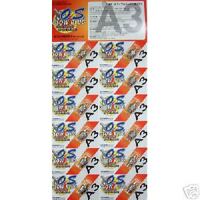 R5 A very cold plug which is recommended for high-nitro fuel and high r.p.m. engines, particularly 1/8th track racing car engines
If you have a standard plug, with no identifying number on it, then the A3 or 8 would most likely be exactly what you need.
FINAL THOUGHTS
Use a hot plug when using fuel with a low nitro content (less than 24%), and a cold plug when using fuel with a high nitro content (25% and higher)

If you remove your glow plug heater from your idling engine, and there's a noticibly large drop in RPM, you may need a hotter plug or a fuel with a higher nitro content.

If your engine tends to backfire often, you may be using a glow plug which is too hot, or you may need to use a fuel with a lower nitro content.
Well this was intended as a very basic and introductory guide to glow plugs. I hope that if you've taken the time to read this, it has helped you a little.
I wish you all the best.
Happy r/c'ing! :)