How a Rail Cover Can Help Improve Your Weapon Control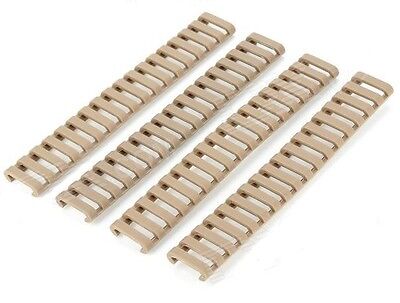 When it comes to weapon control, there are many different factors that come into play. Technique and skills are the obvious ones but there are several minor factors that people don't generally pay attention to. This is the case with the rail of your firearm as well. An exposed rail can make it difficult for you to operate the gun for extended periods of time. Plus, you are at a risk of being injured by it. Covering the rails will not only keep you safe but also help improve your weapon control.
For this, you will need to buy some rail ladder covers for yourself. The 7" 18-slot rail ladder covers can be fit easily on the rail of your gun. You won't have to worry about getting pricked by the sharp edges. Imagine that you are preparing to take a shot and your hand brushes against the sharp edge. There is no way you will be able to get the shot off accurately.
Moreover, the rubbery texture of the rail cover ensures you can grip and handle the weapon in a better way. This will enable you to take difficult shots with ease and get most of them on target. Not to mention this helps keep the gun safe as well. Hence, you can kill two birds with one stone by doing this.
To improve your weapon control, it is extremely important that you are able to grip the gun properly and fitting a rail ladder cover on it is one of the simplest ways to ensure that.
CLICK HERE
to purchase rail covers