Trains On Cigarette Cards (Collectables)
I've been collecting and selling trading cards, cigarette cards and related collectables for over twenty years. Before you read this guide please subscribe to my card collecting newsletters for updates on rare cards and tips on buying by Clicking Here, thank you.
George Stephenson is considered to be the inventor of the first steam locomotive engine for railways. However, Richard Trevithick is said to have invented the first tramway locomotive for the road. Railways rapidly spread through out the United Kingdom and the USA, and then the rest of the world. The railway became the most successful form of land transport for nearly a century, until their gradual decline due to the invention of the aircraft and motorcar. Many sets of cigarette cards were issued on trains and the railway during the first half of the 20th century.
Below you will find a list of a selection of railway cigarette card sets. I've provided scans of a sample card from each cigarette card set and tried to include all card titles.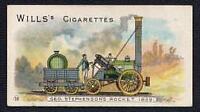 Name Of Set: Locomotives & Rolling Stock
Manufacturer: WD and HO Wills
Issue Year: 1901-2
Card Number: 50
Card Titles: Austrian State Railway, Old Locomotive Canterbury and Whistable Railway, Stephenson's Long Boiler Engine, Paris Lyons and Mediterranean Railway Engine, Old Reading Railway Engine, Snowdon Railway Rack Rail, 1st Locmotive in the USA, Early Locomotive USA, 1st 2nd and 3rd Carriages Bodmin and Wadebridge Railway 1840, Locomotive London & Birmingham Railway 1837, Locomotive Bristol and Exeter Railway 1853, Locomotive Belgian States Railway, Engine on the Soudan Railway 1899, 1st Railway Train to Cross the Rocky Mountains, The First Suspended Electrical Railway in Germany, Electrical Railway Engine Central London Railway, London and North Western Express Engine, Engine Mt Pilatus Railway Switzerland, Locmotive New York Central Railway, Metropolitan Railway Engine, Stephenson and Dodds Patent Engine 1815, Indian State Railway, Great Western Express Engine Flying Dutchman, Lond and South Western Express Engine, Great Northern Express Engine, Great Northern Express Engine USA, North Eastern Express Engine, Great Central Express Engine, Midland Express Engine, Canadian Pacific Express Engine, Great Eastern Express Engine, Great Western Broad Gauge Engine 1837, Locomotive Pennsylvania Railway, Union Pacific Express Engine, North British Express Engine, Chicago Bulington and Quincy Express Engine , Geo Stephenson's Rocket, Gt Eastern Rly Restaurant Car, Imperial Railway Japan Tokio Express, Gt Southern and Western of Ireland, Hedley's Puffing Billy 1813, Enfield Combined Engine and Train 1849, Listowell and Ballybunion Railway, Hedley Engine, and Pullman Dwg.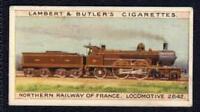 Name Of Set: World's Locomotives (Series 25)
Manufacturer: Lambert and Butler
Issue Year: 1912
Card Number: 25
Card Titles: Paris Lyons and Mediterranean, Union Pacific, North-Western of India, London and South Western, North British, Great Eastern, Midland, Great Central, Great Northern, Great Western, London Brighton and South Coast, Great Northern, North Eastern, Northern France, Aitcheson, Lake Shore and Michigan, New York Central and Hudson River, Lehigh Valley, Union Pacific, Cape Government, Caledonian, Baltimore and Ohio, Philadelphia and Reading, Great Western, and Northern France.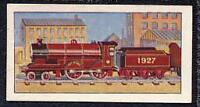 Name Of Set: Model Railways
Manufacturer: Godfrey Phillips
Issue Year: 1927
Card Number: 25
Card Titles: Circular Water Tower, Country Station, Crane Truck, Double Road Tunnel Mouth, Engine Shed, Gantry Signal, Goods Depot, Guard's Van, Vulcan Locomotive and Tender, Level Crossing - Moveable Gates, LMS Bogey Brake 3rd, LMS Open 10 Ton Goods Waggon, LMS Post Office Mail Van, LMS Scale - Model Locomotive Duke of York, Locomotive Coal Waggon, Mechanical Turn-table, Model Hoarding,Mootor Spirit Waggon, Parallel Points, Petrol Waggon, Pick-up Apparatus, Railway Bridge Fitted with Rails, Signal Box, Station Overbridge, and Wayside Station.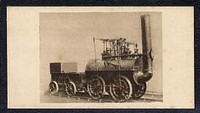 Name Of Set: The Railway Centenary
Manufacturer: R and J Hill
Issue Year: 1925
Card Number: 50
Card Titles: -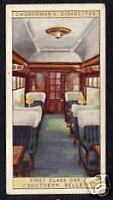 Name Of Set: Famous Railway Trains
Manufacturer: WA & AC Churchman
Issue Year: 1929
Card Number: 25
Card Titles: Cornish Riviera Express at Paddington, Cornish Riviera Express at Teignmouth,The Flying Scotsman, Electric Kitchen, The Hook of Holland Express, The Royal Scot, The Southern Belle, First-Class Car, Trans-Australian Train, Dining-Saloon Special Car Trans-Australian Railway, Interior of Colonist Car, Observation Car, CPR, Observation Car, The Imperial Indian Mail, Single-Berth Compartment, The Union Limited, The Union Express, The Blue Train at Nice, Single-Berth Compartment, The Golden Arrow Leaving Calais, Pullman Car on The Golden Arrow Express, Simplon Orient Express, The 20th Century Ltd, and Standard Sleeper The 20th Century Ltd.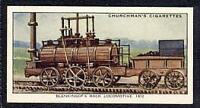 Name Of Set: Landmarks In Railway Progress
Manufacturer: WA & AC Churchman
Issue Year: 1931
Card Number: 50
Card Titles: The Peak Forest Tramway 1802, The Surey Iron Railway 1803, Blenkinsop's Rack Locomotive 1812, Puffing Billy 1813, The Oystermouth Train 1816, The Stockton and Darlington 1825, Passenger Coach Stockton and Darlington Railway 1825, First-Class Coach - Stockton and Darlington 1816, The Canterbury and Whitstable Railway 1830, The Liverpool and Manchester 1830, The Novelty at Rainhill 1829, The Rocket at Rainhill 1829, The Sanspareil at Rainhill 1829, Wilberforce An Early Six-Coupled Engine 1831, A Mail Carriage London and Birmingham Railway 1837, The North Star GWR 1837, Second and third Class Travel 1840, The Beginning of the GNR 1848, The Grandfather of the Flying Scotsman 1852, The Royal Albert Bridge Saltash 1859, Water-Troughs Introduced L&NWR 1860, Stirling's Eight Footers GNR 1870, Steam Haulage On The District 1871, The First Sleeping Saloon 1874, The First Dining Saloon GNR 1879, Slip-Coach working Introduced 1881, Front-Coupled Engines 1882, The Seven Tunnel Opened 1886, The First Oil-Fuel Loco Petrolea GER 1887, The Second Tay Bridge Opened 1888, The Race to Edinburgh 1888, The Race to Edinburgh 1888 Stirling Single, The Forth Bridge Opened 1890, The City and South London Ry 1890, The Last Broad Gauge Train GWR 1892, Converting the Gauge GWR 1892, Compound Locomotives Introduced The Ionic 1895, The Race to Aberdeen, The First Atlantic GNR 1898, Brighton in One Hour 1898, American Locomotive On the Midland 1899, French Locomotive on the GWR 1903, First Non-Stop London-Plymouth 1904, A Hundred Miles An Hour GWR 1904 , and Electrification.
Name Of Set: Railway Engines
Manufacturer: Godfrey Phillips
Issue Year: 1934
Card Number: 25
Card Titles: Liverpool & Manchester Railway Coach 1830, GN Railway No 1470, The Vulcan GWR Engine, The Great Bear, The Cornish Riviera Express, Lord Faringdon Great Central Railways, Manchester-Blackpool Epress, Newcastle-Liverpool Express, LNWR Scotch Express Lord Rathmore, The Southern Belle, The Rocket,Continental Express, Midland Railway Goods Engine, Canadian Geared Locomotive for Forestry Work, L & NER Leeds-Bradford Express, Broad Gauge Express Engine, Norfolk Coast Express Great Eastern Section, Great Northern Railway, War Memorial Engine, Canadian Pacific Railway 1919, Royal Train at Portsmouth, Great Western Railway Eight Coupied Mineral Engine, Decapod Banking Engine Midland Engine, Great Central Engine, and Heavy Mixed Traffic Engine.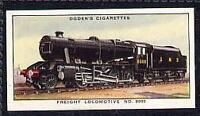 Name Of Set: Modern Railways
Manufacturer: Ogdens
Issue Year: 1936
Card Number: 50
Card Titles: North Star and King George V, Cheltenham Flyer Express, Torbay Express At Teignmouth, Streamlined Railcar, Dining Car Cornish Riveria Express, Buffet Quick-Lunch Car, Stretcher Case Travelling by Train, Travelling Post Office, Interior of Travelling Post Office, GPO Telegram Service For Passenger, Camp Coach, Interior of Dynamometer Car, Slipping a Train, Carriage Disninfecting Plant at Swindon, Interior of All-Electric Signal Box, SS St. David, Silver Jubilee Loco, Freight Loco No 8000, Royal Scot Loco At Crewe Works, Princess Royal Loco Hauling Royal Scot on Water Troughs At Tebay, Coventry Pneumatic Railcar, First Class Sleeper, Interior of Lounge Car, Third Class Sleeper, Corridor Third Class Compartment, Permanent Way Work, Model Trains in Wind Tunnel, S.S. Duke of York, Silver Link Streamlined Loco, Cock O' The North Locomotive No. 2001, Cruise of Northern Belle, Writing Room on Northern Belle, Flying Scotsman Relief Crew, Cocktail Bar on Flying Scotsman, Pathe' Cinema Van, Buffet Car, Mechanical Coaling Plant, 150-Ton Well Trolley Wagon Set, Track-Laying Train, Golden Arrow Continental Express, Brighton Belle All-Pullman Electric Express, Carriage Washing Plant at Brighton, All-Electric Signal Box London Bridge Station, Interior of All-Electric Signal Box Brighton Station, 3-Aspect Electric Starting Signal, Cross-Channel Train Ferry, Southampton Docks From the Air, World's Largest Graving Dock at Southampton, R.M.S. Queen Mary in King George V Dock at Southampton, and Railway Air Service Aeroplane.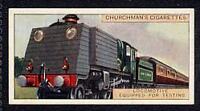 Name Of Set: Railway Working, 2nd Series
Manufacturer: WA & AC Churchman
Issue Year: 1927
Card Number: 25
Card Titles: Air Brake Pump,Inside the Driver's Cab, A Breakdown Crane, Electric Train Staff Instrument, The Train Ferry, Electric Live Rail System 1, Electric Live Rail System 2, Pick up Shoe, Overhead Wire Electric System, Pantagraph Pick-up Gear, Conveying an Out-of-Gauge Load, How to Describe a Locomotive, Locomotive Equipped for Testing, Pipes and Fittings, Electric Point Shifting Machine, Gradient Posts, Mile Posts, Four Light Signal Gantry, Inside the Smokebox, The Potato Train, The Piston Valve, Slide-Valve, Stephenson Valve Gear, A Feed Water Heater, and The Wheel Drop.
*
More Card Guides & Newsletters
If you are interested in rare and unusual cigarette cards please consider reading my other guides and joining my newsletters.