The purpose of this guide is to assist parents to buy age appropriate reading material for their children. Babies as young as 3 months benefit from looking at picture books and playing with book toys. Toddlers will listen to you read their favourite stories 100 times a day and when you're not available they'll look at the pictures and make up their own story to go along with the pictures. Older children can disappear for weeks with a good pile of books and they come back smarter. It's a win win situation!!!!!!
Books are a great gift for a child of any age. As kids develop they require different stimulus and so it's important to know what you're looking for. Think of it like this. You wouldn't give your 3 month old a chunk of steak to eat and you probably wouldn't have a lot of success feeding baby food to your teenage son. As kids' bodies grow so do their minds and this will change the type of books they want to read. So many of our kids lose interest in reading just because nobody ever gave them the right book.
What is the right book?
I'd need a crystal ball to answer that one. It's important to take your child's personality and interests into account when choosing books for them, but what this guide is about is the type of book that will suit your child.
Babies
Lots of people think books are a bad gift for babies. Yes, your baby will suck, bite, lick and wreck the book! It's called learning! Therefore your objective when looking for books for baby is what will stand up to that kind of treatment and not hurt baby.
Babies love to touch and feel so cloth books are a great idea. You can get some great cloth books with different textures and some make sounds as baby touches them.
Board books are also great for babies and if they survive, will still be loved by them as toddlers. Most board books have very few words, but lots of bright colourful illustrations.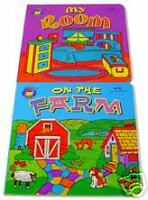 This type of book will provide hours of amusement for a 12 month old and if you add movement into the mix, with say a pull out or pop up book, it will be even more popular.
Toddlers
Older babies and toddlers love to be read too, but they also enjoy playing with books. At our house we have books for mummy and daddy to read and books for the kids to play with so that expensive gifts from grandparents don't get torn to pieces at mid-morning tantrum time.
Toddlers will also greatly benefit from lots of colour and any kind of moving pieces. My toddlers love jigsaw books. Very simple jigsaw puzzles that make a picture to go along with the story.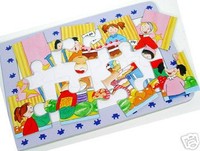 If you can encourage your kids to become active readers in their early years they will develop a love of reading and learning that you can't buy. Books are great fun, they encourage active imagination and teach us about things we may never see or experience in person. Cheaper than a video game, more versatile than a DVD, buy a book today!!!!