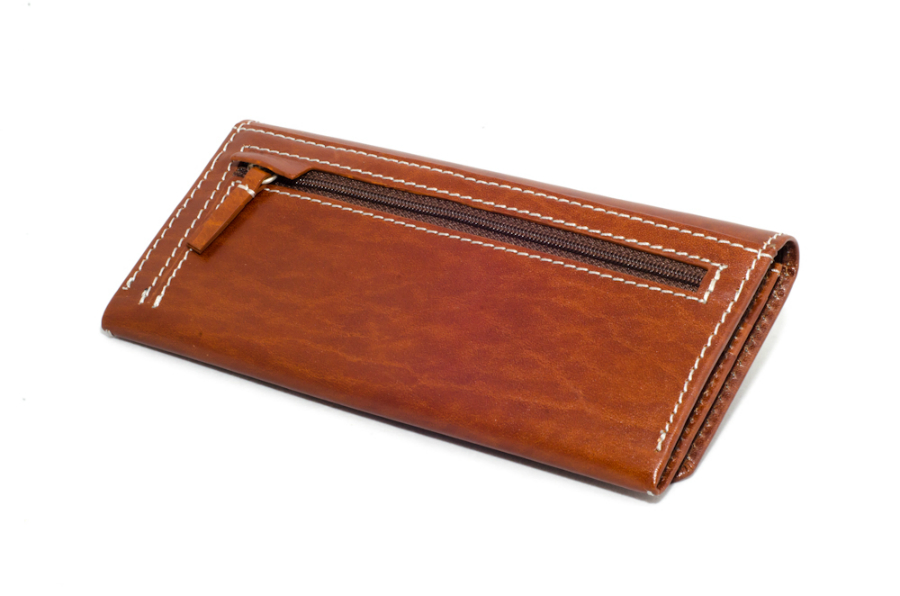 Before buying a wallet, it helps to understand the advantages and disadvantages of purchasing real vs. faux leather; knowing how they compare is an important factor in the buying decision. Understanding the differences between the materials enables buyers to identify key characteristics to ensure that they get the product that they are expecting. Leather is a natural material obtained from animal hide or skin. Faux leather is a manufactured material, usually made from a type of plastic.
To identify real and faux leather, and to understand the difference between them, learn about the types available. Consider the advantages and disadvantages of each of them before buying. Real and faux leather wallets are available from a variety of sources, including luggage and department stores, as well as online retailers, like eBay.
Types of Real Leather
When shopping for a real leather wallet, it is important to understand what types of leather are available. These wallets are made of tanned leather, usually with the animal hair or wool removed. Leather is not necessarily a whole piece of animal skin. Some types of leather are made by splitting or segmenting a hide before or after tanning. The table below lists and describes different types of leather.
Type of Leather

Description

Drum dyed without pigment applied to the surface

Not sanded, buffed, or snuffed to remove flaws and marks

Animal's scars, growth marks, and fat wrinkles are visible

Strong and durable

Develops patina over time

Commonly used for high-end furniture and footwear

Available in two finishes: aniline and semi-aniline

Commonly used in high-end products

Split layer separated

More pliable than full grain

Sanded, with a finish added

More stain resistant than full grain

Less expensive than full grain

Drum dyed aniline leather

Surface grain has been buffed

Velvety feel

Pigmented

Drum dyed with thicker layer of pigment and protective finish added

Natural markings not visible

Corrected grain

Drum dyed with natural grain removed

Lower quality hides used

Heavy layer of pigment and protective finish added

Embossed with artificial patterned grain

Re-coated, embossed leather

Made from under layers of hide

Laminated split

Lower layers of hide laminated to a surface layer
Leather is made from the skin of a wide variety of animals, including ostrich, stingray, and snake. When buying a wallet, choose relatively wear and tear resistant leather that can survive everyday use without splitting or discolouration, but is pliable and aesthetically pleasing. Exotic leathers are more expensive; take this into account when setting a budget.
Types of Faux Leather
Faux leather looks like real leather, but consists of manufactured fibres. It is used to make anything from shoes, clothing, and accessories to furniture and car seats. Faux leather is also known as leatherette, pleather, or Naugahyde.
Faux leather wallets are usually made of either polyvinyl chloride (PVC) or polyurethane (PU). PVC leather consists of plasticisers and dyes added to make it more flexible and produce a natural colour. Polyurethane leather is made by coating a fabric, such as polyester or cotton, with a pliable polymer. The resulting fabric is treated to look like real leather.
Advantages and Disadvantages of Real and Faux Leather Wallets
The materials used to create real and faux leather wallets have a number of different qualities. Each has advantages and disadvantages.
Advantages of Real Leather
Real leather feels luxurious and has a unique smell. It is associated with prestige, as it tends to be more expensive than manufactured varieties. Leather ages well, and over time, it develops character, becoming softer and more attractive. Real leather wallets also tend to have unique characteristics because each animal hide or skin is unique, especially where natural marks and flaws are visible. It is strong, durable, and lasts for years. Most leathers used for wallets have been treated to improve stain resistance.
Disadvantages of Real Leather
One of the greatest disadvantages of real leather is its cost: an authentic leather wallet is more expensive than one made of faux material. Buyers should also take extra care with real leather. Even though it is strong and durable, it is not resistant to the elements. It degrades and weakens in strong sunlight and tends to stain and warp if it gets wet. A stain protection coating eliminates this to some degree, but if the wallet lies or falls in water, expect some damage. Of course, this gives the wallet character, so not everyone sees this as a disadvantage.
Advantages of Faux Leather
Faux leather is more versatile than real leather when it comes to fashion and accessories. Manufactured materials come in a huge variety of colours and textures that have an even appearance throughout the leather. It is easy to find anything from faux snakeskin to faux lambskin. As faux leather is inexpensive, wallets made from the material generally cost less than those made of real leather. Additionally, the material is easy to clean and maintain. Depending on the type of faux leather, this fibre can be durable and fade resistant. Finally, faux leather wallets are not made using animal products and are suitable for vegans and environmentally conscious buyers.
Disadvantages of Faux Leather
A faux leather wallet simply does not feel as nice as a real leather wallet. Those that like the smell of authentic leather miss the unique scent of the real thing; faux leather smells like plastic or rubber. In addition, synthetic leather is easier to puncture and tear. It cracks and splits easily and does not age well, with a third of the life expectancy of real leather. Do not expect to see the characteristic patina that aged real leather develops over time.
Choosing a Real or Faux Leather Wallet
Given the advantages and disadvantages of real and faux leather, buyers can see that different materials are suited to different needs. Consider a real leather wallet when shopping for a luxury item expected to last for years. These make excellent gifts, provided the receiver does not object to leather products. See this type of wallet as an investment rather than a trendy accessory that is going to go out of fashion next month.
Faux leather is ideal for short-term fashion accessories, such as wallets in specific colours or designs. In addition, these wallets make good gifts for vegans and those that do not approve of leather products. Choose a well constructed and finished, high-quality wallet to get the most out of a faux leather product.
How to Buy Real and Faux Leather Wallets on eBay
eBay sellers offer a variety of real and faux leather wallets at reasonable prices. Search for a specific item by using the search bar that can be found on every page. Simply type a phrase, for example, "black leather wallet", into the search field to see the items available. Refine your results by choosing the most appropriate category and item specification. Remember to check eBay Deals for great offers on these accessories.
Before buying a wallet on eBay, take a moment to learn about the item and the seller. Read the full item description carefully and take note of postage and handling costs. Check the seller's feedback score to get an idea of the reliability of his or her customer service.
Conclusion
Understanding the different types of leather simplifies the buying process. A real leather wallet has a unique feel and smell. Authentic leather is luxurious and ages well. However, it tends to be more expensive than faux varieties. Choose durable, wear and tear resistant real leather wallets that are well made and pleasing to the touch.
Faux leather is a manufactured material. It is available in more colours and textures than real leather; often at a fraction of the price. This type of leather is ideal for fashion wallets in trendy colours and designs. This is also the perfect choice for people that do not approve of leather products. If this is the case, look for high quality faux leather designed to last.
real leather wallet|faux leather wallet|ostrich leather wallet|snake leather wallet|full grain leather wallet