Someone's Lost The Plot.....
(Please tick '
YES
' at the end of this guide if it has been helpful to you...)

Don't be misled into believing that eBay introduced the "enhancement" of Safeguarding Members' IDs in Feb 2008
(
Hidden Bidder IDs
) to protect buyers from fake second chance offers(SCO
)
I have received ONE SCO in the time I have been a member here, & it was genuine.
There can only be two other reasons to hide bidders' IDs:
1. To make it MORE difficult for members who report obvious cases of shill bidding (bidding that artificially increases an item's price or apparent desirability, ie. a seller using an alternate eBay ID to place bids on her own items against other legitimate bidders) to eBay.
2. To kill the very auction format that has made eBay what is is today.
eBay LOVES buyers, (so do SELLERS, don't get me wrong!) the more the merrier, as they drive up the prices on Auction Items (whilst these are still an option eBay may as well milk them) thus providing the opportunity for eBay to reap increased Final Value Fees(FVFs) from sellers.
The unfortunate thing is that whilst eBay repeatedly tells members that "Shill Bidding is prohibited on eBay", it has an enormous conflict of interest between penalising shill bidders & being obligated to it's shareholders to obtain the highest profit it can through FVFs. To aggressively pursue & deregister shillers, would mean a reduction in profits back to shareholders, & a decrease (through deregistration) in eBay's increasingly sacred buyer base.
eBay's ultimate aim however, is to emulate Amazon, it's great rival, & eventually drive its 'flea-market' sellers into the ground, leaving only those sellers with a huge turnover. In order to do this, eBay has reduced buyer confidence in the auction process by making it less transparent, & is attempting to introduce PayPal-only, which many small sellers cannot afford.
The majority of sellers deplore this situation as the perception of 'dodginess' has led to an enormous distrust generally of the Auction System on eBay, leading to decreasing sales & a malaise amongst the community which built eBay into what it was - the greatest on-line auction site in Australia.
BUT...
What was Alistair MacGibbon's personal reply when I asked in May "When will eBay reverse the Hidden Bidder ID's that are affecting buyer confidence in the Auction format"...?


"NEVER".
I say "was" because the community values of honesty & transparency are fast disappearing on eBay, along with the ability to see the user-names of others against whom one is bidding, the ability for ALL members to leave Feedback for transactions (
Feedback Changes
) & the requirement announced yesterday that from June, all payments for eBay transactions (with a couple of insignificant exceptions) MUST be paid via Paypal (
Paypal Announcement
).
1/10/08 There has been a small victory in the area of Feedback:
Feedback update
The Paypal Monopoly:
It's as easy as ABC...
a) eBay REMOVED Buyer Protection for any payment method other than Paypal a number of years ago.
b) eBay FORCED all new sellers to include Paypal as a payment method last year.
c) eBay now plans to make it compulsory that
every buyer payment on its site must goes through it's wholly-owned subsidiary Paypal
, except for Cash on Pickup - handy if you live in Darwin & the item you bought is in Melbourne.
EBAY OWNS PAYPAL!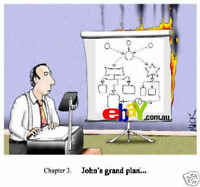 THIS IS NOT A 'BUYER SAFETY' ISSUE, IT IS A GREEDY PLOY TO INCREASE EBAY'S PROFITS FOR SHAREHOLDERS BY GARNERING A PERCENTAGE OF ALL PAYMENTS MADE TO SELLERS, WHO ALSO HAPPEN TO BE EBAY'S CUSTOMERS, A FACT WHICH EBAY APPEAR TO HAVE FORGOTTEN.
SOME PETITIONS YOU MAY LIKE TO SIGN:
Buyers to enter dispute process before leaving negative feedback
Rid eBay of 'Hidden Bidders'
HIDDEN BIDDERS & MORE
******UPDATE 30/1/09******
A partial victory in the campaign to reverse Hidden Bidder IDs has been announced as eBay changes the AU system to that of the US.

A small victory!

A set "pseudonym" for each bidding ID consisting of a couple of letters & asterisk
- e.g. F******K -
will replace Bidder 1/2/3 etc, & will include the bidder's ACTUAL feedback score.
This should theoretically enable shill bidding to be more easily detected, & bring back a bit of rivalry & fun to the auction format.

Why eBay did not introduce this "partially-transparent" system here in Australia remains a mystery, but hopefully, it will go some way to restoring buyer confidence.


*****UPDATE 18/12/08*****
Simon Smith resigns!
Pink Shane takes a vacuum cleaner to the RT
MERRY CHRISTMAS EVERYONE!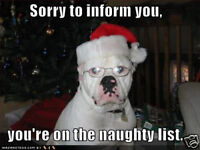 ****UPDATE 30/7/08****
By now, you may have heard of yet another seller, Ebusiness Supplies, the 7th-largest Power Seller on eBay, whom eBay allowed to continue trading for at least WEEKS after it was obvious to many that there was a huge problem with this seller.
This debacle highlights eBay's ethical blackhole when it comes to TRULY protecting buyers. Bear in mind, there were posts regarding this company & it's problems, & reports to eBay, for WEEKS prior to the company's "collapse", & eBay took NO action...




***UPDATE 3/7/08***
"
eBay has withdrawn its notification to the Australian Competition and Consumer Commission (ACCC) about removing other payment methods. Instead eBay will continue to allow all existing payment methods on eBay.com.au."
What this announcement fails to mention is that eBay continues its anti-competitive behaviour by mandating that ALL sellers MUST offer PayPal as a payment method. The ACCC stated in its Draft Notice revoking eBay's immunity from prosecution that consumers are in the best position to decide which payment methods they wish to use, & that "sellers have choice regarding which payment methods to offer when selling a product on eBay".
We must continue by all legal means to have mandatory PayPal removed from eBay.
http://www.accc.gov.au/content/index.phtml/itemId/54217#h2_38
Click on the "General Complaints Form" on this page to lodge a complaint.
*UPDATE 12/4/08*
eBay have created a brand new board to 'enhance' the dissemination of information regarding the changes, & "will have a number of "pinks" on this board reading and replying to posts where appropriate."
I have added a link for anyone having difficulty locating this exciting new
hiddenhideyboard
(sans pinks at present despite their initial enthusiasm -
Pink announcement
- at the prospect of a "dedicated discussion board").
(Just make sure that any posts you make there are insignificant, as the whole board is 99% certain to suddenly disappear in the very near future).
*1/10/08*
*AS PREDICTED, THE HIDDEN BOARD HAS BEEN REMOVED BY EBAY*
Visit the eBay "ROUND TABLE" chat board The Round Table for assistance if you have difficulty receiving a refund through PayPal, & for advice on buying safely BEFORE you make a purchase.


**PLEASE BE AWARE THAT IN THE EVENT OF A PAYPAL CLAIM, YOU ONLY HAVE 45 CALENDER DAYS FROM THE DATE OF PURCHASE TO FILE A DISPUTE.
IN THE EVENT THAT THE DISPUTE REMAINS UNRESOLVED YOU MUST ESCALATE THE DISPUTE TO A CLAIM...WITHIN 20 CALENDAR DAYS OF THE DATE YOU FILED THE DISPUTE**
This is particularly relevant when purchasing from drop-shippers or Pre-Sale Listings.
The Buyer Pseudo-Protection Policy covers purchases made on eBay. Please follow the link & read the fine print carefully.
PayPal Buyer Protection Policy
HAS THIS GUIDE BEEN HELPFUL?
PLEASE TICK THE 'YES' BOX IF SO:-)