Make your kitchen and the cabinets more presentable by replacing the common door knobs with ceramic door knobs. Refresh the look of your cabinets and drawers since they are amongst the most important pieces of hardware in your kitchen. These small and simple items play an important role in the function of cabinetry. Aesthetically designed, these door knobs and hangers will significantly highlight your kitchen cabinets. You can use the ceramic hangers not only to hang your keys but you can also hang your coats and umbrellas.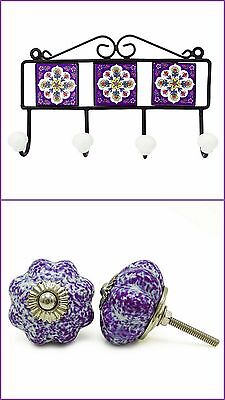 Talking about umbrellas, have you ever wished to own a traditionally handcrafted umbrella? The detailed embroidery on vibrantly hued fabric will brighten up the appearance of your wardrobe or the ceramic hangers behind your main door where you would hang your umbrellas.
Now, about home décor, there are other products such as a globe which is seen mostly in every household. An essential equipment to locate a certain place geographically, a globe emphasizes on the fact that the Earth is spherical and revolves round its axis. Various materials are used to make a globe such as plastic, wood, plaster or rubber and different colors are allotted to every section according to their respective features.
Lastly, we have nautical products which can be used basically as a gift to people, especially children who are very much inclined towards nautical sciences. On the other hand, they can also serve well as a decorative for your homes, specifically a compass, an hourglass etc are generally used by many people to amplify the look of their home.