Are you a boat owner who hates getting scuff marks on their boat or who finds it a hassle cleaning the scuff marks off.
A solution to that problem would be to wear no shoes at all, but there are other factors to consider that would make it far more comfortable to be wearing a protective shoe.
1. Sun Protection for your feet.
2. Protecting your feet from sharp objects - fishing gear, broken glass, sharp edges.
3. Keeping your feet warm.
4. Protecting your feet from the coral and jellyfish stingers
A great reef boat shoe like this one will do all of the above and most importantly will not scuff your boat because they have a clear rubber sole. They have a removable inner sole so you can wash and dry them easily thus keeping your reef shoes in great condition.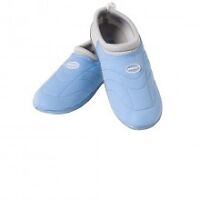 Another plus factor is that they are of course designed to get wet so you won't ruin your own shoes and you can easily go for a swim and then climb straight back on board and they will dry quickly. Also a great protective shoe against jellyfish stingers and Irukandji when you are snorkeling around the reef.
You can purchase these shoes from size 34 to 44 so great for all the family. A size 34 will fit an older child who takes approximately a size 1- 2 shoe. There is a measurement chart on our
eBay Store
that will help you to get the correct size.
These reef shoes look great with your UV protective clothing and swimwear.