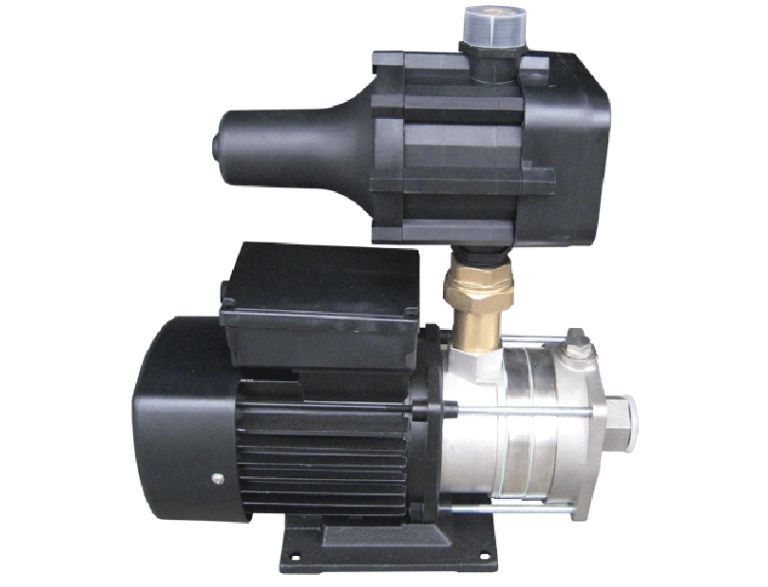 Installation Guidelines
1. Before installing or servicing this pump,be certain the pump power source is disconnected.
2. Do not position the pump where it could take in solids or sludge.
3. The pump must be protected from the weather, by way of a plastic pump cover or similar.
4. Install the pump in dry and ventilated place to ensure safe operation
5. Fix the pump in place through the footplate using suitable fasteners.
6. Try to minimise the amount of bends in the PIPE LINE as much as you can. Use heavy duty flexible suction hose for the inlet,
and heavy-duty pressure hose or similar for the outlet.
7. Install the pump as near the water supply as possible to reduce the suction.
8. Ensure all fittings and joints are watertight.
9. Installation and electrical wiring must adhere to state and local codes and must be completed before priming pump.
All Electrical wiring must be performed by a licenced Electrician
10. (a) Pump should be connected to a separate 15 amps circuit, with a RCD (safety switch) installed
Note: Plugging into existing outlets may cause low voltage supply to the motor,causing blown fuses,tripping of motor
overload,or burnt out motor.
(b) Surge Protection - We recommend that a surge protector is used to protect the electronics of the pump, as damage due
to power surges is not covered by the Limited Warranty
11. REEFE multi- stage pumps come with a grounding conductor and an earthed power plug and all electrical installations must
be earthed.
All electrical wiring must be performed by a licenced Electrician.
12. Voltage of power supply must match the voltage of the pump - 240 volt
13. WARNING - REEFE™ pumps are not designed for and CANNOT be installed in locations classified as hazardous.
14. The following may cause severe damage to pump and will void warranty:
(a) Using an extension cord.
(b) Cutting the earth pin off the plug or using an adapter fitting or double adapter.
(c) Working on pump while switched on.
(d) Removing motor housing,unscrewing impellor, or otherwise removing impellor seal
(e) Pumping chemicals or corrosive liquids.
(f ) Pumping other flammable liquids.
(g) Pumping hot liquids.(Exceeding 40 centigrade)
(h) Using for suction lift application - the pump must have a FLOODED SUCTION at all times. It cannot 'draw' uphill
15. PUMP PRIMING AND START UP
(a) Dry operation will destroy the pump seals and is not covered by warranty.
(b) Use the priming plug at the front of the wet-end, near the inlet to fill the pump chamber with water before starting
(c) Purge the pump chamber of air BEFORE connecting discharge pipe work, To do this, connect the intake pipe work,
prime the pump as per step 15(b), then switch the pump on for a few seconds to allow it to pump water through the
pump chamber and out the top outlet. Take care to protect anything nearby that could be damaged or affected by the
discharge of water.
(d) The pump must have a FLOODED SUCTION at all times.
(e) Connect discharge pipe work. If water does not fl ow, turn it off and repeat step 15(b) and (c)
(f ) If it still does not pump water, check the intake & discharge pipe work is free from airlocks, check valves are installed in
the correct manner, gate valves is open, there is no other obstructions, there is water in the tank, refer the TROUBLESHOOTING
guide on the back page.
16. SUCTION LIFT
DO NOT USE FOR SUCTION LIFT
FAILURE TO FOLLOW THESE GUIDELINES WILL RESULT IN LOSS OF PRIME (No Water in Pump)
17. OVERLOAD PROTECTION and AUTO RE-START
(a) This pump has a built in thermal protection switch. The pump stops if an overload condition occurs. The motor restarts
automatically after it has cooled down when the built in thermal protector resets itself.
If this problem reoccurs - check as per 15 (f )
18. IMPORTANT NOTES
(a) Do not switch the pump on and off frequently, as this will cause damage to the electronics and void warranty.
(b) Do not attempt to adjust the fl ow via the intake pipework
(c) If there is insufficent water, the motor will stop. See 15 (f )
(d) If the pump is idle for a long period of time or in very low temperature, the water should be drained to avoid damage to
the pump.
DANGER =Keep the pump equipment protected from interference by children!
WARNING =This pump is designed for clean fresh water only.
It must NOT be used as a continuous duty fountain pump, or dirty water,
or liquids other than water.
Limitations
1. Specifications are approximate and subject to change without notice at Ramdex Industries discretion.
2. Number of taps is suggested quantity ONLY and does not take into account other factors, such as head pressure, pipe length etc.
As a guide one tap = 10L/minute, one sprinkler = 15L /minute
The PRSM series of pumps are suitable to pump clean, fresh water, with suspended soft particles, no larger than 2.5mm in
diameter.
Suitable for pumping water from + 5oC to 40oC, max.
The pump cannot be used for salt water and inflammable,corrosive,explosive or dangerous liquids.
Ensure that the pump never runs without water.
This pump is not recommended for suction lift - no warranty applies if used for suction lift.
Troubleshooting Guide
TROUBLESHOOTING CHECKLIST (CAUTION: SHUT OFF POWER TO PUMP)
Check the following before requesting service or repair.
A call out fee applies to all field services and additional labour cost may apply.
PROBLEMS POSSIBLE CAUSES
Pump does not run
* Circuit breaker or Safety Switch is off or fuse has blown.
* Water level in tank is too low - Top up or use alternative supply
* Electrical components have been flooded - Contact a licensed electrician to rectify.
* Pump plug is not connected properly, or has been flooded or wet - Isolate power at main switch, remove plug and allow to dry.
If problem continues, contact a licenced electrician.
* If all of the above are OK, then check the motor overload switch.
If the overload switch has activated, investigate why this has occurred before turning it back on.
Pump runs but does not deliver water.
* Check valve is installed backwards. Arrow on valve should point in direction of fl ow.
* Discharge shut-off valve (if used) may be closed.
* Impeller or volute openings are fully or partially clogged. Disconnect from the power supply, disassemble pump and clean.
* Pump is air-locked. Start and stop several times by plugging and unplugging cord.
*Vertical pumping distance is too high. Reduce distance or upgrade to a larger pump.
Pump runs and does not stop or runs when no taps in use
* Leak in pipe work. Check also for leaking toilet cisterns or underground leaks (wet soil, muddy, grass growing well !)
* Pressure controller Fault - Press Re-Start, If that does not help then turn the power off and on again.
* If this fails to rectify the problem, then call your dealer for a service.
Note that a call out fee and labour costs apply, even if within warranty period.
Pump not pumping properly
*Too high head or pump under specified - Check specifications.
*Too low water level - Check the water levels
*Loss of prime - re-prime the pump.
*Leakage of inlet pipe - Check the inlet pipe is not taking in air, check all joints.
*Inlet pipe has a rise and fall (dips).
Fix suction pipe so it is either perfectly straight and level OR has a SLIGHT RISE all the way to the pump.
Pump runs but delivers only a small amount of water.
* Pump is air-locked. Start and stop several times by plugging and unplugging cord.
* Vertical pumping distance is too high. Reduce distance or upgrade to a larger pump.
* Filter blocked - Clean or replace the FILTER
* Too low water level - Check water levels
* Serious damage to the impeller - Impeller or volute openings are fully or partially clogged.
* Pump impeller is partially clogged with particles, causing motor to run slow and overload.
Dissassemble pump and clean. See below
Low Flow from Pump
*Check the items in the 2 boxes above, first.
* Then if problem persists, remove the pressure controller and check that the filter screen (if fitted) on the bottom inlet of it is
not blocked - If so clean it. If this has occurred we strongly recommend that you install a suction screen* on the intake of the
tank or a pre-filter between the tank and the the pump.
(*Available from Ramdex - Order Code 12800)
Fuse blows or circuit breaker trips when pump starts.
* Motor stator may be defective, have checked by a licenced electrician, or return for service.
* Fuse size or circuit breaker may be too small. (Must be 15 amps or more).
* Impeller or volute opening are fully or partially clogged. Dissassemble pump and clean.
Motor runs for a short time, then stops.
* Pump impeller is partially clogged with particles, causing motor to run slow and overload.
Disassemble pump and clean.
* Motor stator may be overheating. Ensure there is good ventilation for the motor.
*Impeller or volute openings are fully or partially clogged. Disassemble pump and clean.
If after checking all of the above, and the fault continues,
CALL our WARRANTY DEPARTMENT on 1300 726 339,
who will issue authorisation of repair or replacement.
DO NOT RETURN it to the place of purchase unless instructed
to do so by Ramdex Industries