Registered Ex Army LANDROVER 1980 Series 3 6 cyl 4x4!!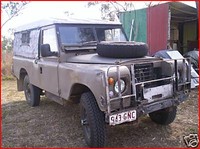 1980 EX ARMY LANDROVER Series 3 - 6 Cylinder 4x4
This 1980 Model Landrover 4x4 Troop Carrier has had extensive work done recently
including:
* 4 Brand New Tyres (Costing $240 ea)
* Overhauled Brakes including Master & Slave cylinders
* Newly rebuilt Front End
* New Radiator & Water Pump
* Overhauled Carburetor
* New Plugs & Points (includes spare points) & Leads
It is fitted with a F Head 6 Cylinder Motor that is surprisingly economical for the type of vehicle,
and is fitted with many of it's original Army fittings including Parachute Brackets!!!
This vehicle has the Beefed-up Suspension that Army 4x4's had to have as they were often dropped out of airplanes during times of war or conflicts.
This troop carrier has seen Service and would suit any Army Vehicle Collector,
and is Registered and drives like a True Proud Army Vehicle.
This vehicle has been used as every day transport for the past 3 months & can't be faulted for it's reliability!
Chassis No' 509318
Registered in Qld Reg No' 943GNC expires 18/12/08
We can arrange delivery, at purchasers expense.
So don't miss out on this extraordinary vehicle at a bargain price!!!
Returns
As a bonus you also have my 100% Guarantee...
If the item is not exactly as advertised,
just contact me and i will happily refund your money!!!
Good luck with your bidding
and don't forget to check out my eBay Store for more amazing bargains... ;-]
I really hope you find this guide useful and if you have,
please make sure you place a "vote" for it by hitting the Yes button at the bottom of this guide where it says "Was this guide helpful?"
By hitting "yes" you place a vote for it which increases my ranking.
Be sure to check out my other guides and have a wonderful day!
suan