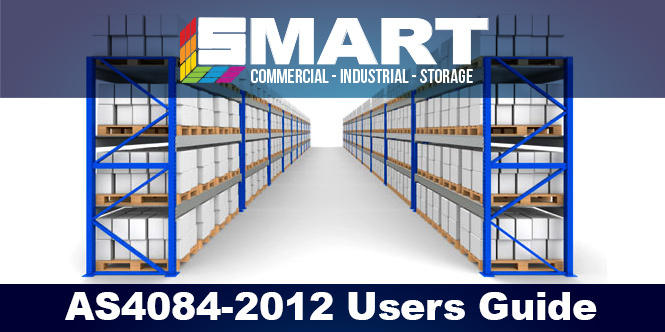 About this guide:
This guide explains the restrictions and regulations of any closed-face steel storage, Before you make a purchase or consider installing any one of the following please read our guide on AS4084-2012.
This guide applies to your business if you have:
Selective Pallet Racking
Narrow-Aisle Racking
Double-Deep Racking
What is AS4084-2012?
AS4084-2012 is a legal requirement for steel storage set by Australian Standards. This standard is the minimum requirement of all pallet racking, not including open face racking systems such as Cantilever, Drive-in, Drive-through, Mobile or any other Racking produced from materials other than steel.
Key Changes to Design Philosophy
Originally the Standard for steel storage was AS4084-1993 and has since been revised to ensure the safety of your work place. The fundamental differences reside with developmental approach from Permissible stress design to limit state design. The key difference between these philosophies are as follows:

1. Permissible stress ensured each component was to standard, however Pallet racking is not a product, it is a system, the issue of compliance with this standard is entirely dependent on application, how these components are interconnected to make the system and the level of load it is required to hold. This means the racking produced in compliance with AS4084-1993 would have to meet standards across the spectrum as opposed to each individual application.

2. Limit State Design is a Rack-by-Rack application-dependant proposition. The onus is on the designer to ensure that each installation is in compliance with AS4084-2012. Meaning Racking of today is much more dynamic / fine-tuned for the end user and can be lighter and cheaper than those in compliance with AS4084-1993, lowering overall costs, whilst meeting the required minimum level of structural safety for long-term operation.

By updating the Australian Standard for Steel Storage we are now in-line with the most advanced rack-design codes found in Europe and the United States.
AS4084-2012 Operational Requirements:
No changes to storage system configuration allowed without the approval of the equipment supplier or a structural engineer.
The vertical clearance requirement for pallets stored above heights of 6m has been increased from 75 mm to 100 mm. This is aimed at reducing the risk of accidental impact with beams during pallet put-away and retrieval.
The "flue space" between pallets backing on to each other has been increased by 50 mm, reducing the risk of an adjacent pallet being accidentally dislodged when storing or retrieving pallets. This increase in flue space also better accommodates the needs of insurance companies who often insist on a minimum flue space of 75 mm to allow adequate penetration of water from roof and rack-mounted sprinklers during a fire.
A minimum of two ground anchors must be used per baseplate on racks where forklifts are used.
Minor changes to rack load signage whereby the dimension from ground to first beam level, and from first to second beam level must be noted explicitly on signs.
The Users Responsibilities:
It is the customers responsibility to ensure the Racking provided is used in accordance to its intended purpose. This includes factors such as overloading the beams with a greater weight than specified and accidental damage during use (forklift collision).

The storage system users must ensure their racking is audited by a professional annually. Safety checks and system audits are crucial and should not be overlooked. Failure to comply with this could expose users to litigation and potential penalties should an incident occur. So if something does happen, get it checked by a professional ASAP.
We hope you found this information useful, being an informed customer can really make the difference between purchasing an unsafe racking type – or paying through the nose for something that is over-engineered.
When purchasing racking you must ensure the source is from a reputable supplier whom is up-to-date with the current standards.
At Smart industrial we provide a comprehensive service from audits to installation. Our team have what it takes to facilitate your requirements.
For more information or to see a plathora of different racking systems, please view our store or alternatively contact us on
03 8400 4149