eBay offers a host of tools to help you research to make sure you get the best price possible for your listed items and auctions. By researching what is - and isn't - working for other eBay sellers, you'll be able to learn from them and give yourself a head start in the eBay profit game!
Contents
What to look for in other listings to make the best of yours
Browsing Through Current eBay Auctions / Listings
Browsing Through Ended eBay Auctions / Listings
Finding out what buyers are looking for
What to look for in other listings to make the best of yours
When you are researching by looking at other people's listings, you are trying to find out what works in getting a better final price - and what doesn't. You can learn from other people's experience and maximise your own eBay profits. Have a look to see:
the categories other people are listing similar items in
the key words they are using, particularly in the auction title
the listing upgrades selected - more on upgrades
how they have used pictures and the layout of the item description
payment and delivery options offered
the sort of information included in the item description
Use this information to see what works for other sellers to get the best final price possible for your own listings.
Browsing Through Current eBay Auctions / Listings
This can be done either by browsing through the categories or by using the Find feature and entering your key words. Then it is a matter of looking at the current listings and bidding activity. Make a note of relevant information - which listings are attracting bids and why.
You can sort listings by PayPal, Price or Time Left. Just click on the blue underlined column heading to sort in ascending order (lowest to highest) then click again to sort in descending order (highest to lowest) Clicking on Time Left switches it to Time Listed and vice versa.

So, if you want to see the items with the highest bid amounts first, click the Price heading twice.
Browsing Through Ended eBay Auctions / Listings
Here you can see exactly what people are willing to pay and which items receive the best prices. You will need to use the Advanced Search feature.
Click on the Advanced Search link at the top right of any eBay page:

Enter your key words.
Be sure to tick Completed listings only:

Enter your other search criteria if required such as Item Price, Location, Currency, etc and click on the Search button
Now you will be able to see exactly which listings sold (price is in green) and which did not (price in red):

Once again, look at which listings received the best prices and what words and pictures they used, etc.
Finding out what buyers are looking for
Imagine having a crystal ball to find out exactly what buyers are looking for. Well, you do, with eBay Pulse. eBay Pulse reports on recent searches conducted on eBay by potential buyers. The web address for eBay Pulse is:
From here, you can drill down by categories and sub-categories to find out what people are looking for right now. Just click on the Category drop down list to select your preferred category: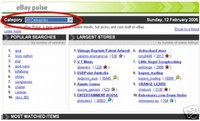 What you'll find is:
Popular searches - what key words potential buyers are using to search for items in that category
Largest stores - use this to find out what others are selling, how they're doing it and for how much
Most watched items - the listings that potential buyers are putting on their watch lists the most
You can use this information to help guide you in what to list and how to list it.