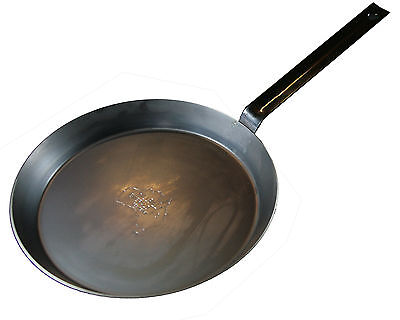 Remove rust from a Hillbilly Camp Oven or Frypan
Restoring neglected black steel cookware is very easy!
Just in case your black steel item has gotten damp and rusted these tips will bring it back to operational status. 1. In most cases of rust on black steel it will be only be a dusty type of surface rust which can be removed using a ball of dry steel wool rubbed over all surfaces until the steel appears through and the rust dust can be blown away. (If the rust is more serious use of some 80 grit sandpaper can be used first and followed up with the steel wool treatment) 2. Once finished with the steel wool give the item a good wash in hot water and detergent, dry thoroughly and apply a coating of olive oil on all surfaces. 3. Store in a dry place.

THEN.....

Black steel (sometimes known as blue steel or gun metal) is very simple to season taking only a short while and with nothing more than some hot water, detergent and olive oil. 1. Firstly wash the pan or oven thoroughly in hot water with a grease cutting dish washing detergent. (This will remove remnants of grease and metal finings from the manufacturing process and will appear quite black.) Once properly washed the steel will take on a light grey color and when wiped over with paper towel will not leave any residue. 2. Make sure all surfaces are completely dry and apply a coating of olive oil using pa per towel. 3. At this point the item can be heated over a cooktop for 5-10 minutes (not to hot) to cure in the oil or placed in a hot oven for 10 minutes for the same result. 4. Once cooled recoat all surfaces with olive oil before storing.Then