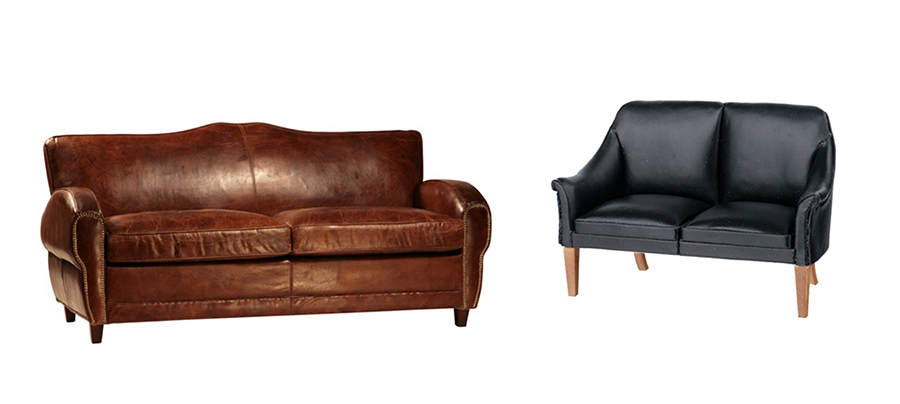 Adding a retro or vintage sofa to a living room creates a fresh, unique look. While most consumers consider retro and vintage to be the same, this is untrue. Retro sofas are trendy, nostalgic, and simply the sight of them conjures up images of the era they represent. Vintage sofas are timeless, and represent eras more than 20 years ago, but not over 100 years ago. Anything over 100 years old is considered antique. Consumers searching for ways to create a funky or eclectic look for a seating space, game room, or bedroom should comb eBay or thrift shops and vintage stores for interesting finds representative of some of the most fun and engaging eras. Buyers purchase sofas by era or simply by design aesthetic.
Retro Sofa
The word "retro" brings to mind bell-bottoms from the '70s, the bold, oversized jewellery of the '80s, and the plaid shirts of the '90s. In terms of furniture, anything retro has some sentimentality and nostalgia attached to it. Mixing retro furniture with more modern pieces adds flair to a living area and keeps it visually engaging. Retro sofas have styles that come and go, so many styles of retro sofas are still considered fashionable today.
Mod Sofa
Mod sofas, also called space age couches, were popular in the '70s. The sofas curve and have rounded corners, and some couches contain fibreglass with upholstered cushions for comfort. Some mod sofas, created from upholstered fabric, sit lower to the ground than traditional couches. Sectional mod sofas were also popular. These come in many bright colours due to the pop art style that was popular in this era. Oval shaped chairs complement the mod sofa, which look like large eggs and were vastly popular during this time.
Marshmallow Sofa
A marshmallow sofa is named for the design of the sofa, which looks like a collection of marshmallows which are actually cushions that make up the back and body of the couch. The marshmallow sofa was popular from the '50s until the early '60s, and it was reissued in the '80s and still available for purchase today. The sofa offers an iconic, artistic look and comes in multiple colours.
Boxy Sofa
Consumers see the boxy style sofa on popular shows like "Mad Men." Popular in the '60s and '70s, these sofas have a square design with a retro look but a modern feel that works well alongside today's pieces. Some boxy sofas are convertible, with pullout beds for extra space. Square arms and smooth leather or soft upholstery make these sofas a classic choice for retro furniture fans. Classic boxy sofas come in white or black shades.
Vintage Sofa
Vintage pieces offer the most classic representations of the era they come from. Vintage sofas include many types and styles, including the sectional sofas of the '70s and the floral prints of the '60s. Unusual colours like green and burnt orange exemplify the periods, and the designs offer buyers a chance to mix current pieces with older ones for a signature style in the home.
Sectionals
Sectional sofas had their heyday in the '70s. Soft, buttery leather or velvet upholstery made up these sectionals of various sizes and styles. Sectionals from the '70s had curved edges and groovy designs, such as sectionals that curved around to form an "S" shape or a "C" design, and sectionals from earlier periods offer touches like wood trim, naugahyde materials, and platform feet.
Upholstered Coloured Sofas
There's nothing more vintage than a coloured sofa. Consumers choose the right sofa by print, material, and colours, which represent each time period perfectly. Upholstered sofas from the '50s offer bold colours like pink, dark green, purple, and bright yellow. Sofas from this era are soft and overstuffed. Some have textured damask prints. Coloured sofas from the '60s are printed with designs like flowers and graphic design style prints.
Chaise Lounge Sofas
The c haise lounge rose in popularity in the Victorian era, but the chaise made a comeback in the '50s with bold colours and prints. Some chaises offer adjustable positions. The perfect combination of a recliner and a sofa, chaise lounges remain popular today and complement modern furniture well. Wave chaise lounges form an "S" shape and were popular in the '60s, while brightly coloured velvet chaises offered comfort and style in the '50s.
Retro vs. Vintage Sofa for Modern Décor
For consumers searching for the right sofa, weighing the factors between retro and vintage sofas is easy. Retro sofas offer a more modern touch, even though they exemplify their era. A marshmallow couch epitomises the '50s, but complements artistic and creative pieces today. However, the style of retro sofas cannot be mistaken for anything made today. It is unmistakably from another era. Mixing retro with current pieces provides a colourful look for an artistic consumer. Vintage pieces are classic and timeless, creating a shabby chic look when paired with today's sofas and other furniture. Vintage sofas add old, antique flair and style to a room without looking overly cartoonish.
Choosing a Retro or Vintage Sofa
Consumers should weigh the options when choosing a retro or vintage sofa. Many types of sofas offer vintage styles, colours, and details. Some styles represent their era more than others. Most styles complement modern furniture well and blend together for a quirky living area in a home.
| | | | | |
| --- | --- | --- | --- | --- |
| Type of Sofa | Era | Retro or Vintage | Materials | Design |
| | '50s | Retro | Aluminium, foam, leather, or fabric | Curved out edges similar to a swan neck |
| Clam Shell Sofa | '80s | Vintage | Upholstered fabric | Large back shaped like a clam shell |
| | '50s (and earlier) | Vintage | Tufted upholstery | Soft cushioned tufts of fabric |
| Art Deco Sofa | '60s, '70s | Retro | Fibreglass, leather, upholstery | Many curves, bold colours and designs |
Prices vary when it comes to purchasing retro and vintage sofas. Brand name sofas, such as Eames, cost more than other sofas not associated with a higher-end brand name. For some collectors, the brand name is important, while others simply enjoy the style of the pieces. Another option is to purchase a modern piece styled to look retro for a more affordable piece.
How to Buy Vintage and Retro Sofas on eBay
Get great deals on vintage or retro sofas on eBay when you shop Top-rated sellers for affordable pieces for your home or office. Search for sofas by keying in specific terms such as vintage marshmallow sofa, or general search words such as retro sofas to see what results come up. Filter the results by price range, colour, or sofa material. Skip shipping and pick up your sofa in person by clicking " Ask a Question" to contact the seller.
Adding pizzazz to your home is not hard when purchasing a vintage or retro sofa. Guests notice your sofa upon entering your home, so make it a memorable one to see. Adding vintage and retro pieces creates a unique and visually appealing look inside a home, and customises the home to your tastes.