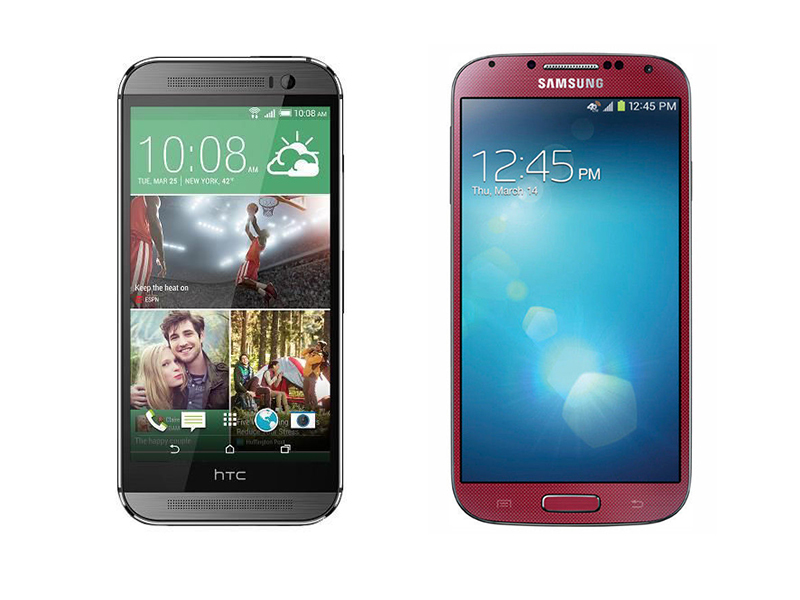 It's a difficult to name one handset as being the flagship of the Android range. HTC's One and Samsung's Galaxy S4 are certainly two of the most desirable handsets running Google's system, but how do they stack up against one another?
Editions
There's only one version of the Galaxy S4, though it's a 2013 release and has since been succeeded by the S5. HTC has produced a series of handsets under the One name. The current flagship model is the M8.
Screen
The Galaxy S4 has a 5.1-inch display with a Full HD 1920 x 1020 pixel resolution. The HTC One M8 screen is almost identical at 5 inches and the same resolution. The main difference is that the HTC screen uses LCD technology while the Samsung screen is AMOLED. Both use liquid crystals, but Samsung's AMOLED screen doesn't need backlighting, which can reduce battery drain. Whether there's a noticeable difference in image quality between the two technologies is hotly disputed.
Cameras
Both phones have a front camera for video chat and self portraits. The HTC One M8 has the higher resolution. With the main rear camera, the Galaxy S4 has 16 megapixels, while the One M8 is listed as 4 "ultrapixels", meaning fewer but larger individual pixels. It's hard to compare the two, but a common view is that the Galaxy S4 takes more detailed images, while the One M8 is better in low-light conditions.
Other Hardware
The One M8 has a 2.45 quad-core processor, a separate graphics processor, and 2GB of memory. The Galaxy S4 has a 1.9 GHz quad-core processor, a separate graphics processor, and 2GB of RAM. With both phones having better specs than some low-end laptops, there's not a great deal to choose between them, though the One M8 may be a little faster and smoother for tasks such as gaming.
Storage
There's nothing to choose between the two here. Both phones are available in 16GB and 32GB editions, though when buying through an Australian carrier customers will normally only get the option of a 16GB model. That's not a problem as both phones have microSD card slots supporting up to 128GB cards.
Interface
Both Samsung and HTC use customized interfaces, meaning that although they both run Android under the hood, they look and feel very different to use. It's very much a matter of taste and worth trying before buying if possible. The consensus seems to be that the HTC interface is much simpler and more intuitive, while the Samsung interface can be a bit messy and inflexible.
Availability
For Australian customers, the Galaxy S4 is available on contract deals without any upfront payments on Vodafone and Telstra. Virgin Mobile and Optus also have no up-front fees, but include a specific handset repayment as part of the monthly contract cost. The HTC One is available on contract without upfront fees on Vodafone, Telstra, and Optus, but Virgin Mobile doesn't offer HTC handsets. Monthly fees vary, but when making a comparison between carriers, make sure to check the availability, speed, and any restrictions of 4G data plans.