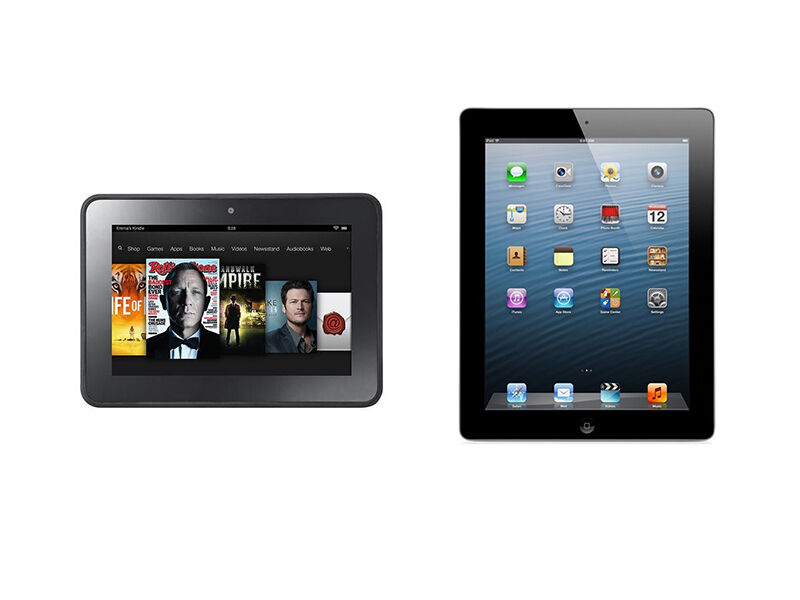 The Kindle Fire and iPad 4 were announced about the same time in late 2012. Since then, they've come down in price significantly and are popular options for bargain hunters. However, there are many differences between the two that prospective buyers should be aware of before making their purchase.
Kindle Fire HD Overview
Amazon's Kindle Fire HD tablet comes in either a 7-inch or 8.9-inch size and is popular due to its excellent value. The 7-inch option is offered with 8 GB or 16 GB of storage space, while the 8.9-inch tablet comes with 16 GB or 32 GB, with an updated 2013 Kindle Fire HD offering 64 GB.
Design
Despite bargain prices, the Kindle Fire HD does not look like a low-end tablet. It's well constructed with a non-creaking high quality matte plastic body and smooth glossy screen giving it a premium feel. However, it's not up to the same design or build quality standard of the more expensive iPad 4.
Screen
The Kindle Fire HD packs a respectable 1280 x 800 resolution with 216 ppi. Although most tablets released in 2014 offer higher-resolution screens, the Kindle Fire HD is more than adequate for users who aren't too particular about having the latest and greatest gadgets. Its natural colour contrast looks great for video, and reading Kindle books is easy enough.
User Interface
Amazon has created a modified version of the Android OS called Fire OS 3. This uses Amazon's app store instead of the Google Play Store, which unfortunately offers fewer apps. The user interface emphasises consumption of media content such as movies, books, and other apps rather than productivity software. The interface is simplified when compared with Apple's iOS and Google's Android OS. Advanced users may find this too basic, but it's something the less technologically-inclined will appreciate. Amazon added multitasking capabilities in early 2014, after much criticism of the initial omission.
Performance
The Kindle Fire HD comes with a 1.5 GHz dual-core ARM Cortex-A9 CPU. While this is far from cutting-edge technology, it is enough to run most apps and games without a hitch for the moment or for simple Web browsing and emailing.
iPad 4 overview
Apple's fourth-generation iPad was released in October 2012, and its high-resolution retina screen was met with acclaim. The iPad comes with storage options of 16 GB, 32 GB, and 64 GB, with either black or white models.
Design
From a design perspective, the iPad 4 is virtually indistinguishable from its second- and third-generation iPad predecessors featuring the same sleek and minimalist body with smooth aluminium back. The only discernible difference is that it's nearly 60 grams heavier than the third-generation model.
Screen
The iPad 4 features a high-definition 2048 x 1536 resolution 264 ppi Retina-display screen. There is a clear difference when compared side-by-side with the Kindle Fire HD.
User Interface
The iPad 4 runs Apple's iOS operating system and is compatible with iOS 8. It's recognised as highly intuitive and easy to use with its simple interface suitable for both beginners and the technologically literate. Apple's App Store also offers an unrivalled variety of paid and free apps.
Performance
The iPad 4 comes with Apple's A6X 1.4 GHz dual-core Swift CPU and 1 GB of RAM. While this iPad has less power by the standards of 2014 tablets, it is still sufficient to run most apps, games, and HD movies smoothly without any lag. It is evenly matched with the processor on the Kindle Fire HD.
Kindle Fire HD vs. iPad 4: Verdict
Deciding between a Kindle Fire HD and an iPad 4 is relatively easy because it boils down to how much someone is willing to spend. For those on a tight budget, Amazon's affordable Kindle Fire HD is the sensible option as it represents outstanding value for money. Its processor is nearly identical to that on the iPad 4 although the screen is not nearly as crisp because of the lower resolution. Amazon's app store does not offer the same variety of apps as Apple's, but for casual users, this might not matter much. People with a higher budget should consider the iPad 4 because of its exceptional screen, superior build quality, and huge variety of apps that can be downloaded. As of September 2014, both tablets are nearly two years old and can be found for excellent prices on sites such as eBay.