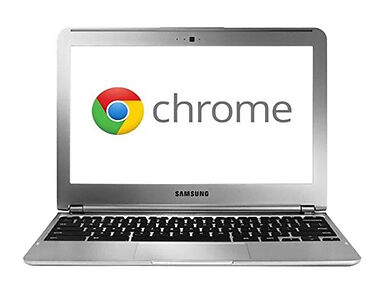 Chromebooks (devices operating with Chrome OS) are not for every type of user; they work best for consumers who do almost everything online and use the Cloud for storage. They also work for buyers who need something cheap and portable with a comfortable keyboard for long periods of typing. Chromebooks are great for extensive travelers, students, and children. Think of it as having the capabilities of a tablet along with a great keyboard. On the other hand, this is not the ideal laptop for professional video editors and heavy gamers or anyone who needs extensive memory and speed.
If a Chromebook makes sense for your computing needs, then Samsung's Chromebook 2 is the best of the best. It features an updated display, a stylish appearance, and a long battery life. The Chromebook 2 comes in two varieties: the 11 inch and the 12 inch.
Appearance & Display
The Chromebook 2 has received an upgrade in its appearance with a higher-end looking exterior. Some may be turned off by the grey faux leather and fake stitching on the lid of the Chromebook 2, but this is one of those features you should feel for yourself before coming to a conclusion. The textured faux leather feels great to the touch, and it's excellent at hiding scratches and fingerprints that are common with other laptop exteriors. One downside is that the underbelly of the laptop is made of plastic, which doesn't quite match the fancy look of the top lid. Overall, for the price point, it has a nicer exterior than other laptop computers in this category.
When looking at size and weight specs, the Chromebook 2 is thinner than competitors at only 1.65cm. It weighs about 1.4kg for the 12-inch model and 1.2kg for the 11-inch model.
Both models feature the same ports: two USB ports, a headphone jack, a standard lock slot, a full-sized HDMI socket, and a microSD reader for camera cards. This selection of ports should more than satisfy the casual user.
One incredible perk of the Samsung 2 is its impressively sharp HD display of 1,920 x 1,080 pixels, far superior than most other laptops.
Memory & Processing
The Chromebook 2 comes with 4GB of RAM (compared to 2GB of earlier models). If you compare this to Windows PCs and Macbooks, it's very low, but it's a significant amount of memory when you're looking at other Chromebooks. Again, if you're storing everything on the Cloud, this type of laptop will suit you well.
The Chromebook 2 has an octa-core chip for processing. For the average Internet surfer or Netflix watcher, this processor is fast enough.
Battery Life
Another selling point of the Chromebook 2 is its long battery life compared to other Chromebooks and PCs, making it great for business travelers. Its battery life is an impressive 8.5hrs for the 12-inch model and 8hrs for the 11-inch model.
Conclusion
With an updated appearance, comfortable keyboard, great battery life, and crisp display, the Chromebook 2 is an excellent option. As stated earlier, this laptop isn't for everyone, but with a low price point, it's perfect for users with basic processing needs such as Internet surfing and using web-based email. The Chromebook 2 is available for purchase through online retailers such as eBay.