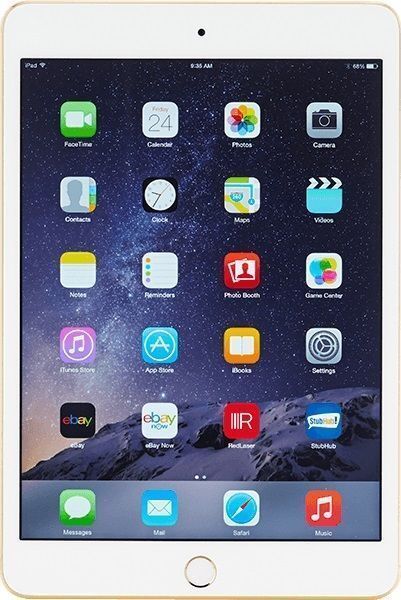 The iPad Mini 3 is packaged as a small, yet dynamic device with TouchID. Its portability, desktop capabilities, iOS 8 technology, and abundant features make it one of the most popular tablet choices on the market. But just how good is this device? Is it worth the price tag? A careful analysis of its upgrades, design, specs and features, and user experience provides some insight into these questions.
Upgrades
The iPad Mini 3 surpasses the iPad Mini 2, but that's to be expected. The device still showcases the exceptional retina display that's featured with its predecessor, which is worth noting. The iPad Mini 3 adds some notable features, including TouchID, a fingerprint scanner that gives the device outstanding security. Multiple fingerprints can be integrated, too. Apple also included its latest mobile operating system, iOS 8.1. Another upgrade is the addition of Apple Pay, which enables users to pay with one touch. Cellular models use the Apple SIM to activate the device on any mobile carrier. In addition to all these, a gold display colour has been introduced.
While some upgrades are enough to entice certain consumers and Apple enthusiasts, the fact remains that the iPad Mini 3 doesn't offer enough upgrades to be considered significantly better than the iPad Mini 2. In most ways, it's quite similar. However, for many, the TouchID, iOS 8.1 technology, and Apple Pay make the iPad Mini 3 worth the purchase; others find that the iPad Mini 2 offers comparable performance at a lower price.
Design
Available in silver, space gray, and gold, the iPad Mini 3 boasts sleek lines and a graceful exterior. It's 200 millimetres tall, 134.7 millimetres wide, and 7.5 millimetres thick, which makes it convenient to carry, even though it's thicker than the iPad Air 2. When held, it's easy to feel its balanced design.
Although not much differs from the previous version, the iPad Mini 3 design is still a positive point. The addition of gold was a popular move as well.
Features and Specs
This is where the iPad has always shined, and the iPad Mini 3 is no different. Generally speaking, the performance, display, and camera are excellent.
Performance
The A7 processor is quite nice. This chip features a 64-bit system and is accompanied by an M7 motion co-processor, which uses its various sensors to gather and store motion data without having the A7 chip do work. This equals exceptional performance, as this architecture processes graphics effectively, makes the iPhone more intuitive, and gives it faster speed. The device also runs at 1.27GHz -- a sufficient rate for any user. Add that in with 1GB of random access memory (RAM), and you have a device that can handle nearly anything. Battery life, which is estimated at 10 hours for multimedia, is solid, too.
Display
The iPad Mini 2 was a mammoth upgrade from the original in terms of display quality. Although there's nothing different with the iPad Mini 3, it's still worth mentioning. With a resolution of 2048-by-1536, LED backlighting and IPS (in-plane switching) technology, the screen is able to show sharp images from all angles. Contrast and colour reproduction are marvellous, too. Hence, display is still one of the main attractions of this device.
Camera
The camera, which features 1080p high-definition video, a 720p HD FaceTime camera, face detection, and backside illumination, snaps crisp shots. The high-dynamic range image ensures colours are displayed accurately and clearly. The camera has an infrared filter that adds sharpness as well. However, a lack of slow-motion video is notable.
The iPad Mini 3 performs well and satisfies many functions. However, the iPad Air 2, with a fully laminated display, A8X chip, and slow motion video, has more.
User Experience
The Apple iOS 8.1 is integrated and brings stability and smooth processing. The interface, with its grids of app icons, convenient notifications, and intuitive Control Center, is one of the best aspects of the iPad Mini 3. In many instances, you don't even need to close an app or unlock the device to view an email, weather alert, or message. In addition, Apple Pay makes shopping more convenient, and the fingerprint scanner enables users to quickly unlock the device. With usability, it's the same theme -- the iPad Mini 3 does the job quite well. However, not much has changed from the previous version.
Overall, the iPad Mini 3 is a great device, but it's not groundbreaking. The iPad Mini 2 has much of the same technology. For the price it's selling at stores and online sites, like eBay, it's still worth it for many. However, tech enthusiasts who want the best features and performance should elect for the iPad Air 2 or another device.