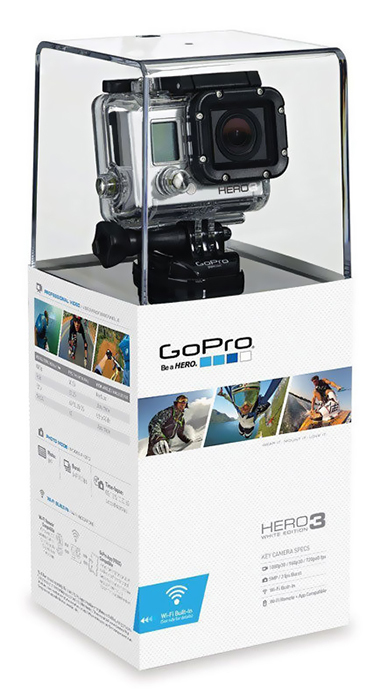 Anyone with an adventurous spirit has most likely heard of GoPro. Their HD Hero3 series is a range of three fixed-lens cameras that have quickly become the default choice for most extreme sports enthusiasts and filmmakers looking to capture footage in action, whether it be filming a rip curl or a skydive from thousands of metres up. Since the release of the original HD Hero in 2009, the company has quickly cornered the market for wide-angle HD video action cameras. The GoPro HD Hero3 is one of the most significant upgrades to date and includes a number of new interesting features and capabilities not offered by previous versions.
Comparing the GoPro HD Hero3 Editions
Three HD Hero3 models were released simultaneously: the White, Silver, and Black editions. The White Edition features the same 5mp camera found on the original HD Hero, while the Silver Edition has the same 11mp camera used on HD Hero2. However it is the Hero3 Black Edition that has seen the most interesting changes, with its 12mp camera, f2.8 aperture lens, and ability to capture 4k video at 15fps.
Hardware & Design
All three versions of the GoPro HD Hero3 come with built-in WiFi, and measure 58 x 40 x 30mm, which is slightly smaller than their HD Hero2 predecessor. It is a well-built device that comes in soft touch black plastic, making it easier to hold than previous versions. Located to the right of the device are three connectivity ports for micro-SD cards, micro-HDMI, and mini-USBs.
Accessories
A range of accessories are included with the GoPro HD Hero3. This includes the waterproof housing, interchangeable back plate designs, a number of adhesive mounts to help with filming and in action, and WiFi-controlled remote within a range of 50 metres (White and Silver Editions do not include the WiFi remote).
Image Quality & Performance
The GoPro HD Hero3 Black Edition features a lens with twice the sharpness of previous models. Low-light performance is improved through the upgraded sensor. This means image quality is crisp and clear in all conditions. While it is capable of filming up to a 4k resolution, the difference to the human eye is negligible and the frame rate is too slow for most. The user will probably prefer the 2.7k resolution due to a higher frame rate of 30fps and ultrasharp image quality. Thanks to the new image sensor and improved resolution, the Hero3 remains the gold standard in action cameras. It produces better colour and improved dynamic range that can capture shadows and bright spots better than any previous models or competitor products. Audio is captured fairly accurately and fortunately doesn't pick up wind noises or any additional sounds.
Battery Life
Unfortunately, the weak point of the GoPro HD Hero3 is the disappointing battery life. After a full charge and with average use, it can be expected to last around half a day. However, using the WiFi features will drain the battery much faster. Those who plan on using their Hero3 extensively throughout the day may want to consider purchasing one or two extra batteries.
The Competition
Until recently, GoPro had cornered the market for consumer HD action cameras, but consumers now have some other options. The Contour+2 is similarly priced, but comes in a much larger package and offers a lower 720p resolution and slower frame rate. The Sony Action Cam is roughly half the price and is capable of recording a 1080p resolution with WiFi capability. However, this is still a lower resolution and the frame rates are slower, too.
Conclusion
Despite recent competition from Sony's Action Cam and Contour+2, the GoPro HD Hero3 remains the undisputed choice for those in need of the most capable consumer action cameras. The improved resolution, image sensoring, and sharp f2.8 lens make it easy for anyone looking to film their outdoor pursuits in a small and easy-to-use package. The GoPro HD Hero3 can be picked up at a reasonable price through online retailers.