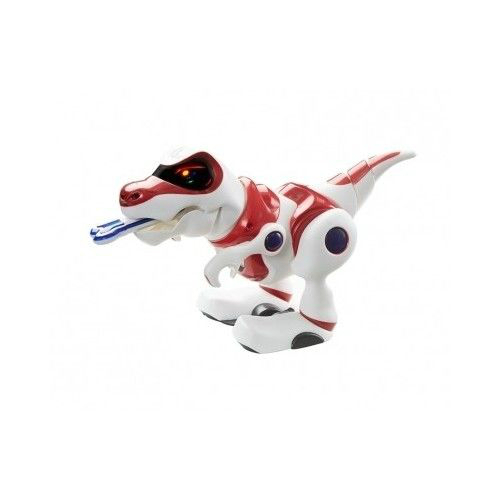 Teksta recently released an electronic moving dinosaur to join its lineup of robotic pets in time for Christmas 2014. Like the Teksta robotic puppy toy, the Teksta T-Rex responds to commands from its owner by performing tricks.
Design
Ringing in at a mere 25 cm tall and 1 kg in weight, the Teksta T-Rex has a fearsome and compelling design for a small toy. The Teksta T-Rex has a red and white body with huge feet and tiny arms, just like the proportions of the historic beast. Even though the dinosaur's glowing red eyes look pretty mean, his funny waddling motion is sure to make kids laugh during playtime. Although the agility for this toy is pretty lackluster, he travels well on hard surfaces such as wooden floors or tables. Predictably, this toy has more difficulty moving on thick textures such as carpeting.
Feeding
As kids warm up to this tiny dinosaur, they can bravely feed him a tasty treat. Each Teksta T-Rex comes complete with a toy bone. Put this bone in the dinosaur's mouth, and he will chew it (emitting crunching sounds as he does) and eventually spit it out, followed by a big burp to express his appreciation. As well as being a noisy eater, the Teksta T-Rex has a fearsome roar that will awe and surprise young children.
Petting
The Teksta T-Rex is equipped with sensors in his head and body. Gently touch the side of the dinosaur's face with a finger, and he will turn his head towards the hand to ask for more affection. The sensors also help the robot walk around without crashing into objects. Wave a hand in front of his face, and he may respond with a warning roar and shake of the head if he is not in the mood to be approached.
Training
The Teksta T-Rex can detect and respond to sound, motion, and light. Train him to respond to hand signals or voice commands in order to teach him tricks, how to roar, or how to walk in a certain direction. The Teksta app also provides a way for Apple and Android tablet owners to interact with their prehistoric pets electronically. Training the T-Rex takes time and patience. The robot must get used to interpreting a particular voice and learn what certain commands mean. The Teksta T-Rex communicates his own emotions through his eyes, which can be happy, sad, or even angry.
Other Things to Consider
Available for sale in both toy stores and online, the Teksta T-Rex requires four AA batteries to power his activities. These batteries are not included, so it's a good idea to buy some ahead of time to prevent disappointment on Christmas morning. According to Teksta, this electronic moving robotic dinosaur is suitable for kids five years and up.
Conclusion
Robotic pets such as the Teksta T-Rex are a great choice for families who don't want to take the responsibility of caring for a live animal. Teksta also offers a cute puppy for people to train and love. Find Teksta products online at various sites and prepare for hours of playtime enjoyment!