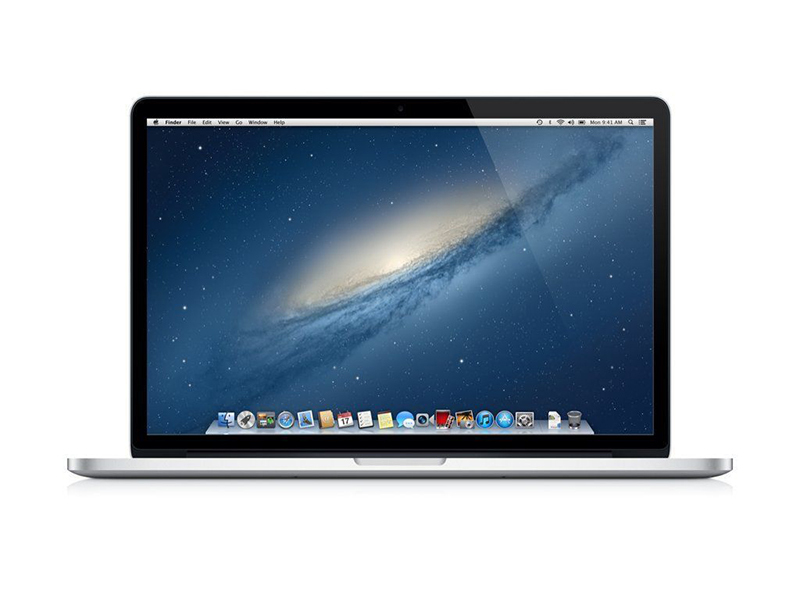 The MacBook Pro 15" is Apple's solution for a laptop that is accessible enough for the average user but powerful enough to be used by professionals in the graphics or film industries where high-resolution, fast processing, and ample memory are critical. Though the popular outside "look" of the MacBook remains unchanged, the insides have definitely been upgraded from the 2013 models.
Retina Display
Apple's major upgrade to its line of 2014 models is the impressive Retina Display. With over 5 million pixels (an amazing 220 pixels per inch), the MacBook Pro 15" has a high-resolution display unparalleled by earlier MacBooks. This equates to a clear, crisp image for all computer processing needs. Even the text will appear clearer. This display is something buyers will need to experience in person in order to see the difference. This feature is especially useful for professional graphic designers, photographers, photo editors, or film editors, where the image details are of critical importance. Serious gamers will also appreciate this impressive upgrade in pixel density. It's important to note that non-Apple competitors are definitely gaining ground in the display category, but Apple usually inches ahead of the pack. MacBook Pro is still the laptop of choice for most professionals in the visual arts.
Memory
Compared to all other MacBook Pros, the 15" has the most memory at 16GB; this is four times as much as the regular MacBook Pro and double the 13" Retina MacBook Pro. This is certainly enough memory for most professional users. The 13" can be upgraded to 16GB, but the 15" comes with the 16GB as standard fare.
Storage
The MacBook Pro 15" comes with two different options for storage space (also known as "flash storage"): 256GB or 512GB. It can even be configurable to 1TB, which should definitely be enough for users with greater needs.
Processing Speed
The 2014 MacBook 15" has seen an upgrade to current Intel CPU's for lightning fast processing. It boasts a 2.5GHz processor (in its most upgraded version) with a Turbo boost up to 4.0GHz. Professional users will definitely be pleased with this upgrade. Users also have the option to choose the slightly slower processor at a lower price point; however, even this option is impressive because it has a 2.2GHz processor with a Turbo boost up to 3.7GHz.
Size and Weight
Though not as light as the Air, the MacBook Pro 15" is still easy to transport, especially considering that this is a higher-end laptop used mainly by professionals and serious gamers. At 1.8cm (h) x 35.89cm (w) x 24.71cm (d), this MacBook is manageable enough to carry along on a business trip or to a coffee shop with little effort. It's also relatively light at 2.02kg, although heavier than 13" model and the MacBook Air.
Battery Life
At up to eight hours of wireless web and eight hours of iTunes Movie playback, the new MacBook 15" has a longer battery life than all previous MacBook Pro models. The 13" MacBook Pro inches slightly ahead with up to nine hours of wireless web and nine hours of iTunes Movie playback.
Conclusion
Overall, the 15" Macbook Pro makes significant gains in display, processing speed, and memory over older MacBook models. The 15" MacBook Pro is definitely a great choice for most professional users, but it has more "extras" than needed for the average web-surfer who may be better served with the 13" Macbook Pro or the Macbook Air. If you're ready to buy, purchasing the 15" MacBook Pro is easy to do, especially through online retailers like eBay.